Takeshi Shiko
Chef, Echigotei
Echigotei is the only izakaya under the Tomi Sushi brand, which first started in Niigata Prefecture in 1954. There are now 21 Tomi Sushi outlets in Japan and three in Singapore. Echigotei has been around for four-and-a-half years and considers itself a hybrid sushi and izakaya restaurant.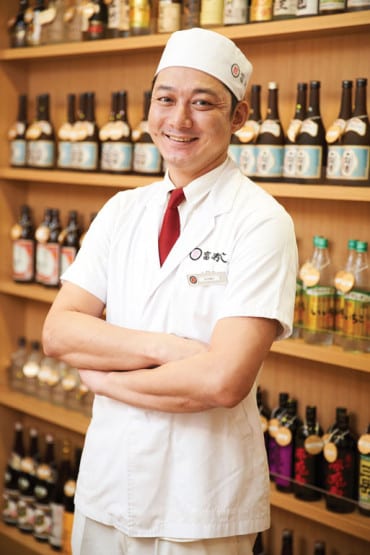 Tell us a little about yourself.
I was born in Tokyo and am 41 years old. I have been in this line for 15 years. I started as a server and really liked it, but realised that I needed to know how to cook if I wanted to start my own restaurant.
What have you learnt about being a good izakaya chef?
You need to be flexible because you should be able to cook what the customer wants to eat. If there's something you want in your dish, feel free to check with the chef. If we have the ingredients, we can make it.
What's on the menu at Echigotei?
We started as a sushi restaurant, so we serve authentic sushi and good-quality sashimi. We also serve yakitori and other izakaya dishes. I take care of the small appetisers, or otoshi, which I change every couple of days.
What special ingredients do you cook with?
We use sakura chicken from Japan, which is imported chilled. Our fish is also imported fresh from Tokyo's Tsukiji market, Niigata and Hokkaido.
What sets Echigotei apart from other restaurants?
We bring in fresh fish from Japan on Tuesdays and Fridays. You can order a whole fish and let the chef know how you want it done. It can be grilled, stewed or even served as sashimi. The price depends on the size and type of fish.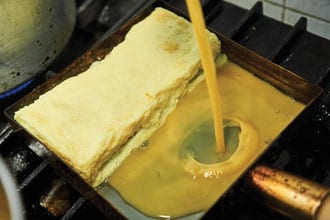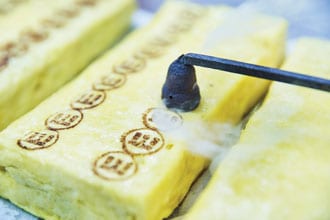 What is the secret to a successful izakaya?
Having good food is important, but more than that, it's about making sure that the customers have a good time. We have counter seats—I like to talk to my customers over the counter and get to know them as I'm preparing their orders.
What's your favourite izakaya dish?
Dried leatherjacket fish. It has a very strong flavour and goes very well with sake.
https://www.google.com/maps/place/TOMI+SUSHI+Singapore+ECHIGOTEI/@1.3020793,103.8381335,17z/data=!3m1!4b1!4m5!3m4!1s0x31da1996bfa4e43f:0xfb8c37ddc56a47bb!8m2!3d1.3020793!4d103.8403222
Echigotei
Cuppage Terrace, 35 Cuppage Road
Tel: 6333 4633
Joseph Loke
Chef and Operations General Manager, Sumire Yakitori House
T his year marks the fifth anniversary of Sumire Yakitori House, the first outlet outside of Japan. The chain originated in Tokyo in 2009 and now boasts 86 outlets in the country. The Singapore restaurant serves more than 200 customers during peak hours, and many enjoy the yakitori menu.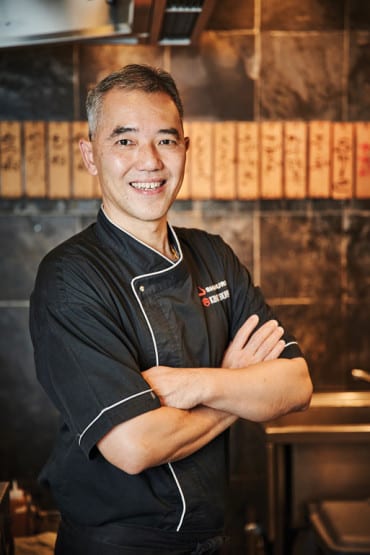 How would you describe the food you serve?
An izakaya is mainly for having drinks, but I find that local customers don't drink as much. Our Japanese customers like the food to be a little saltier as they usually have it with drinks. But Singaporeans find it too salty, so we have to make some adjustments.
How was the menu here created?
The basic yakitori menu comes from our parent restaurant in Japan. When I came on board two-and-a-half years ago, I introduced some new dishes. Some of our local creations include foie gras, aged beef tongue and takoyaki (octopus balls).
What are the most-ordered items?
The yakitori platter is good for groups as it comes with several different types of skewers. The Cheese Curry Bakudan is also very popular. In the middle of the potato croquette is an onsen egg that oozes when you cut through it. Many people like to take photos and videos of the dish.
What ingredients are exclusive to this restaurant?
We use Daisen tori stock, which is made from chicken that is available only in Japan. Our special yakitori sauce, or tare, is also imported from Japan. We make it less salty and a little sweeter to suit local tastes. We also use shio dare, a special sauce recipe from Japan, and drizzle it over cabbage. A lot of our customers like it.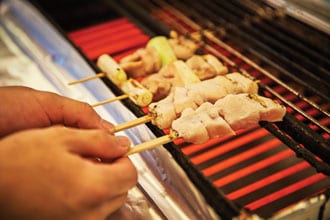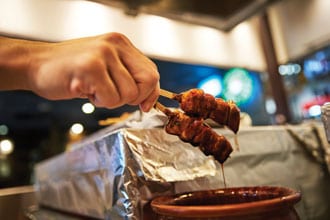 What is essential for good yakitori?
The ingredients must be fresh and of a good grade, which is why we get fresh chicken and not frozen from our suppliers. The meat can be drizzled with sea salt or dipped in tare for more flavour. The grilling technique is also important.
Do you need any special skills to grill yakitori?
Our chefs are specially trained in our Japan restaurants. Every part of the chicken requires different timing and temperature, so the chefs need to shift the skewers to different parts of the grill to ensure they're cooked perfectly.
https://www.google.com/maps/place/Sumire+Yakitori+House/@1.2987327,103.8524393,17z/data=!3m2!4b1!5s0x31da19babbb81d39:0xad0170a73a9571d0!4m5!3m4!1s0x31da19babd2c6899:0x45fb6404db060d11!8m2!3d1.2987327!4d103.854628
Sumire Yakitori Housei
#01-88/89 Bugis Junction, 80 Middle Road
Tel: 6338 9963
Koji ToyomaDirector, Grand Jeté Izakaya
This is the second dining establishment by Koji Toyomaru, who has been in Singapore for 30 years and in the food manufacturing business for over 20 years. He started Grand Jeté Izakaya in February this year and offers more than 60 food items as well as an extensive drinks list. He also runs Grand Jeté Café & Bar in Ngee Ann City.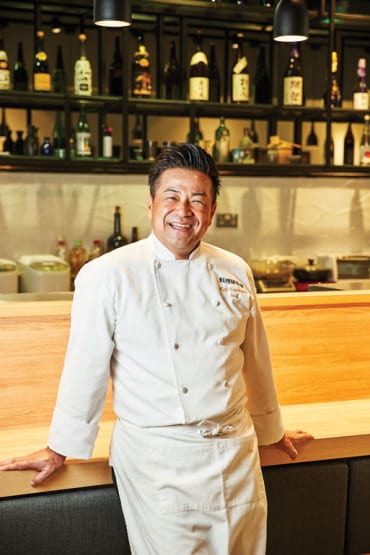 How did you come up with the different menu items?
It's always through discussions with the okami, or restaurant manager and hostess, as well as through customer requests. Singaporeans are still not familiar with the izakaya concept, so we decided to introduce it by using higher-end izakaya items, such as steak and chips. It's not usually on an izakaya menu, but there are a lot of Europeans in this area so we thought they would like it.
What do you usually recommend to customers?
I recommend the panko fried shrimp, which is very popular. The difference is we use fresh panko, not dried, to get a nice crunch. The shrimp is imported from Mexico and is sweeter because it's from the sea. Another popular item is curry rice.
We also serve chikuzenni, a chicken and root vegetable stew that's a speciality of Kyushu island, where I was born. The flavour is strong and a bit sweet. It's a traditional dish served during New Year.
Are there any other special ingredients you'd like to highlight?
We use pork cutlet from Miyazaki Prefecture, and we make our special curry sauce in-house, which takes 12 hours to cook.
Tell us about some of the drinks you offer.
We bring in Spanish and French beer, because of our foreign patrons; Japanese customers also like Spanish beer. We serve Spanish cava, which goes very well with sashimi. One of our most popular sake is the Dassai 23 from Yamaguchi Prefecture—this is what former United States President Barack Obama drank when he visited Japan.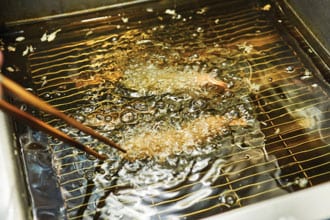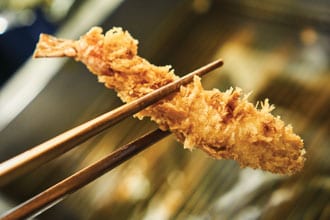 What makes Grand Jeté Izakaya different from other restaurants?
We are very open to customer feedback and we can change to make ourselves better. We strongly believe in making our customers happy.
https://www.google.com/maps/place/Grand+jet%C3%A9+izakaya/@1.3095972,103.862318,17z/data=!3m1!4b1!4m5!3m4!1s0x31da19ca504d2b87:0xf8aba45c580a5d76!8m2!3d1.3095972!4d103.8645067
 Grand Jeté Izakaya
#02-07/09 Aperia Mall, 12 Kallang Avenue
Tel: 6702 4589