FHA-HoReCa
3 to 6 March 2020
Singapore Expo
Meet the World's Leading HoReCa Suppliers in Asia
Where world's leading hotels, restaurants and café suppliers will gather to showcase the latest foodservice & hospitality equipment, products and services across five key profiles -serving 48,000 discerning distributors, importers, manufacturers and retailers from Asia, all under one roof.
>Bakery, Pastry & Gelato
>Foodservice & Hospitality Equipment
>Hospitality Style
>Hospitality Technology
>Speciality Coffee & Tea

The new Hospitality 4.0 Feature Area at FHA-HoReCa will throw a spotlight on new capabilities powered by technology for front-of-house to back-of-house operations, from hotel to restaurant, and to kitchen. Attendees will learn how ARNR, Robotics, 3D Printing and loT-enabled products and services can help streamline operations, deliver higher efficiencies, lower costs, and increase customer satisfaction. Highlights at the feature area and Hospitality Sandbox, as well as a showcase of innovative products and services for hotels, restaurants and kitchens.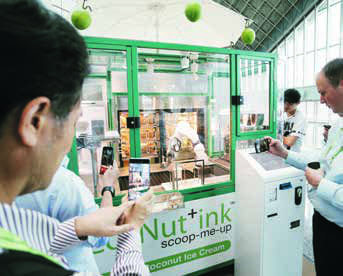 Beyond the show floor, attendees can catch some of industry's brightest talent in action as they pitch their skills in a series of competitions. Competitions held during FHA-HoReCa include the inaugural Artistic Bakery Challenge and Asian Junior Pastry Cup, Asian Pastry Cup, Asian Gelato Cup, FCC Individual Challenge – Patisserie, Barista Super Duo Challenge and Latte Art Showdown.
The FHA-HoReCa 2020 Conference will present an unrivalled line up of global industry leaders to share their knowledge and experience. Delegates and speakers will get to discuss the most pressing and transformational issues confronting the hospitality industry today.