Summer Vegetable Agebitashi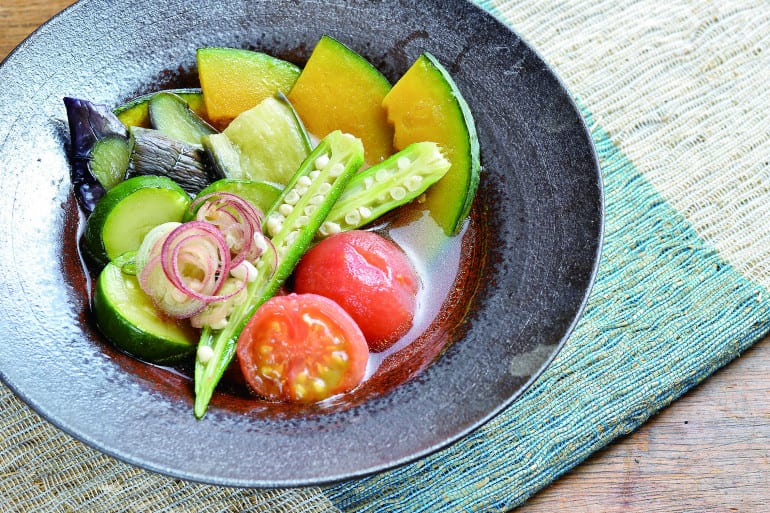 INGREDIENTS (Serves 2)
1 eggplant
3 okra
1 zucchini
100g pumpkin
4 medium tomatoes
2 sweet long chilli peppers
Cooking oil
1 myoga (Japanese ginger)
2 shiso leaves
3g dried bonito flakes
MIXTURE A INGREDIENTS
300ml dashi
2 tbsp mirin
2 tbsp soya sauce
Method
1. Remove the stem from the eggplant. Cut the eggplant in half, then slice vertically into 4–6 pieces. Soak in water for 10 minutes.
2. Remove the stems from the okra.
3. Cut both ends from the zucchini and slice into 1cm-thick rounds.
4. Remove the seeds from the pumpkin and dice into 6–7mm pieces.
5. Boil the tomatoes, then remove from the water.
6. Make a long incision in each chilli pepper.
7. Combine Mixture A ingredients in a large bowl.
8. Heat the cooking oil over high heat and deep-fry the cut vegetables (no need for batter).
9. Soak in Mixture A and chill in the refrigerator.
10. Serve in individual bowls and top with grated myoga, shredded shiso leaves and dried bonito flakes.