Fireworks Display at Kanmon Strait
August 13
The Reclaimed Area on the Western Coast, Moji-ku, Kitakyushu-shi, Fukuoka
In this display held every August 13, about 13 thousand fireworks are let off from main venues on both the Moji Retro District (in the reclaimed area on the western coast) and Shimonoseki (in the Aruka-port area of Shimonoseki City) sides of the Kanmon Strait.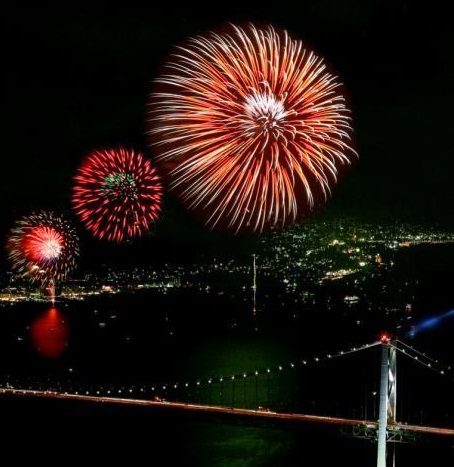 Each side lets off 6,500 fireworks; the highlight of the Moji side are the 120 large-shell fireworks let off consecutively, while the Shimonoseki side features a nearly 45.5 centimeter (1.5 foot) long large-shell pyrotechnic and fireworks thrown from boats and let off in the water itself!
Fireworks are also let off from atop the barge, and the large-stars that are let off in a near competition over the strait captivate the spectators!
The Kamonkyo Bridge and Moji Retro Distict lit up in the background further highlight the fireworks.