Don't forget your camera — you'll need it for all the snapshots you'll be taking of the prefecture's beautiful landscape..
Tojinbo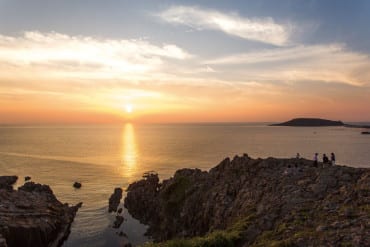 At sunset, make your way to Tojinbo, a scenic spot spanning 1.5km along the coast. Nature has worked its magic on the cliffs, which were formed by the rough waves of the Sea of Japan crashing against them. If you're lucky, you'll even see majestic waves that go as high as 20m! The magical sight of the sun setting on the horizon as you sit on the rocks is one that'll stay for you for a long time to come.
Anto, Mikuni-cho, Sakai-city, Fukui, 913-0063
Tojinbo
Anto, Mikuni-cho, Sakai-city, Fukui, 913-0063
Tel: 0776-82-5515
Heisenji Shrine
Located at the base of the sacred Mount Hakusan, legend has it that the monk Taicho decided to build Heisenji shrine during the 800s after a chance encounter with the goddess of Mount Hakusan. The shrine was burnt down during the 16th century following a farmers' revolt, but was rebuilt during the Edo period (1603-1868). While monks no longer reside there, its beautiful grounds are still worth a visit. Characterised by a bed of green moss, the most gorgeous spot has to be the tranquil pond, where the meeting between Taicho and the goddess supposedly took place. When you're there, you'll feel like you've been transported into a Hayao Miyazaki film.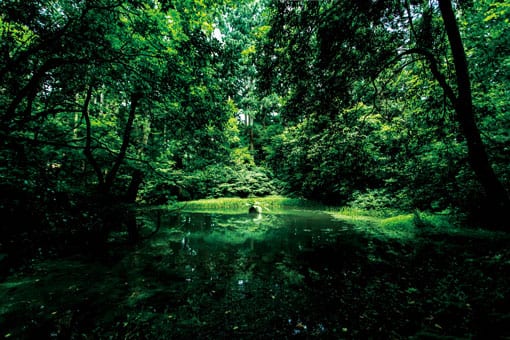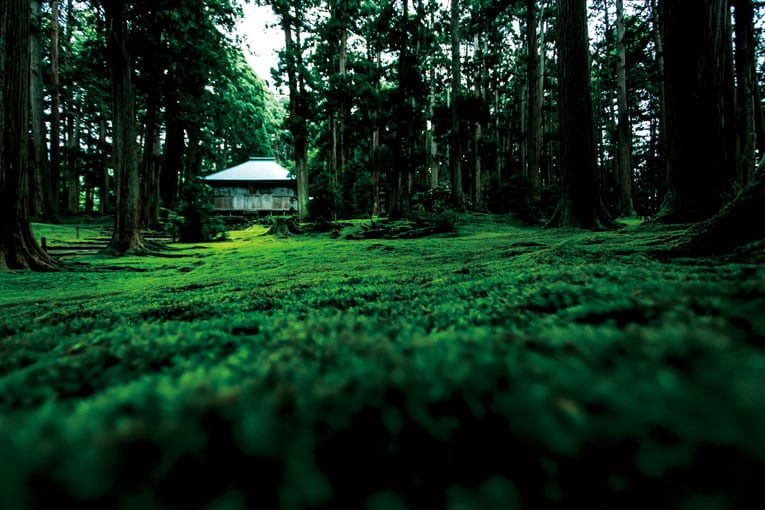 日本 〒911-0822 福井県勝山市平泉寺町平泉寺
Heisenji Shrine
Heisenji, Heisenji-cho, Katsuyama-city, Fukui, 911-0822
Tel: 0779-88-8117
Ichijodani Asakura Clan Ruins
These are the ruins of the castle town of the Asakura family who ruled Echizen for 103 years from 1471. The town was completely razed to the ground by the warlord Oda Nobunaga in 1573. At its peak, it was the area's cultural, military and commercial centre, with over 10,000 residents. Excavation work for the site began in 1967, which uncovered the foundation of the town, including a house that used to belong to the lord, samurai residences, temples,and more. Most of the town has been reconstructed, providing fascinating insight as to how people lived and worked centuries ago.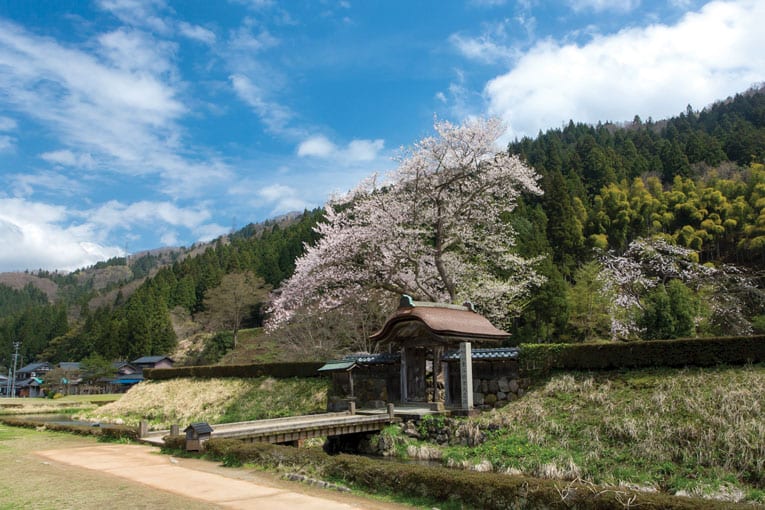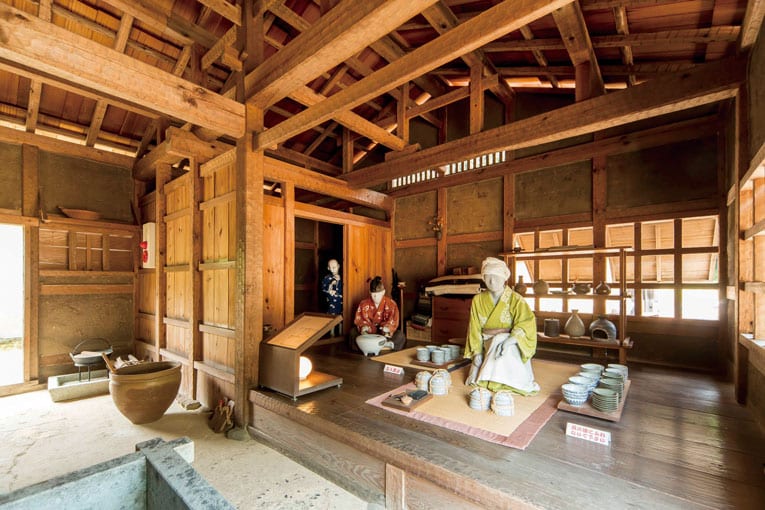 日本, 〒910-2153 福井県福井市城戸ノ内町
Ichijodani Asakura Clan Ruins
28−37, Kidonouchi-cho, Fukui-city, Fukui, 910-2153
Tel: 0776-41-2330
Yokokan Garden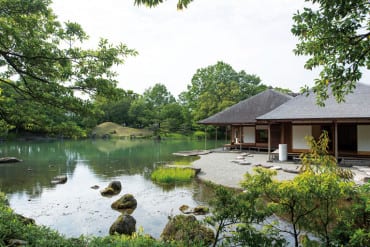 Located smack in the middle of Fukui city, the sprawling Yokokan Garden is an oasis of calm, providing a stark contrast to the hustle and bustle of city life just outside its walls. Known for being a place of study and learning, much of its original structures were destroyed during an air raid in World War II. It was rebuilt in the 1980s following a blueprint dating back to 1823. Today, the garden is home to cherry trees, plum trees, hydrangeas and pony. After a stroll through the garden, explore the building to see the room where the lord of the house used to relax, as well as the room that was previously used for viewing the moon.
3-11-36, Hoei, Fukui-city, Fukui, 910-0004
Yokokan Garden
3-11-36, Hoei, Fukui-city, Fukui, 910-0004
Tel: 0776-21-0489
Kumagawa-juku
This town flourished during the 17th to 19th century when it formed an integral part of the "Old Mackeral Road", a route that people journeyed through to deliver seafood to Kyoto. These people would usually make the 24-hour journey to Kyoto with a 60kg weight on their backs! Modernisation eventually led to its decline. One unique characteristic of this town is that all the houses — which are still occupied today — are of modest size, and designed in the same manner. The reason for not building a house of a more extravagant design is because they were prone to catching fire; having a simple design allowed occupants to quickly rebuild their houses if the need to arose.
日本, 〒919-1532 福井県三方上中郡若狭町熊川
Kumagawa-juku
Kumagawa, Wakasa-cho, Mikatakaminaka-gun, Fukui, 919-1532
Tel: 0770-62-0330
Echizen Pottery Village
Echizen pottery has a rich history dating back some 850 years. Echizen pottery is fired unglazed, and its design is determined by the ash glaze generated in the kiln . Director of the Echizen Ware Industrial Cooperative Association, Toyokazu Yoshida, explains that clay from Fukui is particularly suited for pottery making as it is contains high levels of iron, giving it a distinctive reddish colour when it oxidises. The village attracted around 30,000 visitors during the Echizen Pottery Festival in June this year.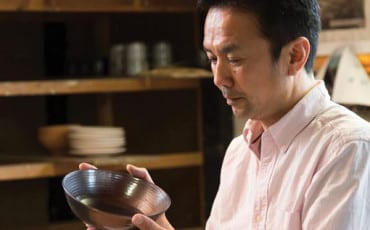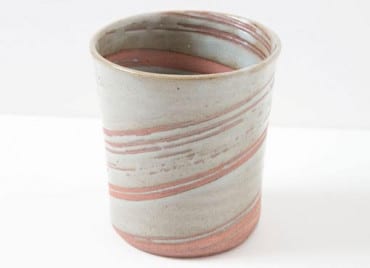 5-33, Ozowara, Echizen-cho, Nyu-gun, Fukui, 916-0273
Echizen Pottery Village Echizenyaki no yakata
5-33, Ozowara, Echizen-cho, Nyu-gun, Fukui, 916-0273
Tel: 0778-32-2199
Echizen Soba Village
Once you've eaten your fill of oroshi soba, why not try your hand at making it for yourself? At Soba no Sato, you'll be guided through the whole process of soba-making; from kneading the dough, right down to the slicing of the noodles. A word to the wise: Making soba a lot more difficult than it looks, and requires years of practice to master. The soba you've made will be cooked, so you can eat the noodles you've just made with your own two hands!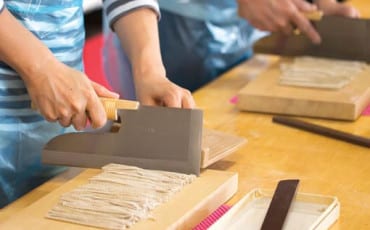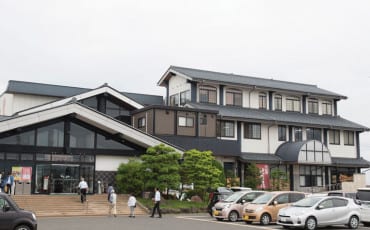 7-37, Makara-cho, Echizen-city, Fukui, 915-0005
Echizen Soba Village
7-37, Makara-cho, Echizen-city, Fukui, 915-0005
Tel: 0778-22-0272