What do you look for when picking a holiday destination? Is it a thriving food scene with a mouth-watering selection of local specialties? An abundance of cultural sites and activities to satisfy your mind and spirit? A spotlight on all things nature-related and amazing scenery and views? Whether you answered "yes" to one or all of the above questions, Fukuoka has got you covered.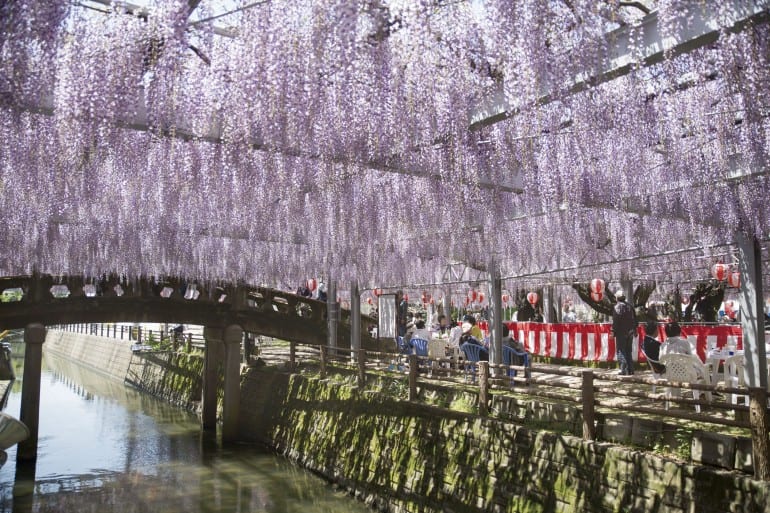 And, there's no better time to make your way to Fukuoka than during the glorious springtime. At this time of the year, the weather is pleasantly crisp without being too harsh, the flowers are springing into full bloom (like the impossibly gorgeous display of wisterias you see on these two pages) and the fruits – strawberries, anyone? – are plump, juicy and ripe for the picking. Facing the sea on three sides, Fukuoka is also famous for its bountiful seafood. Beyond that, each city has its own unique specialties, depending on its location. Fukuoka city is renowned for ramen (Ippudo hails from here) and yatais (food stalls); while Kurume city is blessed with a variety of blooming flowers and fruits all year round.
When it comes to tradition and folklore, Fukuoka prefecture is a treasure chest of Japanese culture. Take a boat ride through the moats around Yanagawa and gawk at Ohana, the villa of the then-ruling Tachibana family. Pay a visit to Dazaifu Tenmangu Shrine, where plum blossoms thrive, and the other shrines and temples dotted around the prefecture. In Fukuoka city, you'll find a fascinating balance of edgy contemporary art at Fukuoka Asian Art Museum, as well as a focus on ancient craft and culture at Hakata Machiya Folk Museum, which is spread across three traditional townhouses. It also hosts festivals like the Hakata Gion Yamakasa Festival, which attracts up to three million spectators.
Once you have landed in Fukuoka, it's easy to see why it was recently rated No. 12 in Monocle magazine's Top 25 Liveable Cities in 2015 – there is so much to see and do, the people are warm and welcoming, and the energy of the city strikes the perfect balance … it's not as frenzied as Tokyo, yet not as slow as Kyoto. With a population of 1.5 million in the city, and a population rate that is growing faster than that of any other city in Japan, it's high time you checked out for yourself exactly why people are flocking to Fukuoka – the next few pages will show you what to eat, see and do when you get there.
(Text Tan Lili • Photography ryohei ito)
>>Read more about Fukuoka Food
>>Read more about Fukuoka Sightseeing
>>Read more about Fukuoka Experience