Lena Sim, founder and CEO of Ministry of Food is a true survivor. Abandoned by her parents as a baby, she grew up poor but that didn't deter her. After leaving her first job, Lena traveled to Japan where she convinced the founders of an old Japanese dessert chain to expand to Singapore. The rest is history.
Although my first full-time job was in the finance industry, I've always been interested in the F&B sector. I believe that food and dining plays a big role in Asian culture, especially in Singapore. When we meet up with our friends, the first question we usually ask is, "Have you eaten?"
After leaving my job as a trader , I started traveling in earnest and found myself in Taiwan. That was where I first tried a heavenly green tea ice cream from an old Japanese dessert chain. It was light, creamy, and had a certain "wow" factor. After returning from Taiwan, I wrote to the Japanese headquarters numerous times, asking for a franchise opportunity. When I finally got a chance to present my business plan to them in Tokyo, I showed them what I used to earn as a trader and offered to work for free as a management trainee for three months. I was determined to show them I was serious.
When I first started, I had to work in the central kitchen, just like any other employee. I did everything from taking inventory, preparing ingredients, washing dishes, and even clearing the sink or drainage system whenever it choked. It was tiring but I learned a lot about discipline and dedication from my Japanese counterparts. Everybody was always multi-tasking. No one was ever idle! After about a month, the franchise owners were impressed by my commitment as well as the detailed business expansion plan that I had drawn up, and accepted me onboard.
Having successfully brought the brand to Singapore, I was determined to retain the Japanese spirit of quality service in all my restaurants. The Japanese truly put their hearts into doing even the most simple and routine jobs. As a fan of Japanese desserts, I am always impressed by how the Japanese take so much pride in preparing even a simple dessert. For example, the ice cream seller will take pains to carefully squeeze out the soft serve ice cream so that it looks perfect when he serves it to you.
Currently, over half of the Ministry of Food restaurants in Singapore serve mainly Japanese cuisine and there are plans to to expand the Ministry of Food brand to other parts of the region. Apart from bringing great-tasting and affordable Japanese cuisine to the masses, I also hope to spread the Japanese culture of impeccable service.
Tantalising desserts from Ministry of Food.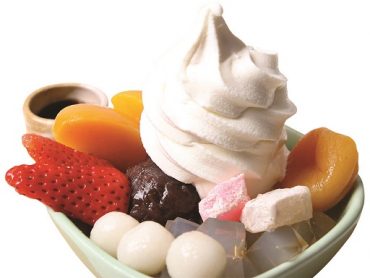 About Ministry of Food
Founded in 2006, the MoF group of restaurants now has 15 different concepts, spanning many different cuisines. Each restaurant under the MoF brand aims to bring good-tasting, affordable food to the masses. They also strive to provide healthier food options, with no added MSG, chemicals, preservatives, artificial colourings or flavourings in their food.
TEXT VANESSA TAI