For the ultimate pampering experience, check into a Ryokan with a hot spring, like Hotel Nishi-no Miyabi Tokiwa in Yamaguchi City.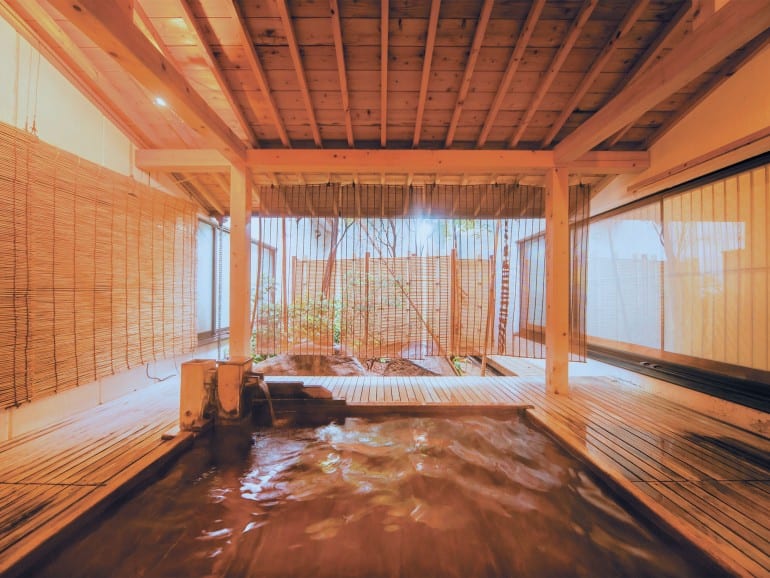 The main stretch of Yuda Onsen in Yamaguchi City doesn't just have a choice selection of Ryokans with Onsens, but also little shops where you can enjoy foot soaks.
Everything You Need
Hotel Nishi-no-Miyabi Tokiwa is in many ways your traditional Ryokan where you can expect exceptional service levels and quality food. Boasting 10 different types of hot springs, you can also enjoy other pampering services such as an in-room Shiatsu massage.
Not to be missed is the hotel's Kaiseki, or traditional multi-course dinner. The Fugu Kaiseki is a sumptuous spread of more than 10 appetisers and main dishes, and it's the perfect opportunity for you to try the famed puffer fish cooked in a variety of ways: as a Sashimi, in a hotpot, as well as cooked into a congee.
After your meal, enjoy a performance at the hotel's main event room where the star is no other than the Okami (head hostess) of the hotel! Don't worry if you don't speak a word of Japanese; the energetic performance and slapstick humour cuts across all cultural boundaries.
To further aid the digestion of your meal, head to – where else? – the Onsen and let the water's rejuvenating properties do its work!
Onsen Etiquette 101
Visiting a Japanese hot spring for the first time can be immensely bewildering for foreigners, so be sure to acquaint yourself with the basic rules of Onsen etiquette before going to one.
Do …
Cover up those tattoos. Tattoos are generally associated with ties to organised crime in Japan and they're a strict no-no. If you have any, cover them up with a large bandage before entering the Onsen.
Wash yourself twice. In the interests of keeping the hot springs hygienic, you're expected to rinse your body before entering the Onsen for the first time. Make use of the washbowls in the bathing area to do this. Next, enter the Onsen and soak for awhile before getting out and washing
your hair and body with shampoo and soap (these are usually provided by the Onsen). After this process, you're free to soak in the hot spring.
Don't …
Drink booze before or after your Onsen experience. Soaking in the Onsen can be dehydrating, so drink plenty of water and green tea to replenish your body's fluids.
Wear bathing suits. The rule is in place, once again, for hygiene reasons. You're usually given a small towel to protect your modesty while walking to and from the hot spring, but once you're soaking, ensure the towel doesn't touch the water. You can either put it on your head or outside of the bath.
Onsens are usually segregated by gender, and not much can be seen once you're in the bath anyway.