Ishigaki-Mochi (Sweet potate steamed cake)
Ishigaki-Mochi is a snack. People used to have it during the farmwork in winter to spring.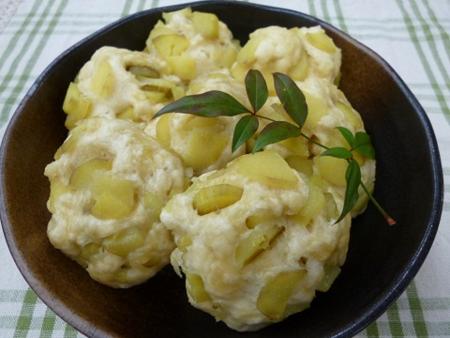 We call it "Ishigaki-Mochi" since the sweet potates on the cake are look like "Ishigaki"(= stone wall). It has been eaten in all area of Oita prefecture, but each region has their own receip and name.
The Recipe
Ingredients (Serves 20pieces : 70g/pce)
500g Flour (All purpose flour)
650g Sweet Potate
75g Sugar
12g Salt
10g Baking powder
125cc Water
Instructions
1. Peel the sweer potates and cut them into 1.5cm x 0.2-0.3cm quarter-rounds.
(It's also good to use with skins if the they are clean)
2. Soak 1 into the water and remove the harshness.
3. Drain the water.
4. Sprinkle the sugar on the sweet potates. Leave them until the water coming out from the sweet potates.
5. Mix Flour and Baking powder, and add into 4, and sprinkle it on sweet potates.
6. Add salt water into 5 little by little, and knead well. (Do not add salt water at once.)
7. Knead it until the dough does not stick to your hands.
8. Round the dough.
9. Line steamer papaer on the steamer. Place the rounded dought on the steamer.
10. Steam it for 15 minuts.
11. Then it's ready when sweet potates are coocked.