Tomonori Nishijo
Head Chef, Tomi Sushi
There are five outlets in Singapore under the Tomi Sushi brand, including an izakaya and a new concept sushi-and-sake bar. The brand started in 1954 in Niigata Prefecture, where it's very popular. Chef Nishijo has worked for the company for 17 years and came to Singapore seven-and-a-half years ago to head this outlet in Novena.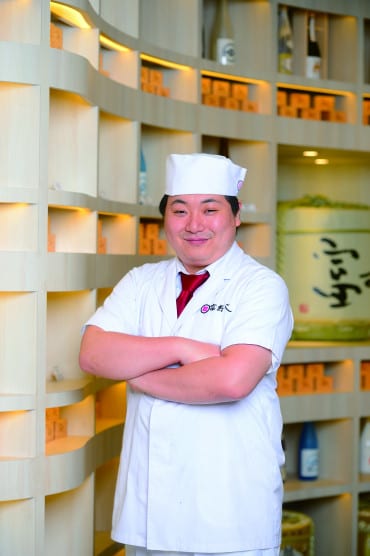 What's special about the maguro you serve?
The Niigata head office chooses the best hon maguro whenever it's available and sends it to us. We bring in about 50 to 60kg a week just for this particular outlet.

Which part of Japan is the maguro from?
We have a maguro specialist that chooses the fish. It's seasonal so the maguro comes from different ports around Japan, depending on where the best catch is.

Apart from sushi and sashimi, what else can the different parts of tuna be used for?
Otoro is good for aburi because it's fatty. Chutoro makes a good steak as it's very versatile—just pan fry and serve it rare. Akami is tasty served zuke, meaning it is marinated in soy sauce, mirin, sake and salt.

Are your customers well versed in the different parts of the tuna?
Many of our customers are knowledgeable and know they want to eat chutoro or otoro. This could be because we organise a tuna festival two to three times a year, when we sell our maguro dishes at half price. Sometimes, customers also ask me what is the best maguro available that day and I advise them.

What other special tuna dishes are available here?
We offer maguro cheese cutlet, which is prepared by rolling akami tuna over cheese, dipping it in breadcrumbs and then fried. It's traditionally served with miso vinaigrette but our customers prefer it with brown sauce.

How would you describe good maguro?
It has to contain a certain amount of fat. I can feel the difference in texture just from holding it in my hands. A perfect piece of maguro will melt in your mouth.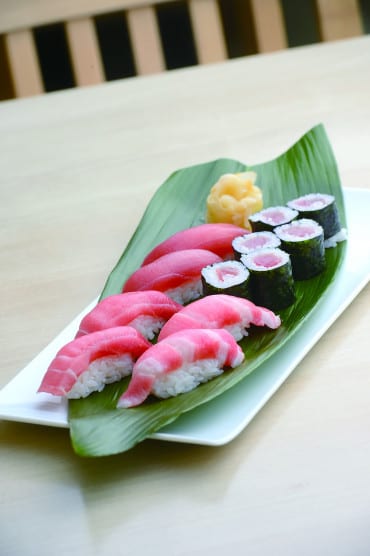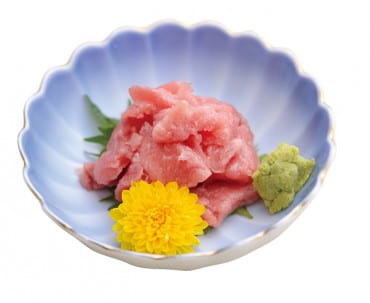 What is your favourite way to eat maguro?
My favourite part of the fish is the nakaochi, which is the flesh that's been scraped off the bone. I also like it as sashimi to go with drinks.
Tomi Sushi
238 Thomson Road, #02-76/77  Velocity @ Novena Square
Tel: 6255 2355
Takuya Matsumoto
Head Chef, Maguro-Donya Miura-Misaki-Kou
As a maguro supplier, the company manages the entire process of getting the fish from the sea to the plate. They started F&B operations 20 years ago and now have two restaurants in Singapore, 17 in Japan and two in the US. Chef Matsumoto has 20 years of experience, the last 10 of which have been in sushi restaurants. He feels that the most important quality a sushi chef must have is the desire to ensure customers enjoy their dining experience.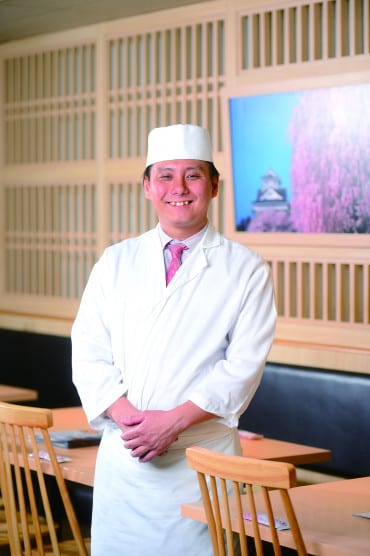 Tell us about the tuna you bring in.  
We get about 100 tonnes of maguro from the Mediterranean Sea every year. The fish is immediately super frozen (-60°C) and brought back to Japan, where we have our own factory to cut the fish into blocks and deliver to different restaurants.

What's the benefit of this arrangement?
It ensures a stable supply of good quality maguro. The fish are caught in winter, which is the best season for maguro, and we are able to store it in our special fridges to maintain the quality. We then use a special defrosting method by soaking the fish in salt water to make sure no liquid enters or leaves the tuna. We are confident the maguro will always be at its best and freshest condition with lots of fat.  

What can customers expect when they dine here?
Stability and consistency are our strengths—diners are assured that our maguro is fresh and that we will always have enough otoro. We bring in about 60kg of maguro every week just for this outlet.
How would you describe good tuna?
It really depends on which part you enjoy. I have noticed that Singaporean and Japanese customers have different preferences when it comes to their favourite maguro parts. Singaporeans like the fattier otoro while Japanese diners prefer the slightly less fatty chutoro. For local customers, we try to get meat from larger tuna as the otoro is fattier.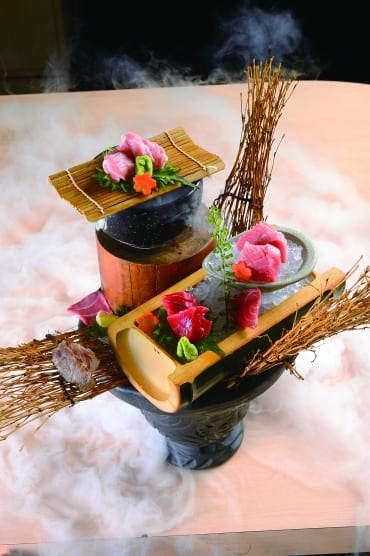 What are some of the most popular dishes?
The sashimi tower is very popular as it comes with five different parts of maguro, including the head and cheek, which are not so readily available at other restaurants. The otoro-don is also very good value because you get a lot of
otoro slices.
Maguro-Donya Miura-Misaki-Kou
3 Temasek Boulevard, #03-314 Suntec City Mall
Tel: 6684 5054
Lee Kar Seng
Chef, Sugisawa Japanese Restaurant & Bar
Established more than 27 years ago, the restaurant was taken over by new owners in 2017 when the original chef-owner retired. The current chef, Lee, has more than 18 years' experience in Japanese restaurants and has worked at Sugisawa for a year and a half, alongside a Japanese okami (restaurant manager) who runs the outlet while ensuring customer satisfaction.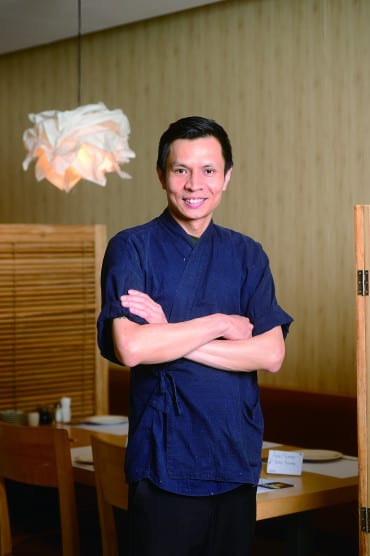 What makes the maguro you serve here special?
We are unique as we bring in fresh maguro, which is very difficult to get in Singapore. We have a maguro supplier that chooses the best fish for us from a fish market in Japan. Japanese maguro is the best—the chutoro is fatty and the akami has a springy texture.

How fast do you get it delivered?
Once we put in an order, our supplier gets it from the market the next day, after which it is flown direct to us.

Is there a difference in taste between fresh and frozen tuna?
Of course! The texture is different and fresh tuna also tastes sweeter.

How much maguro do you bring in every week?
We bring in about 10kg of maguro twice a week to ensure freshness. And every two months, we bring in a whole fish for our tuna-cutting demonstration. The fish I'm cutting today weighs about 35kg, which is enough to feed 100 people. It's a unique event because most people don't get to see a whole tuna being cut, not even in Japan.

What are some of the things you have to keep in mind while cutting the fish?
It's not easy because the bone is thick and hard so I have to concentrate. I trained a lot to master the technique. It's also very important to pay attention to hygiene.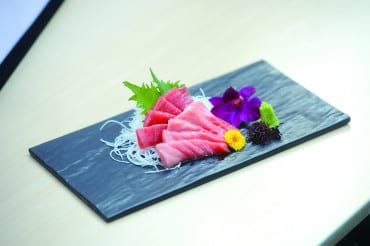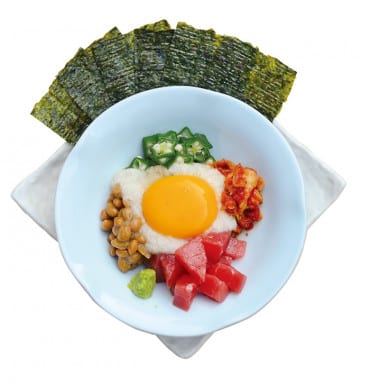 What special maguro dishes do you serve here?
On top of sushi and sashimi, we also serve bakudan, which is chopped tuna with natto, lady's finger, kimchi, grated yam and raw egg. The ingredients are mixed together, then wrapped in seaweed. It's a traditional dish served in sushi restaurants across Japan. Customers can also order maguro dishes that are not on the menu. For example, we don't have nigiri sushi on the menu but we can make it if it is ordered.
Sugisawa Japanese Restaurant & Bar
 30 Robertson Quay, #01-16 Riverside View
Tel: 6235 0212