Named after the river crabs, this haven is a home away from home.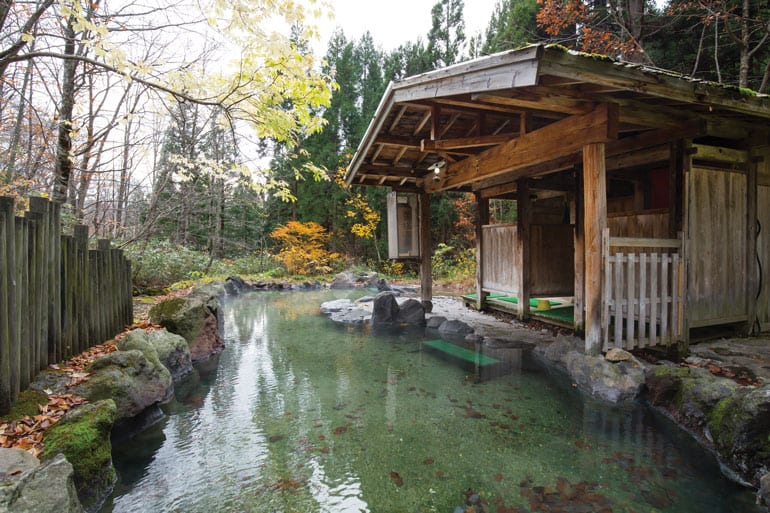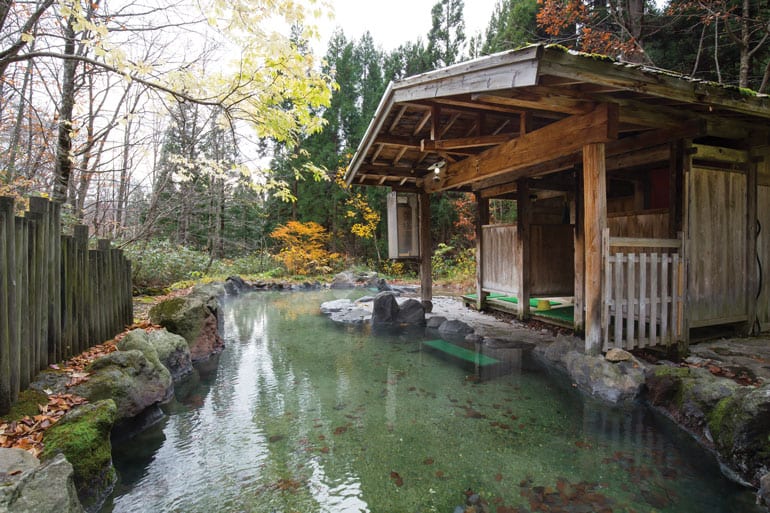 It all began when a doctor discovered a miraculous hot spring by a stream in 1847. Hence, Ganiba Onsen (translated as "river crab onsen") was established. During summer, you'll find river crabs frequenting its nearby steam.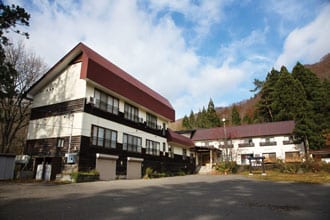 Today, you can retrace the doctor's footsteps as you stroll behind the building's beech forests in your yukata. Keep your eyes peeled for the hot spring by the stream—that's where the original discovery was made! The unisex pool has sulphur-packed, clear waters—a rare combination, according to our guide—to rest your travel-worn bodies.
Flower of the onsen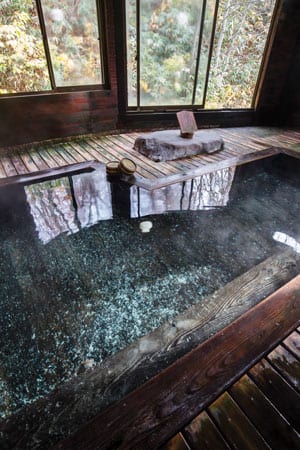 Yunohana, otherwise known as "flower of the onsen", is a white sediment found in Ganiba's hot springs. From far, these thread-like deposits create the appearance of delicate petals floating in the hot springs.
It's a tell-tale sign that this onsen is rich in sulphur. "The waters in our bathing pools are near the source of the hot spring, so they are rich in minerals. The mineral content in these waters oxidise to form these 'flowers'," shares its okami, Ms. Misako Kikawa.
A series of six other baths are accessible through a sheltered walkway leading to the building's annex. These pools are fed by three hot spring sources, so their water profile varies. There, you'll find stone and cedar wood baths that tend to a variety of ailments. "In our ladies-only bath, the pH value of water is 8.7 and more alkaline—perfect for women looking for soft and smooth skin."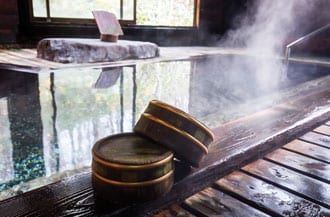 "I want people to feel comfortable and relaxed, as they would in a beloved relative's home," says Ms. Kikawa. She tells us that out of Ganiba Onsen's 17 rooms, eight have in-suite toilets and one room comes with twin beds. "Hopefully, through our onsen baths, people will learn more about the beautiful culture of Japan."
Ganiba Onsen
Tazawako Sendatsuzawa Kokuyurin,
Senboku City, Akita 014-1204
Tel: 0187-46-2021
https://www.google.com/maps/place/Ganiba+Onsen/@39.806041,140.7962013,17z/data=!3m1!4b1!4m16!1m8!3m7!1s0x5f8566f26224fd01:0x4186a258fd10999f!2sGaniba+Onsen!5m1!1s2018-09-26!8m2!3d39.806041!4d140.79839!3m6!1s0x5f8566f26224fd01:0x4186a258fd10999f!5m1!1s2018-09-26!8m2!3d39.806041!4d140.79839