Taku Ashino
Owner/head chef, Ashino
With 11 solid years of experience in sushi-making, Chef Taku Ashino was invited to Singapore three years ago to be the head sushi chef of the highly revered Hide Yamamoto at Marina Bay Sands. The philosophical gentleman practices the Buddhist way of life, profoundly translating it to every piece of sushi he prepares. Chef Ashino explains how, and more, below.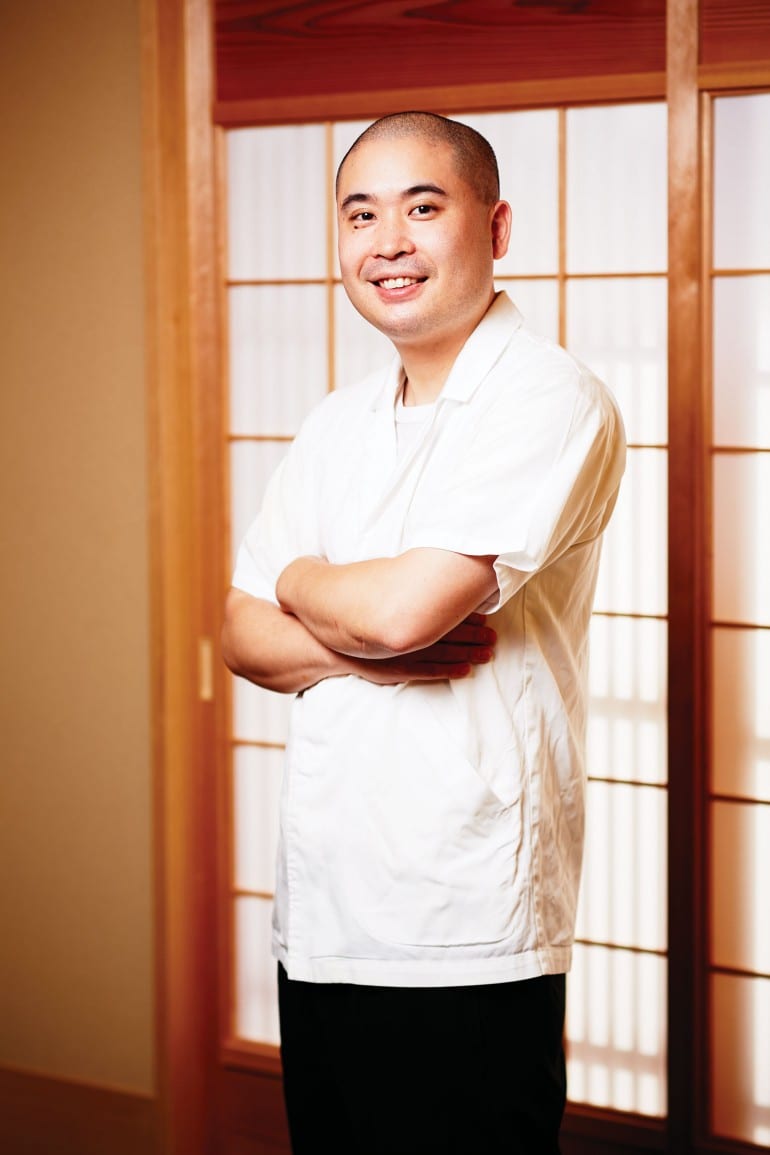 What sets Ashino apart from the rest?
A few things. First, the rice we use is a mix of Koshihikari from Niigata and Nanatsuboshi from Hokkaido; the mix of the two creates a nice balance of texture and flavour. The water we use for the rice is air-flown water from Mount Fuji. We cook the rice in a traditional iron kettle whose chemical composition causes the rice to "dance" during the cooking process, as a result ensuring every single grain of rice is cooked to perfection. In Tokyo, there are only a handful of restaurants that use an iron kettle to cook the rice. What further sets us apart is that we employ the technique of fish ageing. You won't be able to find another restaurant that uses both these techniques – not even in Tokyo.
What's the longest time you take to age a fish?
The longest period is 40 days. Of course, it doesn't mean that the longer it takes to age a fish, the better it tastes. It depends on the type of seafood.
What's your favourite fish to work with?
Kohada. Typically you would be able to tell a chef's skills from the way he prepares the kohada and how the fish tastes. I first marinate it with salt and vinegar, then age the kohada for 5 to 10 days to bring out its umami flavour and soften its texture so the kohada practically melts in your mouth the moment you eat it.
You are so wholly dedicated to your craft. What motivates you?
I've always been very inspired by the Buddhist way of life. As such, I'm tremendously grateful to the whole life connection, and I aim to express this gratitude through the sushi I serve. With every piece of sushi I prepare, I am committed to doing my best.
Do you have any words of advice to the next generation of sushi chefs?
Never stop learning. I do not deem myself a master; I am still learning every day. You must carry this humility through life, no matter what you're doing.
Ashino
30 Victoria Street, #01-23 Chijmes, Singapore 187996
Tel: 6684 4567
Keisuke Ohno
Head chef, Sushi Mieda
It was all thanks to the aggressive promotion of Singapore on Japanese television four years ago that Chef Keisuke Ohno took notice of our little island. A sushi chef for 17 years and counting, Chef Ohno's passion in what he does is palpable through his eager explanations of different types of seafood and the fish ageing process – a technique he is intimately familiar with. Bonus: Despite being in the presence of a high-ranking chef, you'll be instantly put at ease with Chef Ohno's jovial and sunny personality!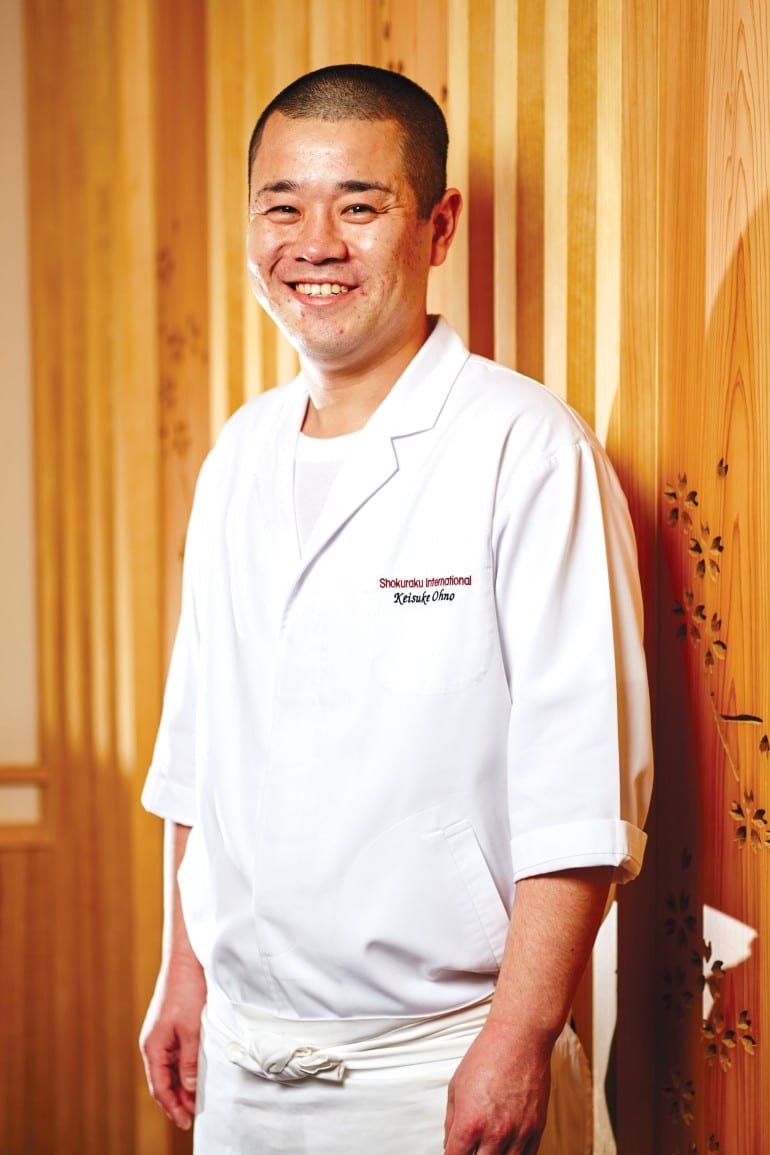 What is Sushi Mieda's specialty?
We specially import rice straw from Japan and use them to grill some of our seafood. This tataki-style of smoking fish hails from Niigata. With the rice straw, we can better control the temperature, and it also adds a lovely smoky flavour to the fish.
Sushi Mieda also employs the technique of fish ageing. How do you decide how long a fish is aged?
There are many factors to determine the ageing period for any one fish, including the size of the fish, its characteristics, and how it was fished. This means that even if it's the same species of fish, the time it takes to age may be different. For instance, if you net a fish, it would try to wriggle away, and this will result in meat that is slightly tougher because of all the stress inflicted upon it earlier. On the other hand, if you had fished it, it dies more instantly, which translates to less stress on the meat. This is why not all seafood is best eaten fresh; it depends on so many factors.
What makes a good sushi chef?
You need to work in a proper, high-quality sushi restaurant – that's where you'll receive optimum training. When I first started out, it took me one full year before I could even get my hands on the fish!
What is your favourite part in the sushi-making process?
The end bit, when I serve the customer. It makes me even happier when the customer says, "Oishii!" at first bite; it is incredibly humbling and reminds me of why I wanted to be a sushi chef in the first place.
Sushi Mieda
OUE Tower, Level 10, 60 Collyer Quay, Singapore 049322
Tel: 8425 7835
Kazuo Saito
Sushi chef, Akane
Hailing from Tochigi prefecture,  Chef Kazuo Saito has been expertly making sushi since 1994, and only recently moved to Singapore in 2011.
Despite acknowledging the stiff competition amongst sushi restaurants in Singapore, Chef Saito sticks to what he knows best: his firm grasp of the basics of sushi-making, and his utmost dedication to his craft.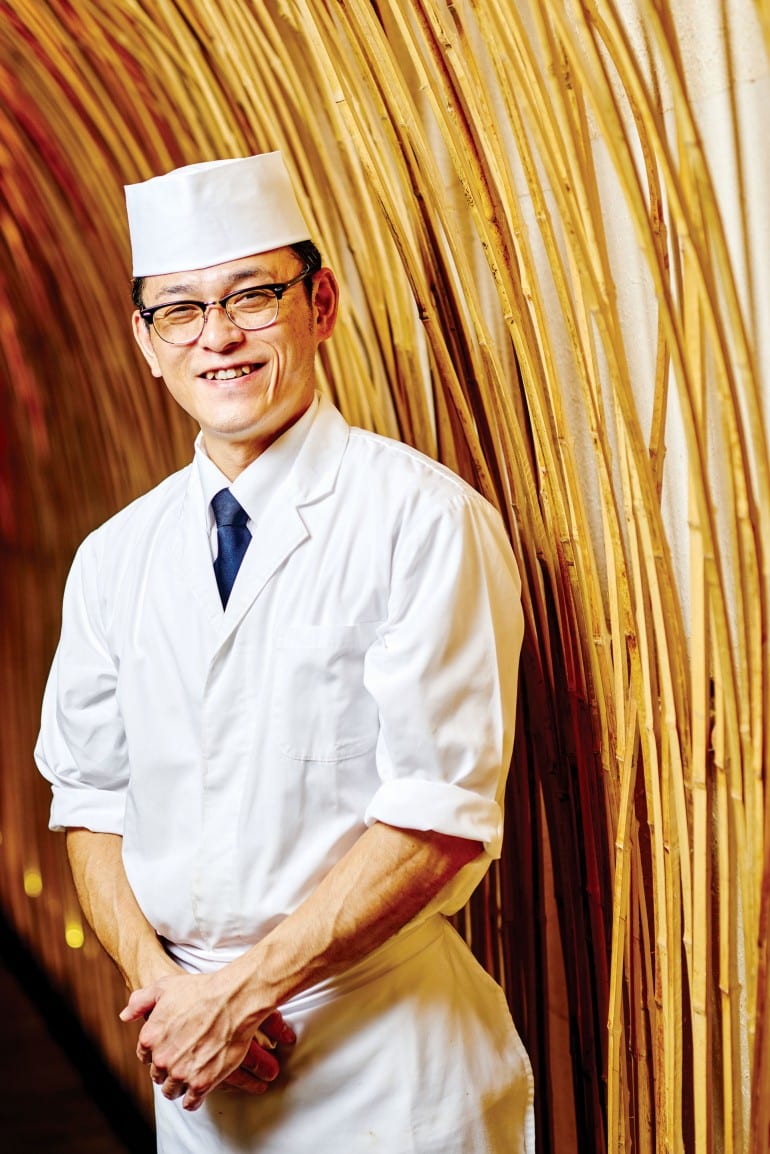 What sets Akane apart from other sushi restaurants?
Very simply put, there are three things that make us unique: Our sushi looks good, tastes good, and is great value for money for the quality.
How would you describe your style of making sushi?
It's very difficult to describe my style. As a sushi chef, I deeply value the basics of sushi making. Everything has to be of the right balance – from the freshness of the seafood to the temperature of the rice. You could say I'm a traditionalist at heart! Don't get me wrong; things are always evolving, even tradition. Through generations, we adapt certain techniques while still maintaining the foundation of sushi making.
Akane is located at The Japanese Association, Singapore. Does this add stress to your plate, knowing you are preparing sushi for the discerning Japanese palate?
In a way, yes. Patrons who visit Akane have certain expectations, and I always strive to meet them. But at the same time, it doesn't matter whom I'm serving; you can be assured that every piece of sushi is created with equal diligence and commitment.
What is a motto you live by as a sushi chef?
To offer the best I can in whatever I do. I can't promise you perfection, but I promise I pour my heart and soul into every piece of sushi I prepare.
120 Adam Rd Singapore 289899
Akane
The Japanese Association, Singapore, 120 Adam Road, Singapore 289899
Only members of the Japanese Association and their guests are able to access Akane.