May 13, 2020
Spring's snow wonder - Marvel at the spectacular Yuki-no-otani snow wall on the Tateyama Kurobe Alpine Route.
Not quite the gigantic ice wall in Game of Thrones, the Yuki-no-otani snow wall on the Tateyama Kurobe Alpine Route is nonetheless impressive. With 18-metre-tall snow walls, about the height of a five-storey building, this icy passageway is a stunning sight to behold, especially on bright, blue-sky days. Walk this portion of the route and you'll feel as though you are wandering through a frosty tunnel.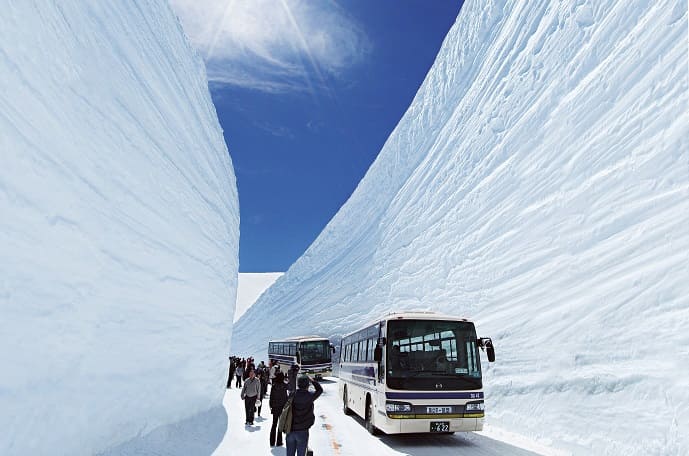 The Yuki-no-otani snow wall is not a natural phenomenon. Every year, it is painstakingly created by snowplough operators for about a month. These human drivers carve the corridor out of deep snow using mobile satellite phones, GPS and bulldozers.
That's because the Tateyama mountain range in Japan's Northern Alps, on the border between Toyama and Nagano prefectures, has some of the world's heaviest snowfall. Tateyama sees an average of 7 metres most years; in years with especially heavy snowfall, snow can pile up 20 metres high.
Although the snow walls remain even until August, they become smaller as the ice melts away with the warmer weather. The best time to take in this man-made marvel is when the walls are at their largest, from mid-April to the end of May.
While the Yuki-no-otani snow wall is about 500 metres long, the entire Tateyama Kurobe Alpine Route is 90 kilometres long. Sightseers take about six to seven hours to cross the full route using different transportation modes to get from point to point: two funicular cable cars, a bus, an electric trolleybus and an aerial tramway. The Yuki-no-otani snow wall is along the bus route between Midagahara and Murodo, the highest point on the Tateyama Kurobe Alpine Route. You can stop halfway, but you will need to book a different time slot on another bus for the journey onwards or back.
Besides the snow corridor, other must-visit spots on the Tateyama Kurobe Alpine Route include Japan's largest waterfall Shomyo Falls and the Midagahara alpine wetlands. In autumn, the Tateyama range is also excellent for fall foliage. Then there is Kurobe Dam, Japan's tallest dam towering at 186 metres and an engineering marvel that took seven years to build.
In 2020, the full Tateyama Kurobe Alpine Route is open from 15 April to 30 November. Dates might vary slightly, so check the website for the latest information.