This elusive ryokan is a hidden gem within Nyuto Village's beech forests.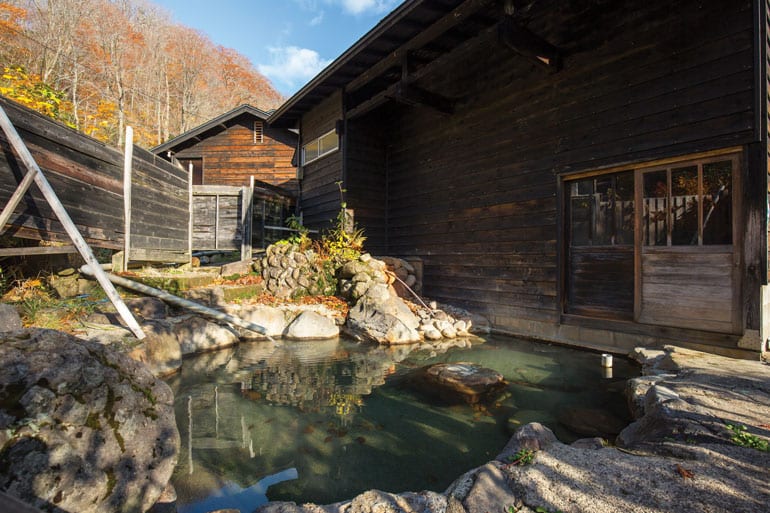 If a rustic village by a dramatic river is your idea of an Instagram-worthy shot, then snap away at Magoroku Onsen. Established in 1906, it is the only ryokan not accessible by car, so you'll have to walk approximately 18 minutes from the nearest bus stop to catch this stunning sight.
Magoroku's healing waters are known to offer a string of health benefits like improving one's longevity, fertility, stomach and intestinal problems, and cuts. According to its owner, Mr. Magosuke Taguchi, local myth has it that a couple, who didn't have children for many years, finally conceived after a dip in the onsen!
Its seemingly magical qualities are also said to predict the weather! The springs turn a darker, foggy hue when bad weather looms, and—as if by some mysterious force—turn clear when the sky tames.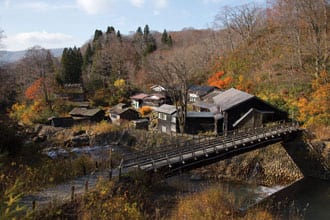 "We often get mountain trekkers who drop by our onsen for a night's stay while touring the onsen of the region," shares the fourth-generation owner, who is 91 years old. And it's no surprise why—the hiking trail to Mt. Nyuto is just a stone's throw away.
Mr. Taguchi's favourite season? Springtime, he shares with a smile on his face. "Springtime is my favourite season here. It's when bamboo shoots and mountain vegetables sprout." These small, thin shoots are commonly used in freshly-cooked dishes at the ryokan too.
Magoroku Onsen
Tazawako Sendatsuzawa Kokuyurin,
Senboku City, Akita 014-1204
Tel: 0187-46-2224