Derrick Lim doesn't speak Japanese and has no prior background in F&B. How, then, did he convince seven of the top sake producers in Japan to export their products to Singapore?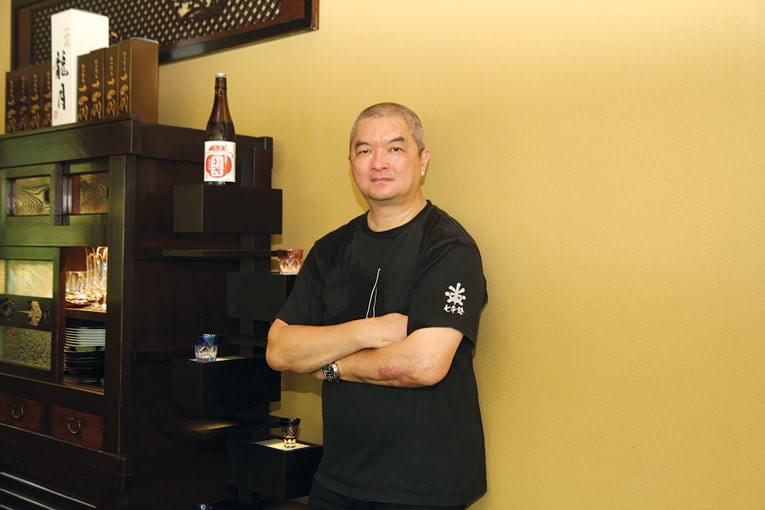 I've always drank sake in Japanese restaurants but I never had much knowledge about it. It was only in 2010 that I first experienced a meal where non-Japanese dishes were paired with sake. That experience sparked my interest; I wanted to find out all about Japanese rice wine. This quest for knowledge led me to John Gauntner, the world's leading non-Japanese sake expert.
In early 2012, I travelled to Tokyo to undergo a sake professional course under Gauntner. It was a life-changing course as it truly opened my eyes and palate to a new dimension of sake appreciation. Over the five-day course, we tried over 100 labels and I was astonished to discover the wide variety of flavours available. It dawned on me how little knowledge of sake we have in Singapore and how few labels are available to us.In June 2012, I attended a sake fair in Ikebukuro, Tokyo, which is where I met representatives from the Shichida and Amabuki breweries. Little did I know, these two breweries would soon be among the breweries I represent in Singapore.
How I Convinced Top-Notch Breweries To Come To Singapore
When I returned home, I got to work trying to find out how I could bring in these sake labels into Singapore. I was lucky to have Gauntner and my senpai (senior) Etsuko Nakamura, who is a certified Sake Samurai. Both of them helped link me up with the various breweries I was interested in. In 2013, I took a two-week trip to Japan, where I drove from Fukuoka to Kyoto, meeting with various brewery owners and master brewers.
I didn't speak Japanese so I had a translator with me, and I tried to answer the brewery owners' questions as honestly as I could. It was not easy trying to convince them to take a chance on me — an F&B rookie with no experience in the distribution industry — but I made sure I did as much research as I could before the meetings. The Kinoshita brewery, which produces Tamagawa sake, was the first to say "yes". However, it took me over three hours of discussions before they agreed!
From Sake Novice to Sake Evangelist
Today, I represent seven sake breweries in Singapore. Not only do I distribute their products to various restaurants, I also organise sake pairing workshops and even Master Classes (in partnership with Gauntner). My hope is that with these classes, more people in Singapore will come to appreciate sake beyond just a brand name or its price tag. There are so many incredible sake labels from boutique breweries, and each of them comes with its own unique history and flavour profile.
Whenever someone is trying a sake for the first time, my advice is always to have an open mind and don't limit yourself to only what you know. While it's great to learn as much as you can, don't focus too much on the technical information. What's more important is to listen to your palate.
For more information on Derrick and his sake workshops, visit http://forgoodnessake.sg/