Soft, fluffy, and all things pretty. We find out what makes our beloved Japanese cakes so popular!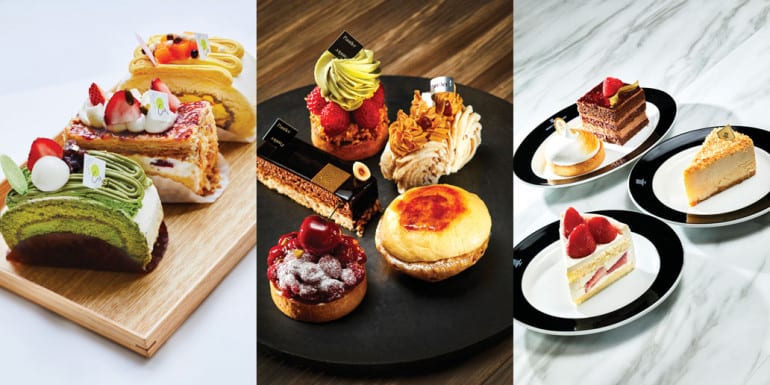 Ask anyone what comes to mind when they think of Japanese cakes, and they'll tell you how delectably soft their sponge layers are, or how beautifully decorated these confections can be. And with summer being the time for all things vibrant and thirst-quenching, it's no surprise that cakes topped with a bounty of juicy berries are popular Japanese treats loved across every city.
But wait, you might wonder, 'Aren't cakes a Western invention?'. While Japanese cakes may be the pride of its people, it was actually the Portugese who first introduced them in the form of Castella sweets during the late 16th century. Made with eggs, flour and sugar, this basic recipe proved to be the starting point for a myriad of culinary inventions to follow.
Today, contemporary Japanese sweets have mostly been influenced by French patisseries. Over the years, Western influence and innovative preparation techniques have created a unique, local style. Japanese-style cake is distinct – it has light sponge layers, a milder taste, local ingredients, and lavish decorations be it luscious fruits, origami-like swirls of cream or the complex pairing of textures.
Amidst the sprawling landscape of bakeries and patisseries in Singapore, kings of cream reign over the confectionery kingdom. We speak with three cake chefs on how they remain on top, and why the Japanese-style cake is adored by one and all.
Masataka Yamashita
Head Chef at Chef Yamashita
One gets an instant feeling of warmth at Chef Yamashita's eponymous patisserie. With the affable head chef chatting among his customers, it's easy to feel right at home in this two-year-old shop. Trained at the Tsuji Culinary Institute in Osaka more than 30 years ago, Chef Yamashita is no stranger to the industry. He has worked in several patisseries across Japan, and even set up his own store in Nara Prefecture.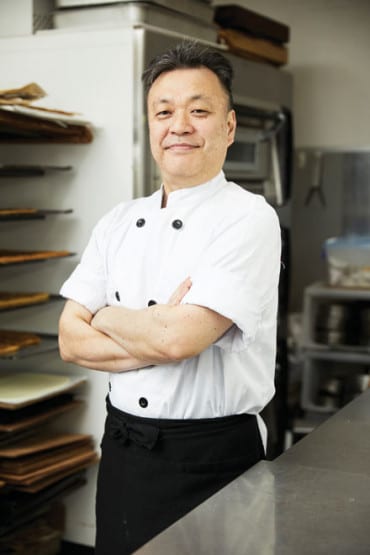 What's your secret to running so many successful patisseries?
Apart from getting the basics of baking right and the will to improve, I think customer service is important. 60% of the cake eating experience depends on service. If customers don't feel good about the counter reception, it will spoil the joy of consuming their dessert regardless of how well your cake is baked or decorated. So, whenever my staff and I interact with them, we will do our best to accede to our customer's requests and brighten their day.
What are some of the different cake styles in Japan?
Cakes in Tokyo tend to be mousse or chocolate-based. They are also meticulously decorated, petite, and dense in texture. In the western part of Japan where I come from, we usually make big cakes with fluffy sponge layers and decorate them with lots of fruits. At Chef Yamashita, our best selling strawberry shortcakes follow this traditional style.
How have the tastes of Singaporeans changed over the years?
When I first came to Singapore, local cake shops dominated the industry with their sugar rolls and chiffon cakes. So at that time, whatever I sold ended up popular because of its novelty. Presently, more Singaporeans have travelled to Japan and other parts of the world, so their tastes have become more sophisticated. They are now more discerning about flavour palates and the quality of cakes.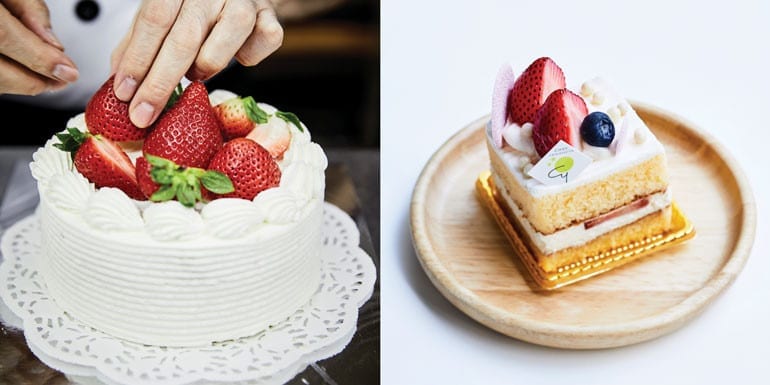 What is your wish for Chef Yamashita?
When I was working in Japan, my cakes were particularly popular among young children. They would save their pocket money just for a slice. It was heartening to see them grow up and introducing the same cakes to their own children. My wish is for the next generation to continue sharing and enjoying my cakes as tokens of love.
Chef Yamashita
#02-44 Blk 1 Tanjong Pagar Plaza
Tel: 6604 9709
Tomoharu Morita
Head Chef at Pantler
After spending 7 years at the Grand Hyatt in Tokyo, Chef Tomoharu made his mark in Singapore with Resort World Sentosa's Joël Robuchon restaurant in 2010. In 2014, he opened Pantler. Decked out in sleek, yet rustic décor, our next stop is a chic haven amongst the heady tourist crowds of Telok Ayer Street. Pantler is not your typical patisserie. With a wide variety of ingredients ranging from rhubarbs and figs, to bananas and rum, Chef Tomoharu boldly experiments with fresh ingredients to create unique works of art that taste just as good.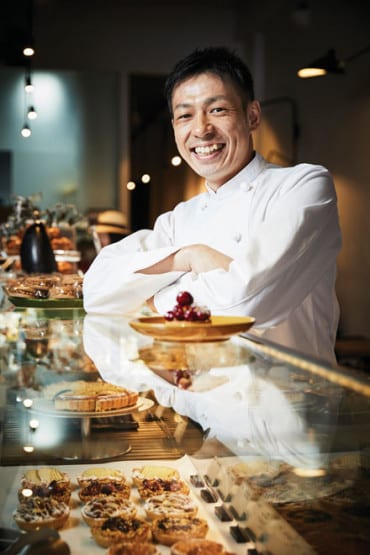 How do you get inspired to create such imaginative cakes?
Through the years, I've been blessed with good mentors from Japan and Singapore. They have imparted me with skills and knowledge to become the chef that I am today. At my present workplace, I also have bosses who give me the artistic freedom to experiment with quality ingredients and try new recipes. This lets my imagination run wild and helps me realise my vision.
What is most important when baking a cake?
First of all, you need to master the basics. Each part of the cake must be perfectly made in order for the overall creation to succeed.
Our specialty, the Yatsura, is a sentimental culmination of my years of training. It's topped with a chocolate glaze, followed by a mousse layer, hazelnut feuilletine, hazelnut dacquoise, and the base. When making a cake with multiple layers, pay close attention to the base. It's the most difficult part to bake, as it must support the upper layers and still have a delicate texture.
What are some of the special ingredients used at Pantler?
I use special Chitose strawberries grown in Cameron Highlands, Malaysia. At this Japanese-owned farm, strawberries have a fuller, sweeter taste, and are grown in an ecologically-friendly manner.
Aside from premium flavour, the farm also separates their strawberries according to size. So this means I get to use petite-sized strawberries when decorating creations such as our Strawberry Tart.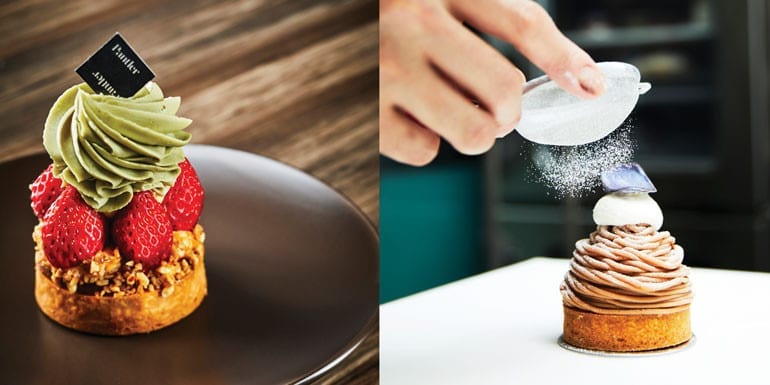 What do you hope to see more of in Singapore's baking industry?
In Japan, it is common for patisseries to exchange industry knowledge and information with each other. This helps the community improve their technique and creates a healthy learning environment where everyone can get inspired together. Unfortunately, this practice is uncommon in Singapore so I hope to see more of it in future.
Pantler
198 Telok Ayer Street
Tel: 6221 6223
Kenji Yokota
Chef at Henri Charpentier
Managed under the Suzette Corporation, Henri Charpentier opened in 1969. The bakery has since expanded with confectionaries galore and now stands at over 80 outlets in Japan. Just this year, it opened its second outlet at Tanjong Pagar.

The storefront gleams in warm lights amidst the corporate crowd during rush hour. As the city winds up for a new day, the bakery has treats ranging from cakes to pastries already up on display. Chef Yokota, who is also in charge of the brand's purchasing and marketing in Singapore, greets us on our early morning.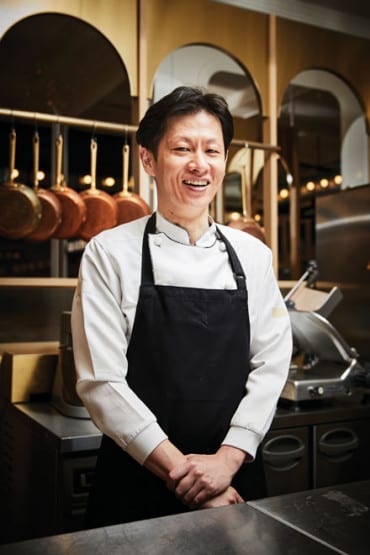 What is one of the best-selling cakes at this bakery?
Our strawberry shortcake, otherwise nicknamed as 'the short', was once celebrated as the best in Japan. At Henri Charpentier, we use this same award-winning recipe that's a hit among local customers. Its sponge layers are exceptionally fluffy, pleasantly mild, and paired with rich layers of cream.
Are there any special ingredients used in these recipes?
We make sure that only premium ingredients go into our various treats, be it cakes, tarts or jellies. Only the freshest, locally sourced ingredients go into our creations for the best taste possible. For some of our cakes, we also import Japanese ingredients like matcha powder and golden powder.
How does Henri Charpentier cater to local tastes?
We adjusted some of our recipes by making cake layers fluffier and less sweet. Across the board, we had to increase the size of our cakes in order to match up with industry portions. In Singapore, our Lemon Tart is served with meringue on top, whereas none is added in Japan. Taller swirls of chestnut cream are also used in our Mont Blanc. And our Raspberry Chocolat – containing chocolate sponge layers, cream, and a raspberry jelly glaze – is exclusive to Singapore.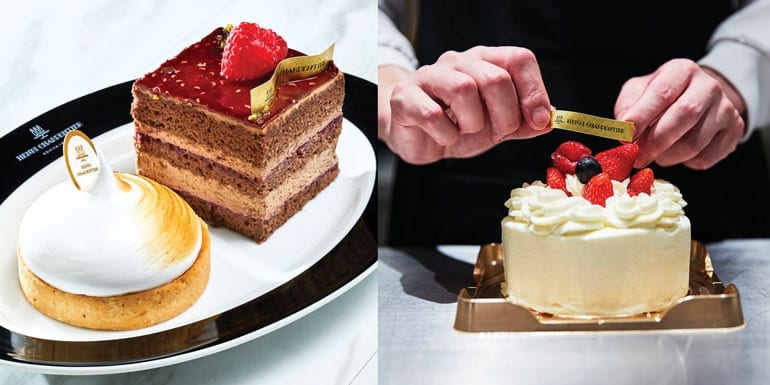 What makes the financiers here so special?
Not to be mistaken for madeleines – which is made from sugar, butter, flour and lemon peel – financiers use finely ground almond powder instead of flour. From October 2013 to September 2014, Henri Charpentier sold over 24 million financiers, earning us the Guinness World Record of the best-selling plain financier company.
Made from specially selected ingredients, our popular tea cake earned the name from its gold bar shape. When the French cake made its debut, Parisian bankers were also said to be one of its biggest fans, hence earning its moniker.
Henri Charpentier
#B2-15 Tanjong Pagar Centre, 7 Wallich Street
Tel: 6386 8422