Kushikatsu may have humble origins, but this beloved Osaka street snack is now given a gourmet twist by these three inventive chefs.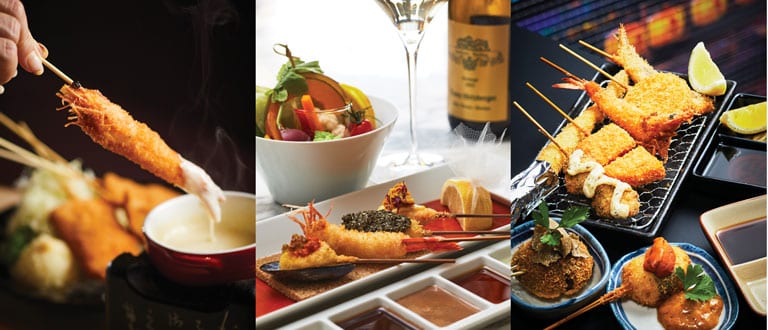 Kushikatsu is battered deep fried food served on skewers. "Kushi" refers to the bamboo skewer used, while "katsu" references the meat cutlet. It's also known as kushiage in the eastern parts of Japan, although kushiage is a broad term that includes skewered ingredients prepared with different frying methods—for example, without panko (Japanese breadcrumbs with a light, flaky texture). Kushikatsu, however, is almost ubiquitiously prepared with panko.
Kushikatsu can be found all over Japan but it's probably most popular in Osaka. After all, that is the city where it all began. In 1929, the proprietress of the now-legendary Daruma hit upon the idea of serving skewered meat to the local labourers who thronged her shop. Using hearty ingredients like meat, onions, and potatoes, and slathering it with a thick batter, this simple but delicious meal helped fill the bellies of hungry workers. Today, kushikatsu continues to be a favourite among the working class, but more and more upscale restaurants are serving gourmet versions of the dish.
For example, some of the typical ingredients used in kushikatsu include chicken, pork, and seasonal vegetables. However, in higher-end restaurants, kushikatsu ingredients run the gamut from prawns and scallops to premium cuts of beef. Whatever the ingredient used, the cooking style is the same—the ingredients are skewered on the kushi and dipped in a mixture of egg and flour, then put panko before being deep-fried in hot oil.
Regular kushikatsu is usually served with tonkatsu sauce but in the Nagoya area, a type of sweet miso sauce may also be served. In the upscale restaurants, however, the chefs usually prepare a variety of sauces to complement the various ingredients served.
While every chef will have his own unique take on how to prepare kushikatsu, one factor remains a constant— this is one scrumptious Japanese dish you absolutely cannot miss out on!
  (Text Vanessa Tai Photography Raymond Toh/Vineyard Productions)