Can you "eel" it? Grilled unagi is fast gaining popularity in Singapore, with three speciality restaurants vying for the top spot.
Soft and supple, fatty and sweet, crispy and smoky—grilled unagi (eel) has been a popular dish in Japan since the 1600s. It was a traditionally inexpensive dish but has become a luxury item due to the increase in price caused by a dwindling eel population. There is even a customary eel-eating day there, which falls on the Day of the Ox, sometime between 19 July and 7 August. In fact, unagi is usually eaten in summer as the dish is said to give you extra energy to recover from the hot humidity.
Which means that grilled unagi is perfect for our tropical climate, where it is summer all year round! In Singapore, grilled unagi has been a staple in many Japanese restaurants throughout the years. But its popularity spiked when Michelin Bib Gourmand winner Man Man Japanese Unagi Restaurant entered the local market in 2016, introducing hour-long queues of eager eel-eaters and shining a spotlight on this snake-like fish.
There are two distinct ways of preparing eel: Kanto and Kansai style. In Kanto (Tokyo) style, the eel is slit down its back then par-grilled, steamed, dipped in tare (basting sauce) and grilled again till crispy, resulting in tender, flaky meat. In Kansai (Osaka) style, the eel is slit down the belly, dipped in tare and grilled for a longer period of time to achieve extra crispy skin and moist meat.
The regional way of serving eel in Aichi Prefecture, a top eel cultivating region, is Hitsumabushi style. The grilled eel is cut into smaller pieces and placed on a bed of rice. Condiments include fresh wasabi, sansho pepper, chopped green onions and nori seaweed. Your first taste should be of the unagi on its own, following which you enjoy it with the condiments. The third taste should include some broth poured over it. And lastly, you can enjoy it in whichever of the three methods you prefer.
Each unagi restaurant boasts its own special tare. While usually prepared simply with mirin and soy sauce as the main ingredients, the secret is the years and sometimes decades worth of eel that has been dipped into it, flavouring the sauce richly. Some restaurants claim to have kept the pot of sauce going for more than 100 years!
Let's find out more from the chefs at these three speciality unagi restaurants in Singapore.
Kishio Watanabe
Head Chef, Chikuyotei
Chikuyotei has been around since 1992 and is the first restaurant to serve live eel from its aquarium. They cook the eel Kanto style, steaming it to make it more tender. They bring in about 100kg of eel a week. The fine-dining restaurant also serves a wide variety of authentic and modern Japanese cuisines. 
What makes the unagi here special?
We don't do anything special. We cook it in a very ordinary way. What's important is that we bring the eels in live and we cut them just before cooking to ensure freshness. As our sauce is not so strong or so sweet, the eel must be of very good quality to go well together.
What's the secret behind getting the perfect texture
and taste?
There's no secret behind it. Even our sauce is simply made with mirin and soy sauce. We cook it Kanto style where we first grill the eel, then steam it for about 20 minutes to make it more tender, then we dip it in the sauce and grill it again to get it crispy. For the first grilling, we use a charcoal grill with a strong fire. For the second grill, we use a slow fire. Grilling it takes skill, which is hard to learn. We use bamboo skewers instead of metal ones as the eel is more tender, so the bamboo skewers support them better.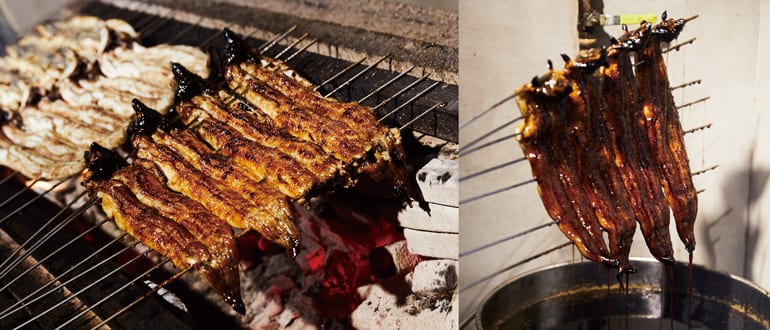 You were the pioneer in serving live eels in Singapore. How do you feel about the sudden increase in competition?
The fact that there are new restaurants coming up specialising in unagi is good for us. Previously, eel wasn't so popular. Now many people know about it and want to try. These other restaurants have helped to develop the market.  
How do you choose the best eels?
We only use eels from Aichi Prefecture in Japan, because they are the best quality. The original Chikuyotei restaurant started in Japan in 1851, and we use the same technique and suppliers as they do.
What do your customers think of your unagi?
Our unagi isn't cheap. Eel prices recently went up 50 per cent, so we have had to increase our price. But we have not received any complaints, and the consumption of eel has even gone up. That's a good sign. Our customers are spending more so we have to make more effort to get good eel.
Chikuyotei
#01-01 Intercontinental Singapore, 80 Middle Road
Tel: 6825 1064
Hiroki Nakagawa
Head Chef, Man Man Japanese Unagi Restaurant
Since its opening in 2016, Man Man—the first Man means "unagi", while the second one means "satisfaction"—has seen long queues stretching for over an hour daily. It gained an entry in the Singapore Michelin Guide's Bib Gourmand list last year and has been credited with making the dish popular in Singapore.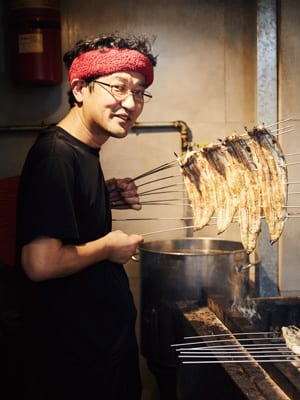 How did you become an unagi specialist?
My hometown is Isshiki in Nishio city, Aichi Prefecture. I want to promote unagi because Isshiki unagi is a famous speciality in Japan. I started doing this when I was 25 years old. I worked in the processing plant where I did many different tasks, including marketing and grilling.
How did the idea for Man Man come about?
I met Teppei Yamashita, the director of Teppei, in Bangkok in 2015. I was working next door to his franchisee Teppei Syokudo. I was there to train the staff as the owner had planned to open an eel restaurant, but it didn't happen. Luckily, Teppei-san was keen on opening a restaurant in Singapore specialising in unagi. He asked me to cook fresh unagi in front of him, shioyaki-style, that is, simply grilled without any sauce, and he really liked it.
Do you feel any pressure from being included in the Singapore Michelin Guide's Bib Gourmand list?
I'm very surprised, but no, I don't feel any pressure. I do whatever I feel is appropriate to serve the best unagi. That is very natural for me.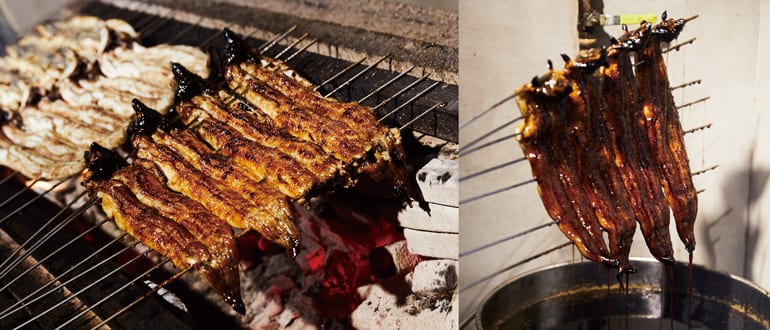 How do you choose the best eel?
We use a lot of eel from Japan, but we can't get it all the time because it is seasonal. When we're not able to get better unagi due to the season, we get them from Taiwan or China. The farms there are managed by Japanese companies, so we trust the quality.
Are there special considerations when dealing with unagi?
When I have a new batch of eels coming in, I always check the quality. I go to the farms and when I find a particular pond that has good eel, I buy up the entire pond. Then I make sure that when they come here, they stay in good quality. Every month, I use 3 tonnes of unagi. What makes them tasty is that the meat has to be soft. The grilling of the eel is important, but 80 per cent of the taste lies in the quality of the eel.
Man Man Japanese Unagi Restaurant
#01-01, 1 Keong Saik Road
Tel: 6222 0678
Koji Kojima
Head Chef, Uya 四代目菊川
Uya 四代目菊川 is the result of a partnership between Yuhei Kikukawa, the fourth-generation owner of famed Japanese eel supplier, Nakasho Shoten Ltd., and Singaporean company, Shin Foods PL. Right after Mr. Kikukawa started his first restaurant, Unagi Yondaime Kikukawa, in Japan last November, Uya 四代目菊川 in Singapore was opened in January this year. The eels arrive fresh twice a week at Uya 四代目菊川 and are kept in a temperature-controlled tateba, or "piling place", until they are ready to be cooked.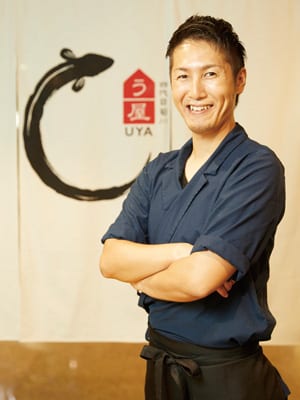 What's different about the unagi served here?
The unagi we use is classed as 3P, which means that 1kg gives us three eels. Some restaurants use 4P or 5P, which means that the unagi is smaller. Our unagi is bigger and the meat is denser. That's why they don't shrink too much when they're grilled and are still thick and juicy. That's a good type to use to get a crispy texture on the outside and juicy on the inside. We also partner with Nakasho Shoten who has over 90 years of experience as an eel wholesaler. Their recipes and even the unagi sauce have been brought over from there, which means all the years of flavour remain in our sauce.
How do you choose the perfect eel?
You can tell from the outside, through the skin. I prefer the skin to be softer. If the unagi is a little bit shiny and blue on the outside, it means it's softer. If it's black, it means it's harder.
How do you get a perfectly grilled eel?
We do it Kansai style here, which is only grilling. To get it crispy on the outside and moist on the inside, the chef needs to control the heat of the grill, and that is where skill comes in.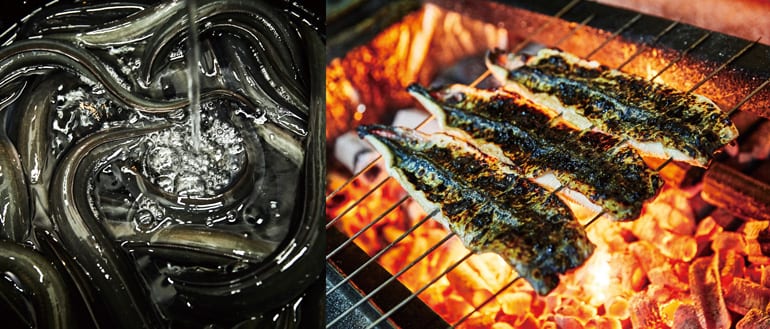 Where are the ingredients from?
We get unagi from our wholesale partner, Nakasho Shoten who helps us to source for the best quality. Our wagyu, fish and Niigata rice are from Japan, and we source our vegetables locally.
You didn't start your career as a chef. Tell us a little more about that.
I worked in car manufacturing until I was 28 years old. I grew up in Nagoya, Aichi Prefecture, which is where Toyota cars are manufactured. I decided to go into F&B because I wanted to do something different, and I liked communicating with people face to face. The first restaurant I worked at was an unagi restaurant, so I learnt how to cook unagi there. I've also worked as a chef, a restaurant manager and a consultant, until I got the opportunity to come and work here.
Uya 四代目菊川
#02-15/16 Wheelock Place, 501 Orchard Road
Tel: 6732 1096