Fancy duck or snapper-based ramen? Check out some of the latest ramen flavours around at these noodle hot spots.
With over 100 ramen restaurants on the island, it's no doubt that this hearty, soupy noodle dish is a big hit in Singapore. It's a go-to for those who want a fuss-free yet satisfying and flavourful meal.
While it's said to have originated from China, ramen has become synonymous with Japan, where it's something of a national dish. The basic broths include shoyu (soy sauce), shio (salt), miso (fermented soybean paste) and tonkotsu (pork bone). Different soup bases can be made by combining these different flavours. The noodle is just as important; you can get it straight or wavy and in varying levels of thickness, all of which will affect the taste of the ramen.
In Japan, each region may have a slightly different take on the dish in terms of the ingredients and toppings used. For example, miso-based ramen is popular in Sapporo, where the dish is also a little oilier to trap flavour and heat, warming diners up through the freezing winter.
Ramen eateries are called ramen-ya and usually found in busy locations, making them a perfect place for those who want to pop in and out for a quick meal. After all, ramen is best slurped up quickly to prevent the noodles from getting soggy. For the most part, ramen remains a humble, everyday dish, although it's recently been elevated to the realm of gourmet food, with ramen restaurant Tsuta achieving Michelin-star status.
Ramen chefs are constantly coming up with new flavours. One such creation is the duck ramen, made by celebrity chef Keisuke Takeda. He opened his first branch serving the speciality dish in Ginza, Tokyo, in 2014. Another increasingly popular flavour in Tokyo is the sardine tonkotsu ramen, which combines the pork bone broth with dried sardine extract, as well as red snapper ramen.
Good news—these exciting new flavours can now be found in Singapore as well! Find out more from these three acclaimed chefs who are helming the latest ramen spots here.
Yoshihiko Watanabe
Head Chef, Men-Men Tei
Men-Men Tei is the 16th food outlet for chef-owner Teppei Yamashita, and his first ever ramen shop. This humble-looking eatery seats around 15 people, including counter seating. Apart from the usual tonkotsu, shoyu and spicy miso bases, it also serves unique ramen flavours, such as sardine tonkotsu and red snapper.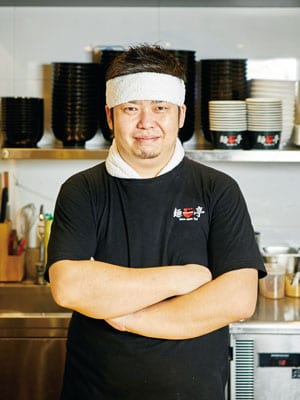 What is the concept of this ramen outlet?
The basic idea is a ramen shop to suit everyone's tastes. Ramen is very subjective—some people like rich flavours, some like light flavours. We wanted to meet many different people's preferences.
How many types of stock do you have?
We have four different kinds of stock: tonkotsu, sardine, snapper and chicken. We mix the different stocks to make different soup bases. I prepare enough stock for 200 bowls, of which 150 use tonkotsu. 
You serve fish-based ramen. Does that come from a specific part of Japan?
The red snapper ramen is from the Kinshicho area in Tokyo, where there is a ramen shop famous for the dish. And I learnt how to make sardine tonkotsu ramen when I worked at Menya Musashi, a famous ramen shop in Tokyo. It is one of the most popular flavours. This is the only place in Singapore where you can taste this particular ramen.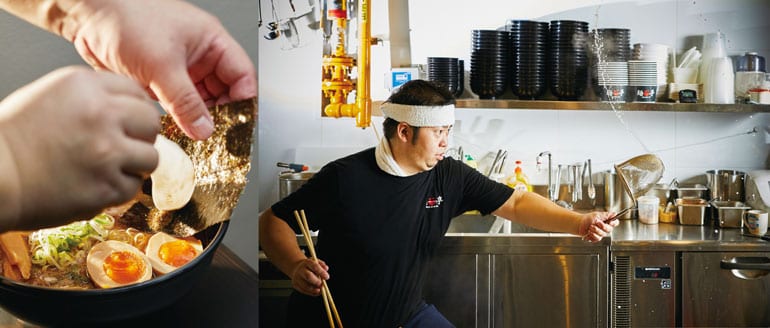 Who came up with all the recipes?
I did, with Teppei-san's advice. I've always wanted to open a ramen restaurant so I've had these recipes with me for a long time. It took me about six months to perfect the taste, by trial and error and constantly tasting.
What makes a good ramen chef?
As a chef, I shouldn't compromise on quality. Even a drop of sauce or stock can change the flavour, so everything has to be perfect. 
You have a special way of draining the noodles, where you flick the noodles vigorously into the air and yell loudly. Why do you do that? 
It came from Takeshi Yamada, the chef-owner of Menya Musashi. He came up with it as a way to symbolise the passion he has for making ramen. It's also entertaining for the customers to watch. I followed his style. But I can't do it all the time. I need to make sure my staff are at a safe distance when I do it.
What advice do you have for your customers? 
Singaporeans love tonkatsu but the sardine tonkotsu ramen is very popular in Japan now, so don't be shy to try something new. 
Men-Men Tei
#B2-28 Marina One, The Heart, 5 Straits View
Tel: 6282 7280
Kyohei Fukuda
Head Chef, Sapporo Ramen Shirakaba Sansou
The original Shirakaba Sansou outlets are found in Sapporo, where they are 21 years old. The local outlet, at Hokkaido Marche in Orchard Central, serves between 100 and 200 bowls of ramen on weekdays. That number jumps to between 400 and 500 on weekends. Head Chef Kyohei Fukuda says there's a slight difference in taste between the outlets in Japan and the one here as Singaporeans prefer less salt and oil.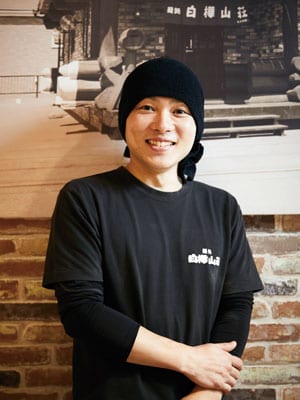 What makes Shirakaba Sansou different from all other ramen?
Our method is different. For our most popular dish, the miso ramen, I first fry the pork in a wok, add miso paste and vegetables, and fry everything before adding in pork stock and mixing it together. Then I pour just the soup into a bowl. I place the boiled noodles in, then the rest of the ingredients from the wok. After that I add white onion, baby daikon sprout, black fungus, pickled bamboo, stewed pork and seaweed to complete the dish.

What also sets it apart is that the broth is a little oilier as it uses a lot of fat. This is because Hokkaido is very cold. The layer of oil keeps the dish hot. But we have reduced the amount of oil and salt to cater to local tastes as we had feedback that it was a bit too salty.
Do you use any unique ingredients?
This miso paste is imported from Sapporo, while the vegetables and pork are locally sourced.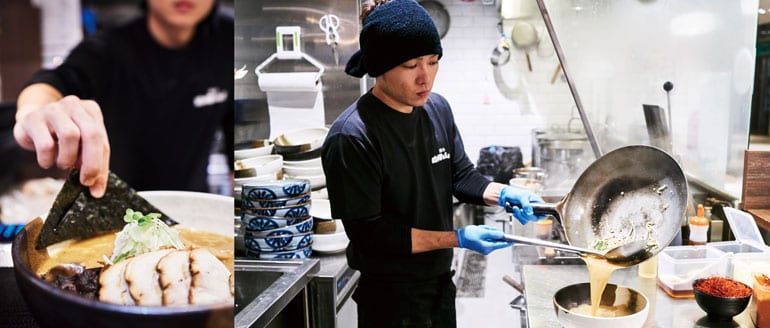 What is the secret behind your tasty ramen?
Our miso ramen soup is specially matched to the yellow egg noodle, which is thicker than other types of noodles and a little bit wavy in order to soak up the soup. A famous Japanese noodle maker makes the noodles for us here in Singapore using our recipe. Another character of the soup is that it's very rich in flavour but not sticky. You won't get tired of the flavour.  
What are the qualities of a good ramen chef?
The chef makes 100 to 200 bowls a day so the most important thing is the handling of the ingredients and getting it right every single time without the need to measure it out. It all comes from experience. Each bowl is made fresh, so you will need to do this every single time.
Why did you decide to be a ramen chef?
I used to work as a technician dealing with electrical cables and was outdoors a lot. Hokkaido is very cold, and ramen was the one kept me warm, full and satisfied. I decided that I wanted to learn to make ramen too, so five years ago, I changed my career.
Sapporo Ramen Shirakaba Sansou
B2-11 Hokkaido Marche, Orchard Central,
181 Orchard Road
Tel: 6509 9383
Keisuke Takeda
Chef-Owner, Ginza Kamo Soba Kyudaime Keisuke
Celebrity chef Keisuke Takeda began his culinary journey at the age of 15 with French cuisine. He opened an izakaya in 2004 and opened his first ramen shop a year later. He now has 13 eateries in Singapore, 25 in Japan and one in Perth, Australia. He hit upon the idea of duck ramen while he was experimenting with new flavours in Tokyo. The dish quickly became a hit in Japan and now in Singapore. Ginza Kamo Soba Kyudaime Keisuke was the first standalone restaurant to serve duck ramen here.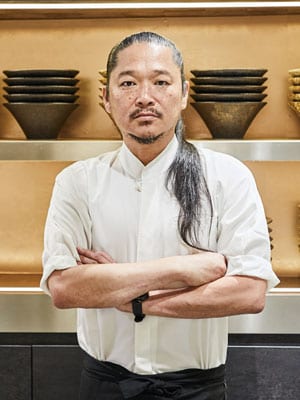 What made you decide to start a duck-based ramen restaurant?
I opened a duck ramen shop in Ginza, Tokyo, in 2014. At the time, it was very rare so I was a pioneer. A group of ramen lovers in Singapore who are fans of my ramen tried the duck ramen in Tokyo and really enjoyed it. They asked me to open an outlet here in Singapore, so I did.
How has the reception been?
It has been very well received. People love the rich soup. The second most popular is spicy miso.
What makes your ramen different?
I use hybrid duck, or Irish duck. It's a mix of wild duck and cultivated duck, so it takes the best qualities from both types. For example, wild duck is a little more gamey while the other is more delicately flavoured. So, it has a good balance.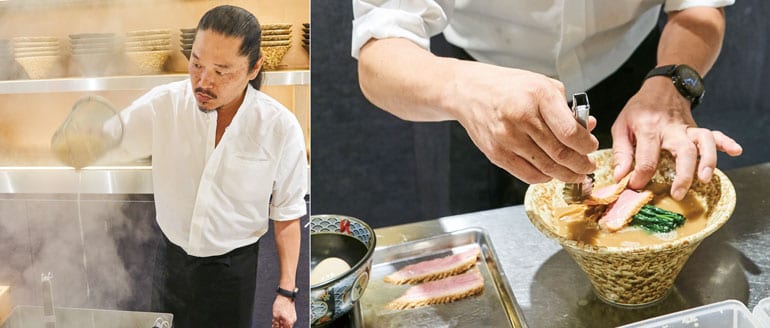 How did you come up with recipe?
I came up with it from scratch. There was no inspiration. I just started experimenting with flavours. I chose duck because no one had ever done it in Japan. Of course, now there are other places that follow this style.

Is there a secret ingredient that makes your ramen unique?
When you make duck ramen, you need to add soy sauce, then soup stock, then duck oil. This soy sauce is very important. Duck meat has a very strong flavour, so matching a soy sauce to it was not easy. I specially use a soy sauce from Chiba prefecture, called Chiba shoyu, which has a rich and intense flavour to match the duck. Finding this sauce was the hardest part of making the ramen.
What are the qualities that make a good ramen chef?
If you're making 200 bowls a day, you might let slip on the quality of one or two bowls. The most important thing is that each bowl has to be the best bowl. In terms of technique and ingredients, you can just follow the recipe, but this mindset is what sets good chefs apart.
Ginza Kamo Soba Kyudaime Keisuke
16A Lorong Mambong
Tel: 6463 4344