Designer and producer Michiyo Koyama adds an unusual, colourful twist to standard bouquets—by using fresh vegetables and other edible plants instead.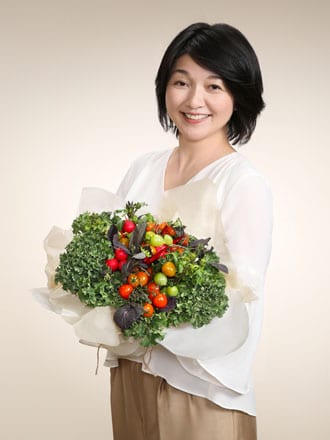 You may be familiar with floral garlands and fruit baskets. But have you heard of vegetable bouquets? That's what Japanese bouquet designer and producer Michiyo Koyama is creating right in the heart of Chiba Prefecture.
Since 2006, Ms Koyama has arranged hundreds of edible "veggie bouquets", made from herbs and vegetables grown in Chiba.
Her customers order them for a variety of occasions, such as birthdays, Mother's Day and opening receptions. She uses about 12 to 15 types of vegetables and plants for standard bouquets; for special events such as weddings and movie premieres, she creates larger bouquets and table centrepieces with about 20 to 30 different types of vegetables.
Ms Koyama, who has written a book on how to piece these delicious bouquets together, says: "Everybody loves veggie bouquets. In Japan, more and more people are becoming health-conscious. Vegetables have that connection to health, beauty and well-being."
Among her more popular styles are veggie bouquets in bright, "vitamin colours", using colourful peppers and grape tomatoes, for example. Seasonal arrangements are also a favourite, such as eggplant, peppers, long beans and mini tomatoes for summer, and cauliflower and white radish for winter.
A beautiful experiment
A floral designer by training, Ms Koyama moved back to her family's farm near Inzai City, Chiba Prefecture, when she got married 20 years ago. Intrigued by the strange shape of the romanesco broccoli—the vegetable that looks like a cross between Godzilla and a spinning top—she decided to grow the plant from its seeds.
She says: "When winter arrived, the vegetable was covered with frost. It looked so beautiful! I had worked with pretty flowers before, but I was so impressed. That was when I thought, since I have the skills, why not use vegetables to make a bouquet instead?"
When she pieced together her first vegetable bouquet, some of her farm's part-time workers loved it. They asked her to design some more and sell these to them, so that they could give these veggie bouquets to friends.
In her happy place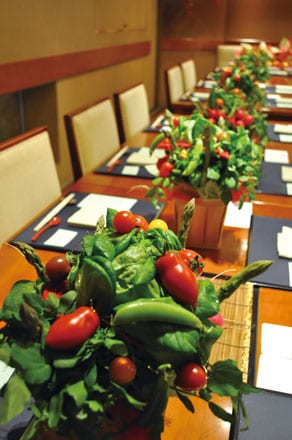 Her business grew from there. Today, she has three assistants working with her at her atelier on her farm. She takes about a day to put together a bouquet with vegetables that are handpicked from her farm.
Ms Koyama also gives classes on how to craft veggie bouquets. Her students come from all over Japan, from Tokyo to Hokkaido, to learn from her.
She says: "I usually invite the class to visit my farm then my studio, so they can see this Japanese agricultural innovation for themselves and spread the word."
With offers of interest from around the country, Ms Koyama is keen to start her business in other prefectures using different regional vegetables. She is also open to trying something new, such as offering this "veggie experience" to tourists and even venturing overseas if an opportunity arises. She says with a laugh: "Using different multicultural vegetables will be very interesting!"
One thing is for certain: Veggie bouquets are still all the rage in Japan and will remain popular for some time to come.
She says: "I hope to make something that everybody likes. But there's no rush. I want to do this slowly, to put my heart into it. Whenever I create a veggie bouquet for other people, I am happy to see them always looking so pleased with it."
Find out more about Michiyo Koyama and her veggie bouquets at veggie-bouquet.com
.