"In Japan, autumn is the harvest season for rice. One special way to enjoy Japanese rice is to try it in the form of kiritampo. This sticky tubular rice cake snack is a speciality of Akita Prefecture, which is also where I'm from, as it uses the famous white rice grown locally.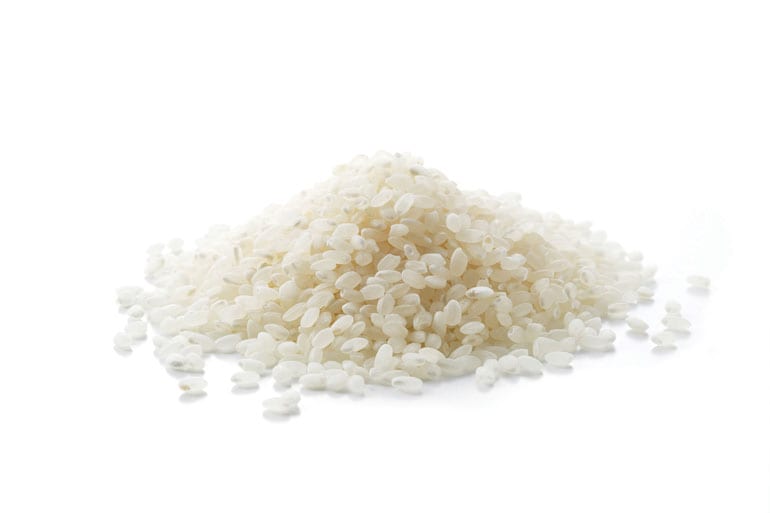 Kiritampo is made from the first batch of cooked new rice that has been pounded until it is "half killed"—when it is sticky and easy to shape. It can be eaten on its own, grilled and glazed with miso sauce or taken in a hotpot dish.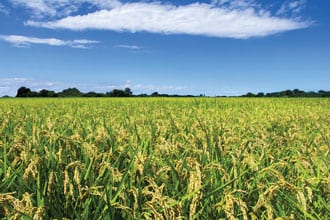 Literally meaning "cut arrow case" in Japanese, kiritampo was named for the bear hunters of Akita long ago, who hunted their prey with bows and arrows in the cold mountains. For food, they would take these easy-to-carry rice cakes that would be delicious as a snack and nutritious if added to a warming soup.
These days, you can taste kiritampo all year round if you visit Akita, although home cooks prefer to make this snack in autumn. During the chill of winter, most people also love adding kiritampo to a hotpot of chicken stock, mushrooms, Japanese leek and Japanese parsley.
When making kiritampo, remember to use salted water to wet your hands. Otherwise the rice will fall apart and the surface of the kiritampo will not be smooth. And although kiritampo is known for using Akita rice, don't worry. You can make kiritampo at home with just about any type of white rice."
Kiritampo (Mashed Rice Sticks)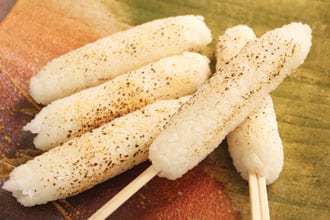 Ingredients (8 servings)
800g cooked rice
Salted water, as required
8 disposable chopsticks
Directions
1. Pound the rice until it is half-mashed.
2. Wet your hands with salted water and divide the mashed rice into 8 equal portions. Gently form into round shapes. Place each rice piece on the tip of a disposable chopstick and gently stretch out the rice down the chopstick, moulding it with your hands. From time to time, wet your hands again with salted water. Leave a space clear at the bottom of the chopstick to make it easy to hold it.
3. Heat a frying pan or hot plate, and cook the rice sticks. Roll them over from time to time to turn them until they are golden brown all over.
4. When cooked, remove the disposable chopsticks from the kiritampo while the rice is still hot. Hold the base of the kiritampo and slowly pull away the disposable chopstick by twisting it.
*Note: You do not need to remove the chopsticks for the miso tampo recipe on the next page
Kiritampo Nabe (Hotpot with Mashed Rice Sticks)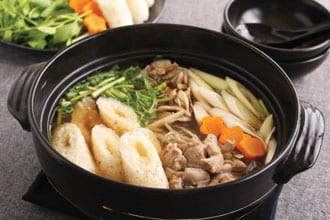 Ingredients (3 to 4 servings)
200g chicken thigh meat
½ burdock root
1 green onion (spring onion)
70g seri (Japanese parsley) or substitute with tang-oh (garland chrysanthemum)
200g konnyaku threads
100g maitake mushroom (Hen of the Woods mushroom) or substitute with enoki or shiitake mushroom
♦800ml water
♦1 tbsp powdered chicken stock
♦1 tbsp soy sauce
♦3 tbsp sake
♦2 tbsp mirin
♦Pinch of salt
♦6 kiritampo
Directions
1. Cut the chicken thigh meat into bite-sized pieces. Shave the burdock root thinly. Slice the green onion diagonally. Chop the Japanese parsley into 3-4cm sprigs. Slice the konnyaku threads into easy-to-eat lengths. Remove the knob at the base of the maitake mushroom and peel off mushroom pieces from the cluster.
2. Put the starred ingredients (♦) in a pot and bring to the boil. Then add the chicken thigh meat, burdock root and konnyaku, and simmer for about 3 minutes.
3. Cut the kiritampo pieces in half and place in the pot. Add the green onion and mushrooms.
4. When everything in the pot is fully heated through, add the seri. Turn off the heat and serve.
Miso Tampo (Miso-Glazed Mashed Rice Sticks)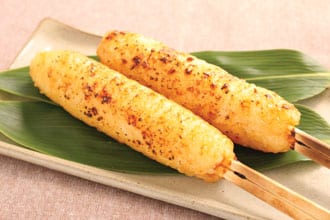 Ingredients (2 servings)
♦25g miso
♦1.5 tbsp sugar
♦1 tbsp sake
♦2 tsp mirin
2 sticks of kiritampo
Directions
1. Place the starred ingredients (♦) in a bowl and mix together.
2. Coat the kiritampo with the sauce made in Step 1 and cook on the grill. Turn from time to time. Cook on all sides until fragrant.
About Mikiko Mogami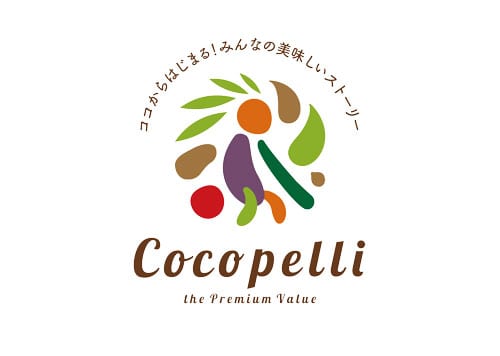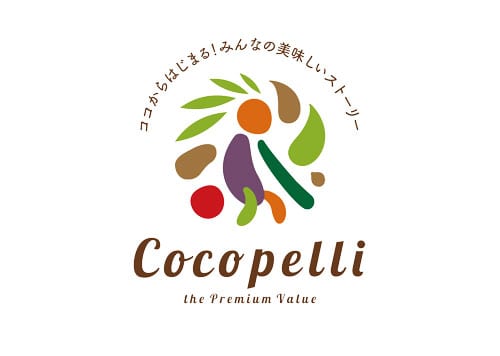 Mikiko Mogami is a renowned Certified Professional Vegetable Sommelier and Athlete Food Meister from Akita Prefecture. She creates menus and advises athletes on their nutritional needs when they are competing. Mogami is a keen advocate for including more vegetables in our diet and regularly contributes articles on the subject. She also presents lectures and conducts TV and radio interviews. Her motto is to help everyone enjoy vegetables and eat well. Mogami works with Cocopelli, a brand that promotes produce from Akita Prefecture to the rest of Japan. She helps to creates recipes that showcase the wholesome products. All Cocopelli products are carefully selected to reflect the beliefs and passions of the people who produce them. 
Website: http://azuma-trading.co.jp/cocopelli