May 1, 2019
A unique art project has resulted in Yuki Tatsumi collecting some 15,000 intricately folded chopstick wrappers.
Twenty-eight-year-old Yuki Tatsumi was working as a waiter in a restaurant in 2012 when he came across something interesting while clearing a table. "A customer had folded the chopstick sleeve into a nice shape and under the restaurant's spotlight, it looked like a sculpture," he said.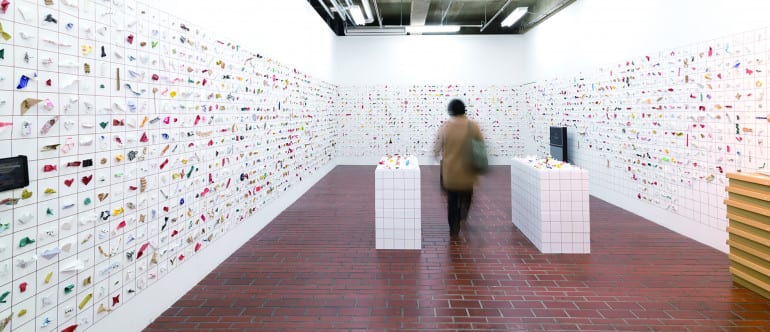 That was the beginning of Tatsumi's art project—called Japanese Tip—as he began collecting these paper wrappers folded into origami art. He considers them to be "tips" left behind by grateful customers as a way to show appreciation to the restaurant and its staff.
Tatsumi even went on a year-long road trip around Japan in 2016 to persuade restaurant owners to keep an eye out for these tiny paper sculptures and send him unique ones. He has since collected some 15,000 pieces, all kept in boxes in his home and in a storage facility.
From the moment he started, he had always wanted to bring this project overseas to see non-Japanese reactions to this unique cultural phenomenon. "It is a Japanese practice in which people fold their chopstick wrappers into art after dinner and then leave them at the restaurant. I wanted to share it with the world and I wanted to see how people would react," he said.
He has since staged a few exhibitions, namely in Tokyo, Paris and Cheongju in South Korea. There are also plans to bring it to China.
According to Tatsumi, visitors to his Paris show were completely puzzled by the idea of chopstick wrapper origami as they don't use chopsticks. Korean visitors, on the other hand, were surprised at the design, colour and variety of chopstick sleeves in Japan.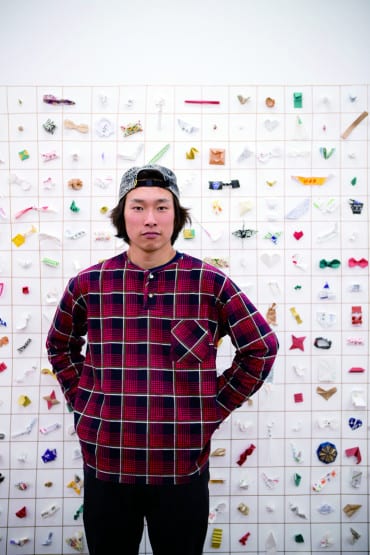 Tatsumi has never thrown a single paper sculpture away because he feels each one has a story. He also doesn't like to prioritise which design is better, preferring to categorise them into three groups: most favourite, favourite and okay. To choose the ones that make it into a particular exhibition, he selects from the first two categories.
While there's no clear theme among the pieces, most are of certain shapes like dogs or cranes. He tends to lean towards the more abstract pieces, as they can be interpreted in different ways.
His personal favourites have also made it into a book called Japanese Tip – Soul of Japan on the Table. He published 300 copies himself in 2017 before working with a publisher who released it last year. "I put together the book because I felt that the number of chopstick wrappers was declining as restaurants become more eco-conscious," he said.
Tatsumi, who's based in Kyoto, refers to himself as a collector-researcher. He juggles several other roles, including as a web director, a researcher at a Kyoto museum, and a committee member of an art festival, which has given him a grant for his next project.
He is working on several new projects, including collecting used books with plans to start a second-hand bookshop. He also collects chewing-gum wrappers and maps out where they come from.
Tatsumi hasn't stopped collecting these unique "tips" just yet, though. Restaurant owners still send him photos of chopstick wrapper art and if he likes it, he asks for it to be delivered.
He said: "By presenting the chopsticks in a paper wrapper, restaurants show they welcome and care for the customer. By folding the wrapper into art before leaving, customers appreciate the restaurant's time and food. This is really unique. You don't find it anywhere else in the world."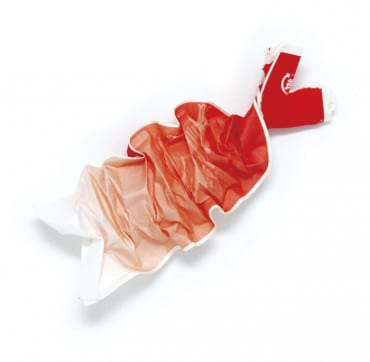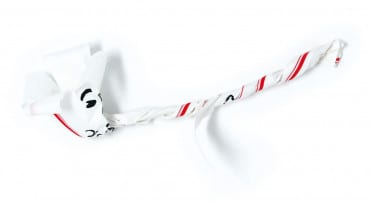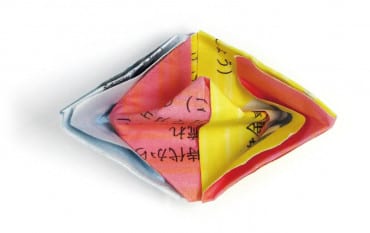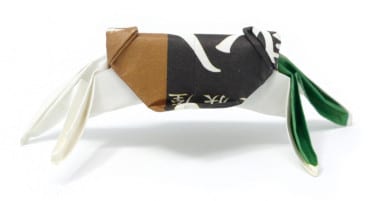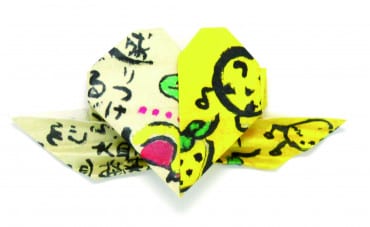 (TEXT Siti Rohani Photography mariko yasaka, yuki tatsumi)