Oct 2, 2019
Meidi-Ya's Managing Director, Nagoshi Shuji, shares the secret to the Japanese grocery chain's success in Singapore.
When we opened our first outlet in Singapore in 2003, we knew that we were bringing a much-loved household name from Japan. We were also committed to staying true to our Japanese roots. The Meidi-Ya brand has a rich heritage and is well known for delivering high-quality
produce and products, excellent service and a welcoming environment. When we opened our doors in Singapore, we knew we had to make sure to honour those values, and we continue to do so today.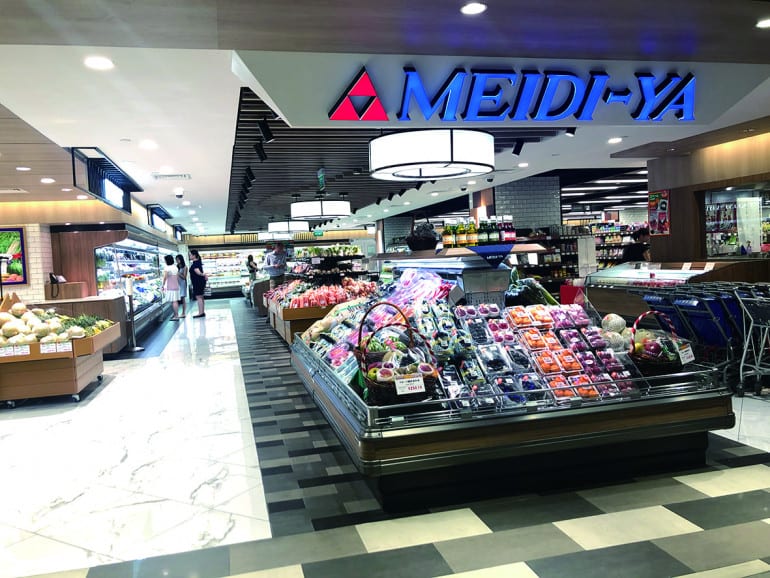 Although Japanese departmental stores already had a presence in Singapore in 2003, Meidi-Ya offered shoppers something different — an authentic upmarket supermarket shopping experience straight out of Japan. We have served the needs of our customers over the years by offering them a wide range of high-quality items from international brands, but more importantly, a comprehensive selection of items imported directly from Japan.
We are also proud of our in-house brand, which features a range of products such as fresh jam, syrups and sauces, that is fully produced in and imported from Japan. Over the years, the ingredients and flavours featured in our in-house products have evolved alongside the changing demands and tastes of consumers.
Tasting the world and a love for healthy food
Singaporeans have always been well travelled, and I believe this leads them to appreciate authentic and unique goods from across the globe. As such, I believe the demand for Japanese groceries and products is likely to be driven by the increasing number of Singaporeans travelling to Japan. After experiencing the amazing flavours of Japan, they often return to Singapore and seek out these food items again at Japanese retailers across the island.
In today's digital age, consumers are also extremely knowledgeable and resourceful. They often read up on recipes online, and those who want to try out home-cooked Japanese food come into Meidi-Ya armed with a list of ingredients to buy. Furthermore, as people become more health conscious, consuming a healthy diet with fresh ingredients has become increasingly important. The traditional Japanese diet is known for being healthy, fresh and unprocessed, with minimal refined foods or sugar.
With each new Japanese store opening in Singapore, just as with our new outlet at Great World City, there is much excitement and anticipation. With Great World City's ongoing refurbishment, we felt that it was a good opportunity for us to not only complement the other Japanese-themed shops in the mall, but also be part of a modern and wide-ranging retail space. Great World City offers shopping experiences for everyone and has a diverse shopper mix, which makes it an excellent location for us. The upcoming Great World MRT station will also provide greater convenience for our customers.
Our outlet at Great World City is a speciality store, which imports the majority of its products directly from Japan. One key highlight of the outlet is the Hokkaido Dosanko Plaza that has an adjoining 40-seat casual dining food court. It houses Singapore's first Sapporo
Nishiyama Ramen stall, and is operated by famed Hokkaido-based ramen and gyoza manufacturer Nishiyama Seimen.
We will also be introducing seasonal products that will vary across our outlets. For instance, we introduced an exclusive range of fruit sorbets for the opening of the Great World City outlet, featuring unique flavours like tomato and pear.
Regardless of the times, there will always be a place for high-quality products and companies with strong cultural identities. We believe strongly in the quality, value and range of products carried at Meidi-Ya, and maintaining that has been our enduring mission since day one."