On 1 October 2015, over 50 local restaurants will be shouting, "Kanpai!"
as we welcome the sake season in Japan and Singapore.
T his year, we kick off Sake Week with The Day of Sake!
On 1 October 2015, over 50 participating restaurants will be offering free sake to their customers and, together, they will be shouting, "Kanpai!" at 7.30pm. Photos of the event will subsequently be shared on the Oishii Kanpai Facebook page. Last year, a total of 38 outlets and over 850 people joined the event.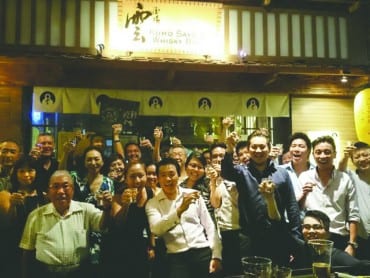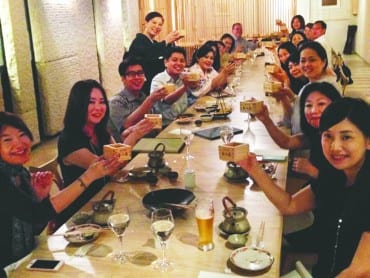 The main event venue for this year is Japanese-French fine-dining restaurant Lewin Terrace. At the beginning of the night, we will be Skyping with friends from Saga Prefecture and Tokyo in Japan, as we raise our sake cups and Kanpai together to usher in the sake season.
Sake brewery owners from Nishinoseki Shuzo and Ichishima Shuzo will be present at the main event to tell us more about the eight different incredible types of sake you can sample that night. These samples include premium high-quality sake of the daiginjo variety. These sakes will be perfectly paired with the exquisite Japanese-French finger food prepared by Lewin Terrace. The brewery owners will also be sharing with you the process of making delicious sake, the complex flavours of the drink, as well as teaching you how to best pair your sakes with food. There will even be a secret sake on the menu, specially prepared for the Kanpai moment!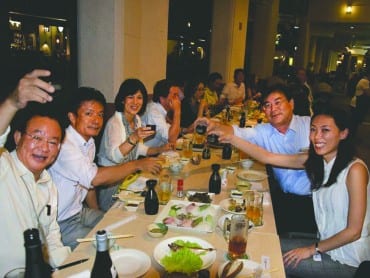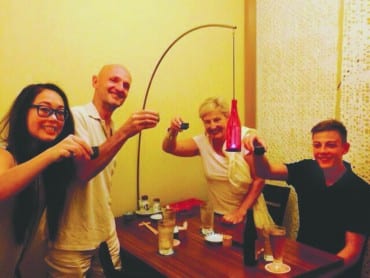 Of course, The Day of Sake is but the beginning of the exciting activities that will be happening from 1 to 15 October 2015. Our 50 participating restaurants will be offering exclusive set menus with sakes, at a special price. During Sake Week, you can also stand a chance to win one of 300 sets of amazing sake goodies. Simply bring along our Stamp Rally sheet (p16) as you try different sakes in three different participating restaurants, and stand to walk away with gifts such as sake brewer's aprons and adorable sake cups.