Takahiro Okuzaki,
Director, Magosaburo
Magosaburo is an award-winning yakiniku restaurant located within the plush confines of ION Orchard. Here, you can try beef prepared in a variety of cooking styles – from having delicate beef slices gently steamed on hot stones, or a Wagyu loin smoked over aromatic cherry woodchips.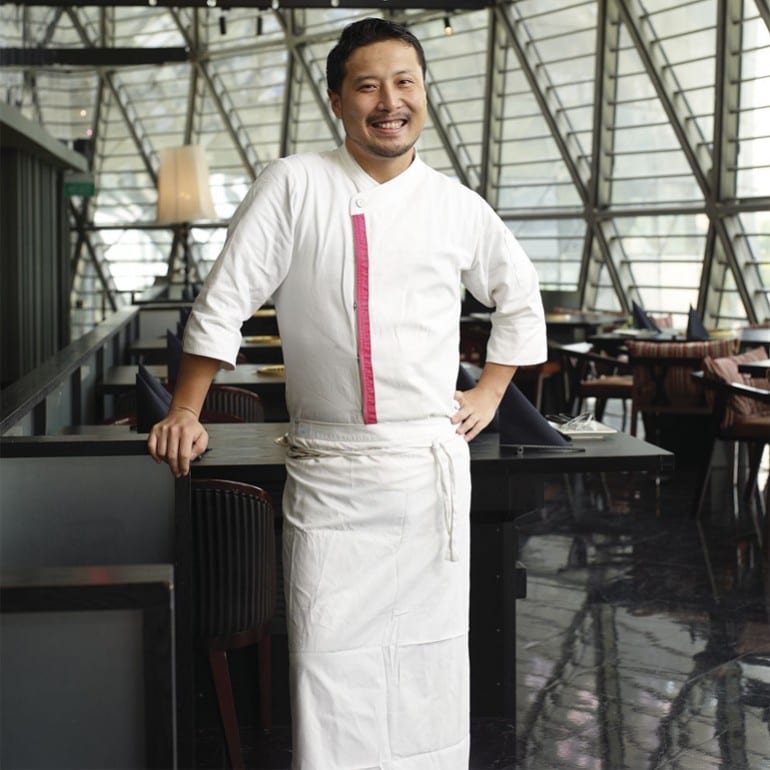 Tell us more about the beef available at Magosaburo.
Our signature item is the Ohmi beef, which refers to cuts of beef from Black Japanese cattle raised in the Shiga Prefecture, a region that is surrounded by pristine water and an abundance of nature. Ohmi beef is known to have very fine fat marbling, and a sweet, smooth flavour. I specifically chose to use Ohmi beef at Magosaburo as I have a good relationship with the farmers in Shiga. I visited their farm in November 2015, and was impressed by their passion for producing great-tasting beef. 
What is the most important thing to look out for when eating yakiniku?
The temperature of the beef is very important – ideally, you should eat it immediately after it's been cooked. The reason is, the flavour of the beef is changing every second, so you'll want to eat it when it's fresh off the grill. At Magosaburo, we usually undercook the beef just a tad, so that when we transfer it via a warm plate from the BBQ station to the customer's table, it will be at the perfect temperature. 
What sort of seasoning do you use at Magosaburo?
Seasoning is an important factor in determining how your beef tastes. Here, we use French rock salt. Because Ohmi beef has a very subtle flavour, this particular salt helps enhance its taste. Plus, this salt has a slightly sweet flavour that complements the natural sweetness of the beef.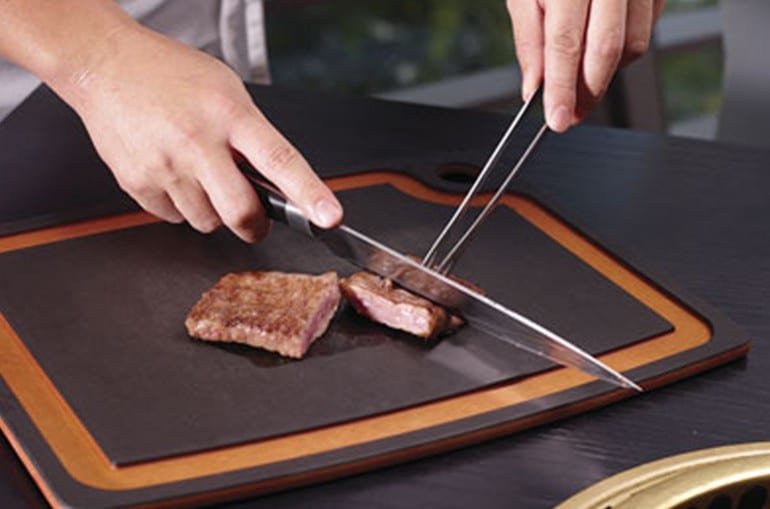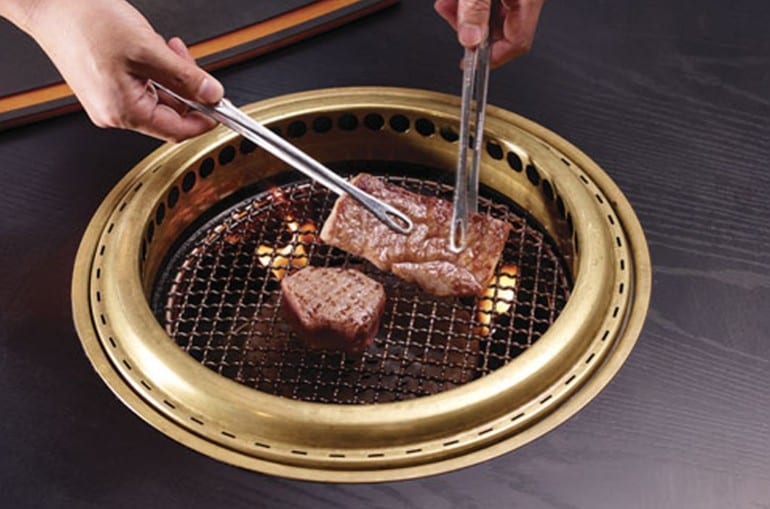 #04-11A & #05-01 ION Orchard, Singapore 238801
Magosaburo
#04-11A & #05-01 ION Orchard, Singapore 238801
Tel: 6634 1411
Suguru Ishida (left),
Co-founder and Managing Director;
Masaki Akutsu (right),
Head Chef, Yakiniquest
To say that Mr Ishida loves yakiniku would be an understatement. Yakinuku is his passion and life's work. Over a period of 10 years, Mr Ishida tried over 150 different yakiniku restaurants per year, and even started a blog to record his dining experiences. The blog soon grew in popularity, and even led to TV show appearances and Mr Ishida publishing four books on yakiniku. In January 2015, together with Head Chef Masaki Akutsu, Mr Ishida opened his first restaurant in Boat Quay.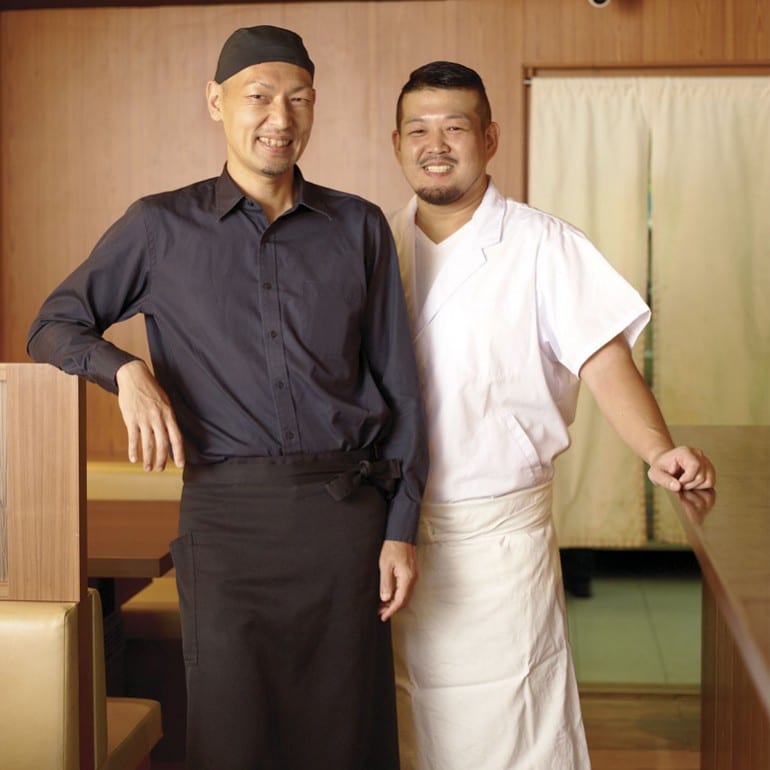 Why Singapore?
I wanted to move beyond the blog and bring yakiniku to the world. Singapore was a perfect fit as it's a cosmopolitan hub and it's easy to establish a company here while still overseas. The diners in Singapore are also used to the dining concept of grilling food at the table, so I knew they would be receptive to yakiniku dining.
What is the secret to good yakiniku?
While the quality of the beef is obviously important, what many people don't realise is, the way you slice the beef is very important as well as every section of the beef offers a different texture and flavour. The recommended cooking time also varies among the different cuts of beef – for example, you wouldn't want to over-grill lean beef as it may become tough or chewy. Therefore, the chef needs to have the experience and technical know-how to bring out the best flavour of the beef. 
Tell us what's special about the yakiniku at Yakiniquest. 
With my extensive experience of eating yakiniku all over Japan, I have incorporated all my best dining experiences into the restaurant here in Singapore. I am very particular about the beef we use – at Yakiniquest, we import only Wagyu beef from the Miyazaki, Kagoshima, or Iwate prefectures. Our beef are all chilled, not frozen, which ensures it stays juicy. Also, at Yakiniquest, we serve our beef in omakase style as we believe the order in which you eat particular cuts of beef is important. The variety of cooking styles also guarantees our customers a yakiniku experience they won't get elsewhere. 
What is the most popular dish at Yakiniquest?
Some of our crowd favourites include thinly sliced beef, which is served like a noodle dish, thick-cut cow's tongue, and yaki suki (strip loin with a raw egg). These three dishes are available on the omakase menu.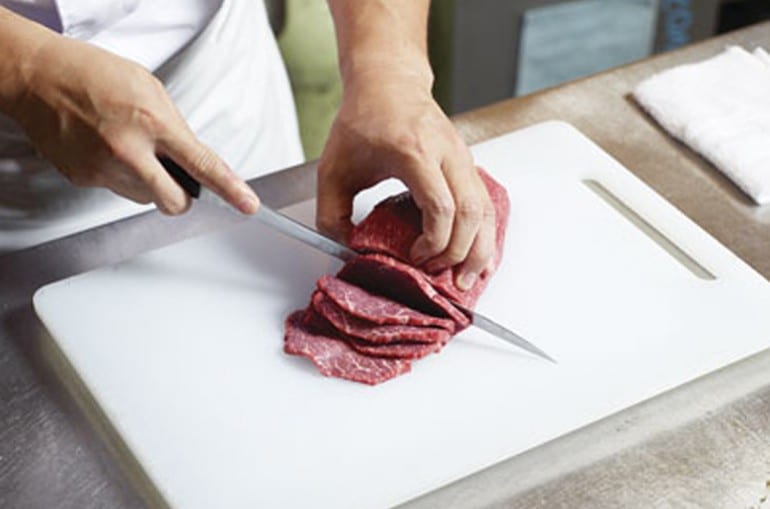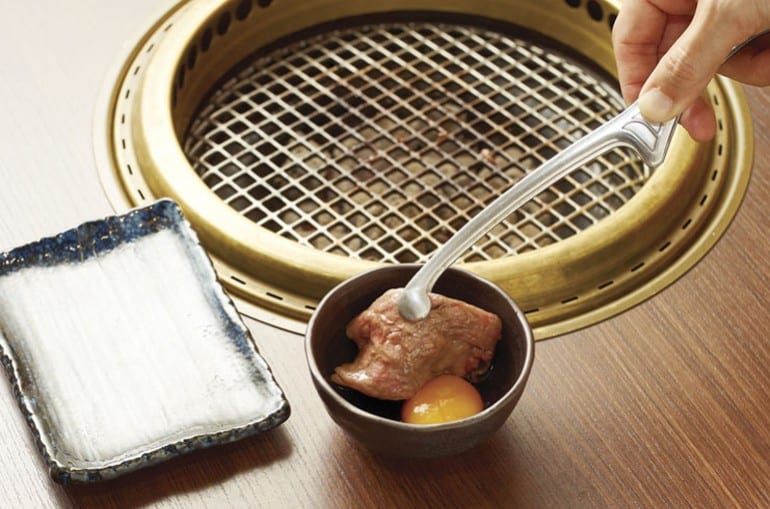 48 Boat Quay, Singapore 049837
Yakiniquest
8 Boat Quay, Singapore 049837
Tel: 6223 4129
Henry Lee,
Head Chef, Nikunohi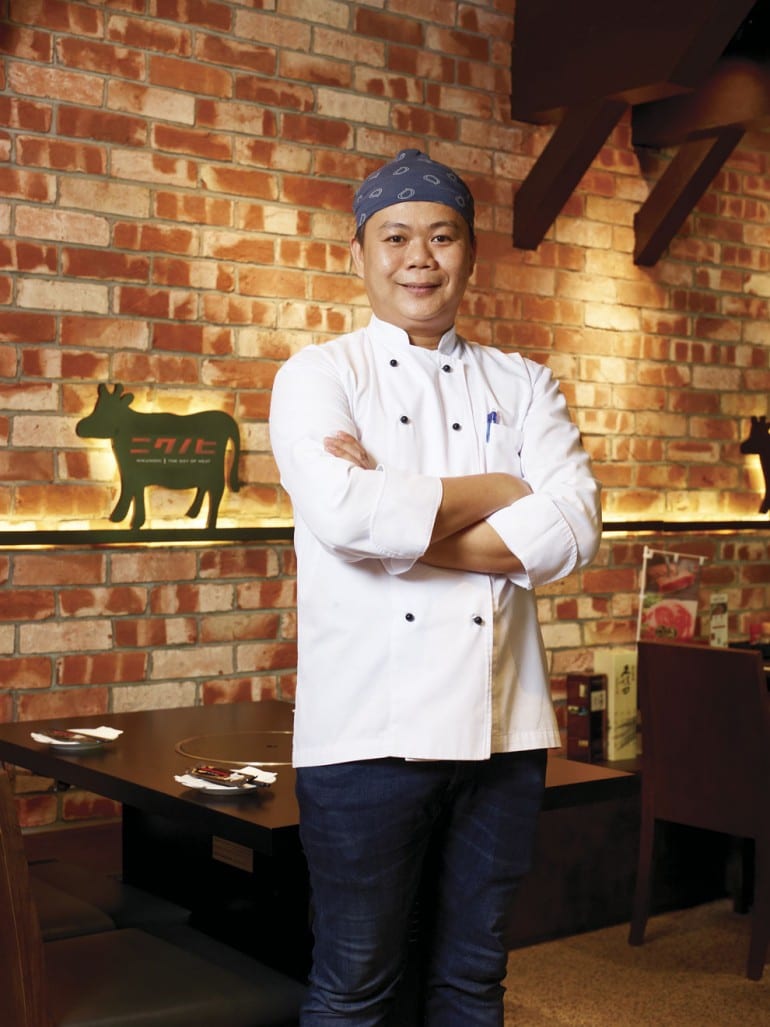 Although he has 18 years of culinary experience under his belt, Chef Henry Lee only started working in Japanese restaurants a few years ago. While it was initially not easy adjusting to Japanese ingredients and cooking styles, he has no regrets.
"I wanted to challenge myself," says Chef Lee, "I think it's important for a chef to be familiar with all the different types of cuisines."
Tell us about the beef available at Nikunohi.
We use A4 to A5 grade Kagoshima beef, which comes from cattle that are fed with corn and green tea. The beef is juicy and has a very nice marbling; it practically melts in your mouth! Many of our customers visit our restaurant specially to try the Kagoshima beef. From end-February, we will be including Kobe, Yamasa, and Guma beef on our menu. This allows our customers to experience a variety of textures and marbling. 
What are some of the popular items on the menu?
Our female customers tend to prefer the chateaubriand or the tenderloin, as the meat is less oily and fatty. Guys tend to go for the ribeye, which has a very smooth and satisfying texture. 
What is the most important thing to look out for when eating yakiniku?
When it comes to yakiniku, the beef is usually thinly sliced so it's important not to over-cook it as the meat will become tough and overly chewy. 
You have a variety of dipping sauces at Nikunohi. Can you tell us more?
Yes, we offer a variety of homemade dipping sauces to accompany the beef. We offer Japanese sea salt mixed with crushed black pepper as well as the Korean-style Gochujang sauce. Gochujang is a savoury and spicy fermented Korean condiment made from red chilli, glutinous rice, fermented soybeans, and salt. Another dipping sauce we offer is tsuke, which is a fruit-infused sauce made with kiwis, apples, white onions, and lemons. This sauce is especially great for cutting through the oiliness of fattier cuts of meat.
Although we offer our customers a variety of dipping sauces, we always recommend them to try the beef on its own first so as to enjoy its natural flavours.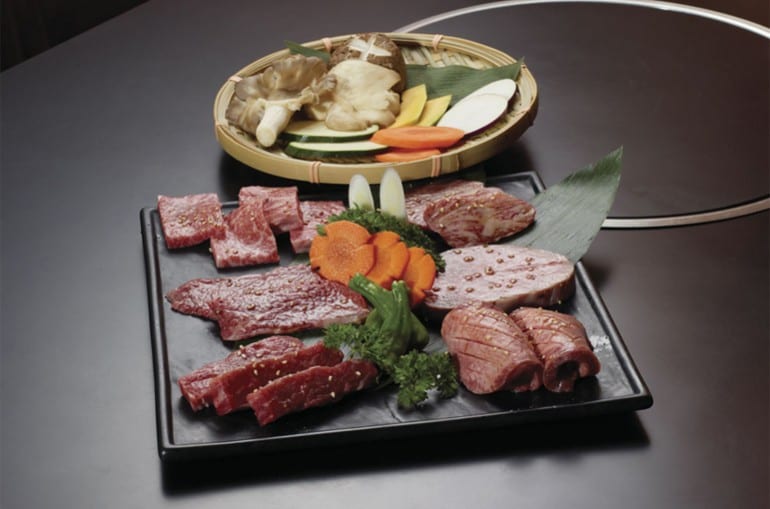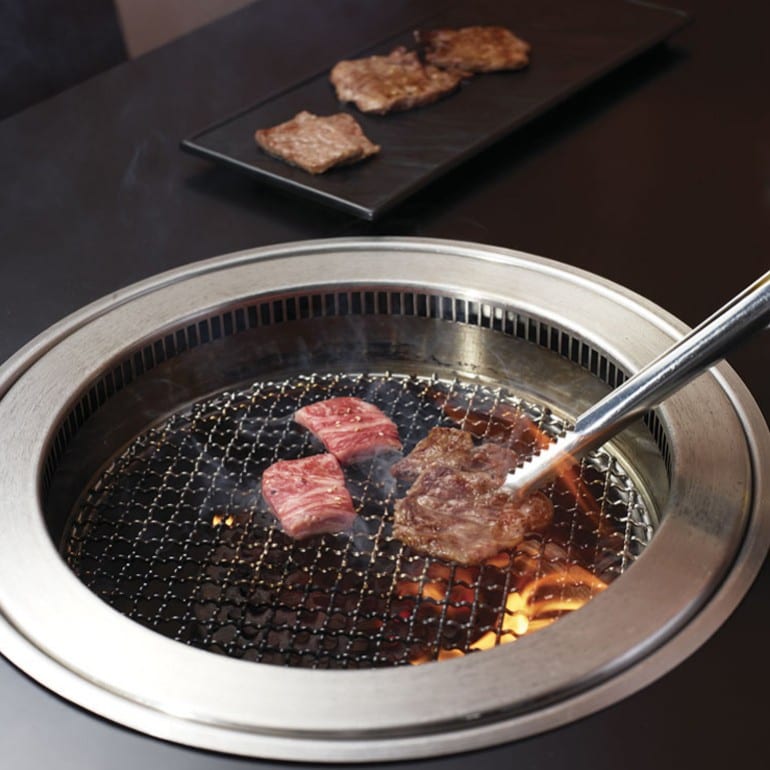 #03-313 Suntec City Mall, Singapore 038983
Nikunohi 
#03-313 Suntec City Mall, Singapore 038983
Tel: 6837 0263