The word souvenir means "remember" in French. Beyond snapshots and fond memories, here are some souvenirs you can bring home to remember the beauty of Yamanashi Prefecture.
Fujiyama Cookies
Available in five main flavours — vanilla, green tea, chocolate, earl grey, and strawberry — these cookies come with either a white chocolate topping or a type of dried fruit or nut. The cookies are sweet and crumbly, and make for a perfect teatime snack. You probably won't be able to stop at one so be sure to get the big box of assorted flavours.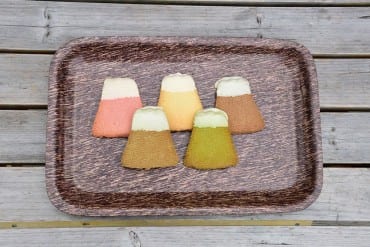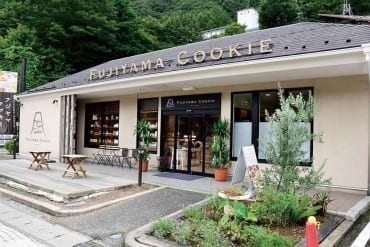 Fujiyama Cookie
1165-1 Azagawa Fujikawaguchiko-machi, Minamitsuru-gun, Yamanashi 401-0303
Tel: 0555-72-2220
Peach Jam and Butter by La Casa Della Pesca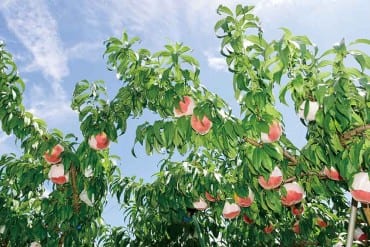 Whether you enjoy it with a bit of toast or saltines, there's no denying the rich and fruity goodness of La Pesca's peach jam. Sweet without being cloying, you can enjoy this condiment at any time of the day!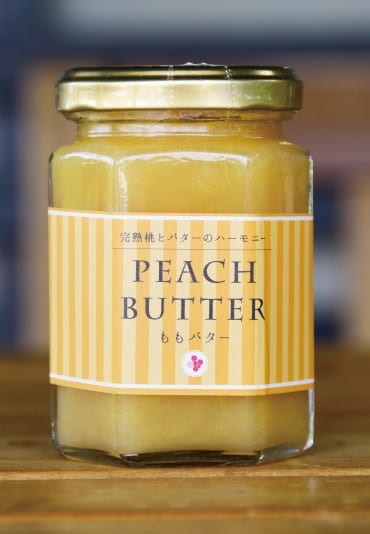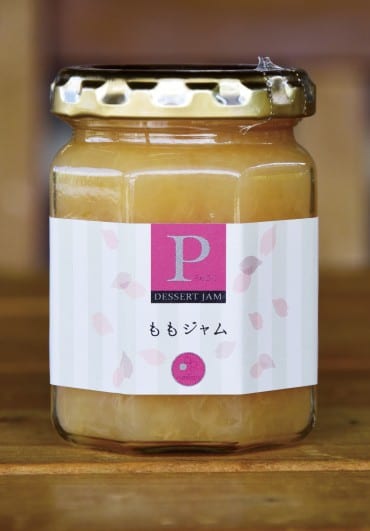 Peach Senka Yamashita / La Casa Della Pesca
1131-1 Shotokuji, Yamanashi city, Yamanashi 405-0032
Tel: 0553-34-5359
Sake Castella by Kinseiken
Made with Daiginjo sake husks from Shichiken Brewery, this snack is from the same inventive folks that brought you the Mizu Shingen Mochi. This bestseller is a simple but delicious blend of sake husks, egg white, sugar, and wheat. The texture is softer and fluffier than regular chiffon cake, and the taste is enhanced with subtle nuances of rice malt.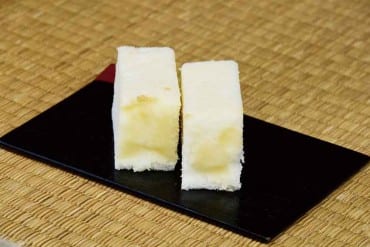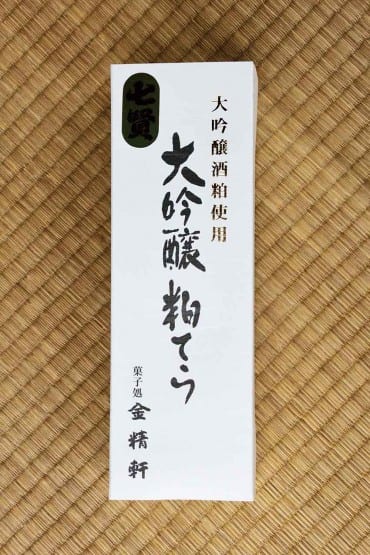 Kinseiken
2211 Daigahara, Hakusyu-cho, Hokuto city, Yamanashi 408-0312
Tel: 0551-35-2246
Wine Beef Curry by Kobayashi Farm
Available at Mikyo, a range of grocers owned by Kobayashi Farm, this pre-packaged beef curry is best enjoyed over rice or udon. Oishii!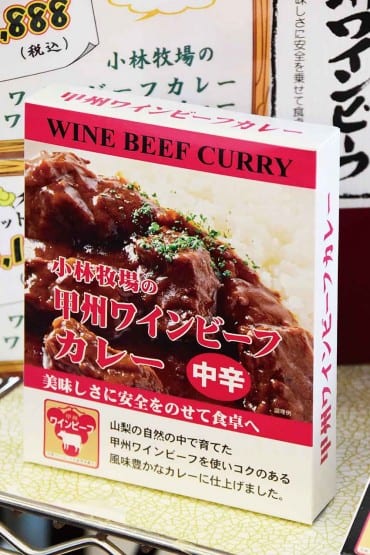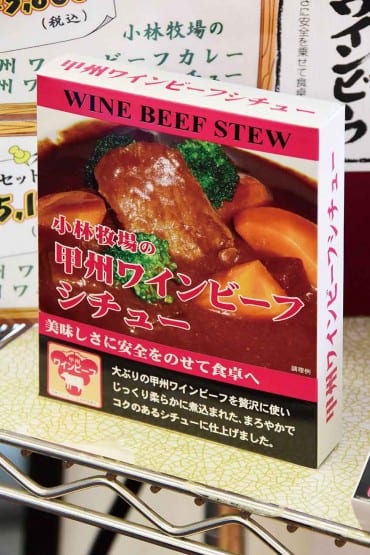 Wine Beef Curry – Mikyo
3077 Simakamijyo, Kai city, Yamanashi 400-0123
Tel: 055-267-3113
Egg Baumkuchen by Tamagomura
Baumkuchen is a type of layer cake originating from Germany that is also very popular in Japan. This particular cake is made with eggs from Kurofuji Egg Farm, and is absolutely delicious when accompanied with a steaming mug of tea.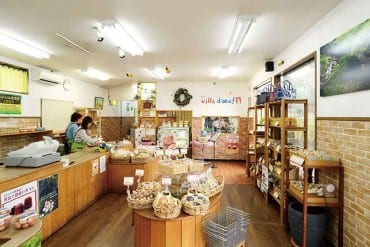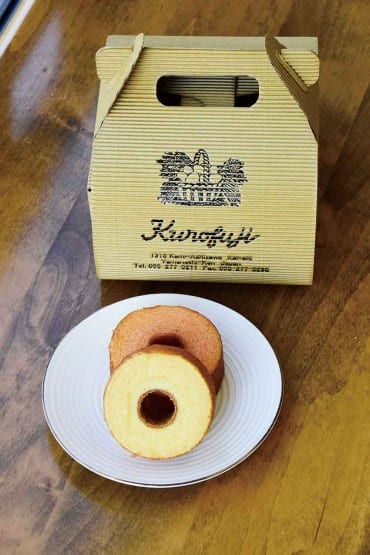 Egg Baumkuchen – Tamagomura
951-1 Shimokajiyamachi, Kofu city, Yamanashi 400-0835
Tel: 055-220-2505
KEEP farm products
Using only the freshest and most luxurious Jersey milk, the dairy products from KEEP are second to none. While you probably can't bring home the soft-serve ice cream, you can still enjoy the creamy Jersey milk with products such as biscuits, puddings, and mochi.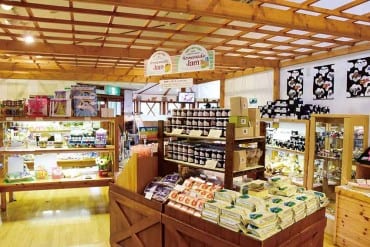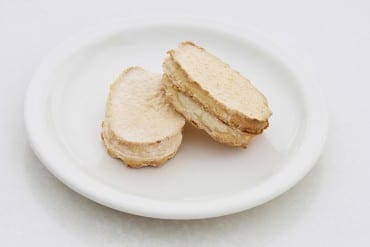 Keep Farm & Restaurant
3545 Kiyosato Takane-cho, Hokuto city, Yamanashi 407-0301
Tel: 0551-48-2688
Inden by Kosyu Inden-ya
Originating from and only produced in Yamanashi, Inden is a type of material made from deer skin with designs in Japanese lacquer. With origins dating back to 1585, each step of this time-honoured process is undertaken by master craftsmen. It was very popular among the upper class in the Edo era(1603-1868) for its wallets, tobacco holders, and so on. There are over 100 designs available and a wide variety of products to choose from now.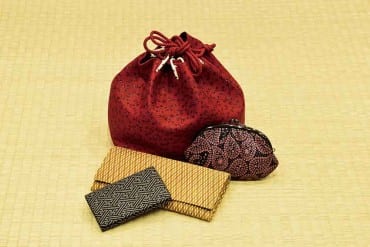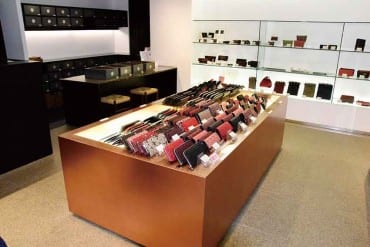 Inden – Kosyu Inden-Ya
201 Kawada-machi, Kofu city, Yamanashi 400-0811
Tel: 055-220-1660
Sake by Yamanashi Meijo

With a history dating back to the 17th century, the Yamanashi Meijo Brewery is a living legend. Surrounded by the Japanese Alps, the water used in their sake-brewing process comes from the Ojiro River, which is among the top source of spring water in Japan. They are the only sake brewer in Japan to use Hakushu water, which is renowned for its purity and beautiful flavour. The purity of the water from this region, combined with Yamanashi Meijo's unique fermentation techniques make their sake a sublime treasure. They have 15 regular variants — all top-quality, premium sake that includes the renowned label, Shichiken(七賢) — as well as a seasonal rotation of limited-edition sakes. We say, try them all!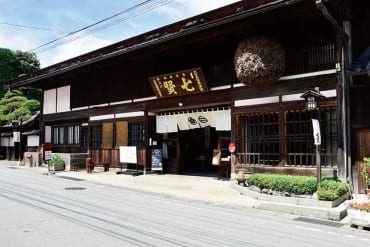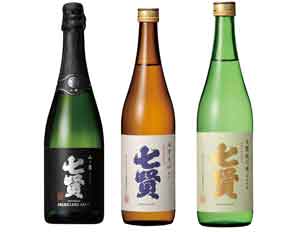 Sake – Yamanashi Meijo
2283 Daigahara, Hakusyu-cho, Hokuto city, Yamanashi 408-0312
Tel: 0551-35-2236