Japanese chefs are known to hone their culinary expertise over decades. Everything from preparation to presentation is an art, performed with ritualistic consistency. However, once they have these traditional techniques down pat, many chefs dedicate the latter half of their career to breaking rules and pushing boundaries. This is modern Japanese cuisine, a new culinary wave taking over Japan, Singapore and the rest of the world.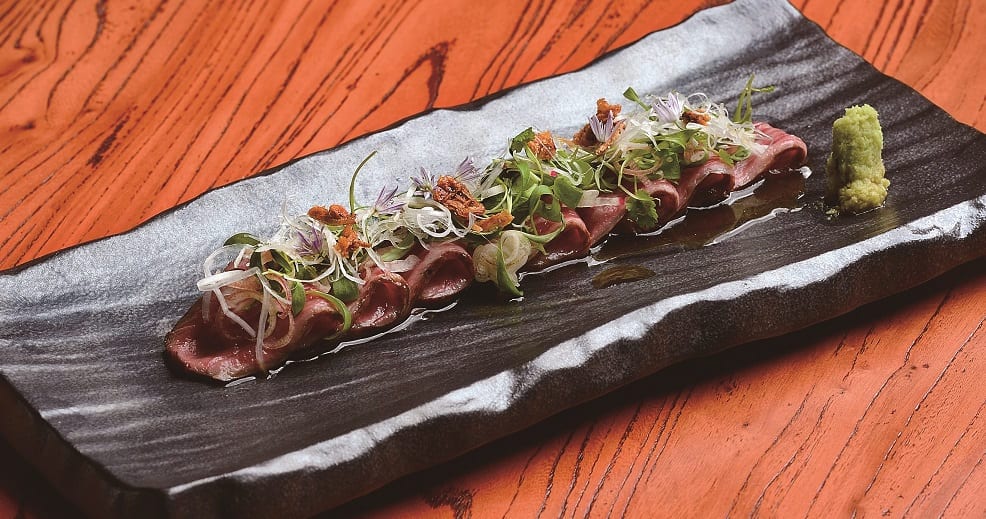 Driven by a breed of chefs who are also self-professed travellers, art lovers, designers and global citizens, the trend has brought new sensibilities to timeless classics. Japanese ingredients are prepared with new culinary techniques, and foreign ingredients are prepared with classical Japanese techniques. Sometimes, Japanese and foreign ingredients are cleverly combined. Experimental but not irreverent, the emphasis in modern Japanese cuisine is respect for both the ingredients and the character of the dish.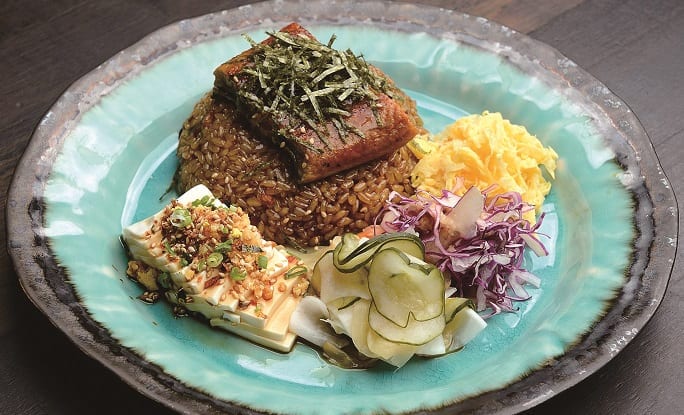 In Singapore, where new Japanese restaurants are sprouting up every other week, this brings an unexpected freshness to the cuisine. Beyond that, it gives diners a deeper appreciation for the dish and its ingredients and leads them on a journey of discovery. Leading the charge are three new restaurants — JYPSY founded by the PS Gourmet Group in July last year, Chi Kinjo opened by the Coterie Concepts group in January this year, as well as KOMA launched by the TAO Group this July.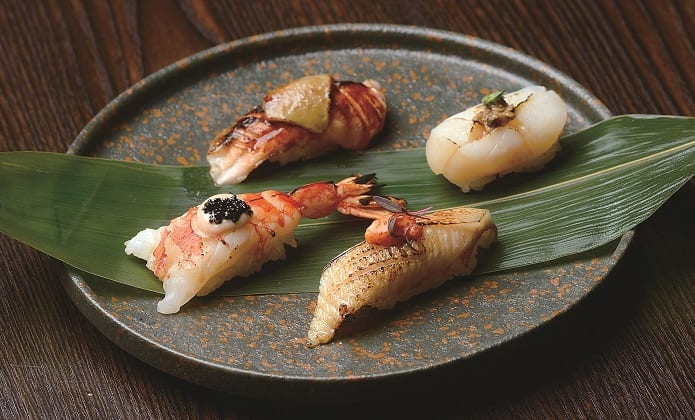 KOMA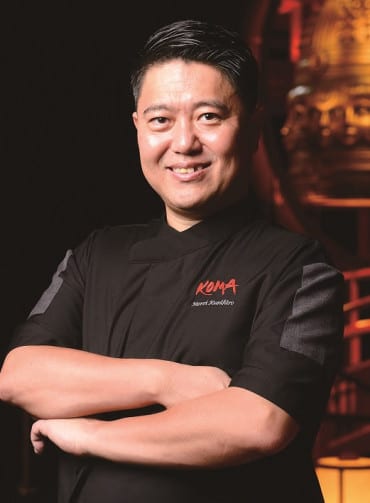 KOMA's Executive Chef Kunihiro Moroi spent 28 years perfecting his art, and nearly as many years globetrotting. In 1991, the Kyoto-born chef began his culinary journey at a renowned ryotei or luxurious traditional restaurant in Kanazawa. This was followed by a stint in Osaka. Later, he traversed the world, delighting diners from kitchens in Kuala Lumpur, Chongqing, Seattle, Amman, and a two-Michelin-starred restaurant in Macau, with dishes full of culinary creativity.
From sushi to sashimi, tempura and robata, his rich Japanese heritage and global sensibilities suffuse each creation. Now within the lavish modern setting of KOMA, featuring a traditional Japanese footbridge, a towering 20-faced Japanese bell and iconic orange arches that are already an Instagram favourite, his dishes aptly present the many expressions of modern Japanese cuisine. 
How did you discover your calling?
I discovered a passion for cooking at five years old. My grandfather ran a tempura restaurant in Kyoto, where I picked up the basics of cooking. I learnt how to sharpen Japanese knives, handle and cut fish and vegetables, and prepare tempura.
What are your greatest culinary inspirations?
My creations combine two of my passions — food and travel. Trying different types of cuisines and speaking with chefs during my
travels inspire me. My other hobbies, such as brushstroke penmanship, tea ceremony, the art of flower arrangement and fishing also inspire me when creating new dishes.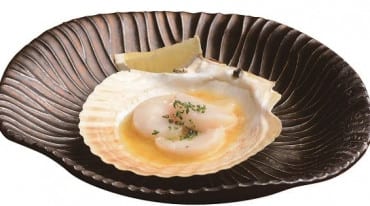 How does travel influence your creations?
I have incorporated flavours and ingredients that are found across Southeast Asia in some of my dishes. For example, our barbecued chicken dish is prepared with a spicy marinade inspired by nasi lemak, and our Lobster Salad features coconut milk, lemongrass
and Thai fish sauce.
What is unique about your choice of ingredients?
About 80 percent of our ingredients come from Japan, some of which are seasonal. For instance, we use A5 wagyu beef aged
in the snow to develop a more intense flavour and taste, yielding rich marbling. 
What makes modern Japanese cuisine modern?
It is about allowing someone to experience a familiar dish in a new way, or to view a dish in a new light, either by playing around with new flavours or textures, or presenting it in a totally different manner.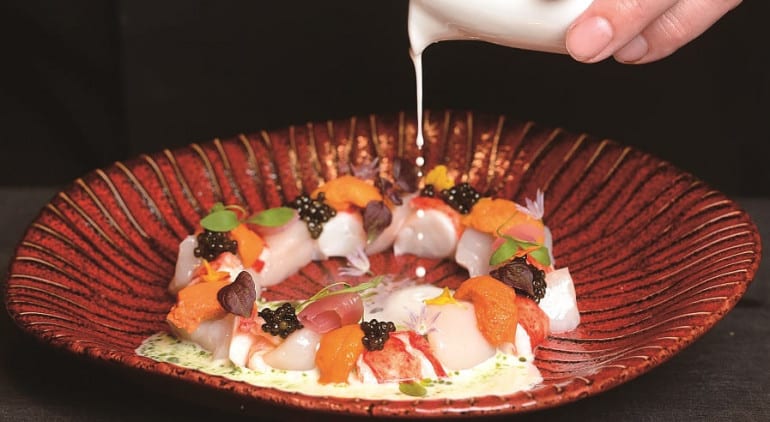 -TOP tip-
"Get the basics right. Learning how the traditional dish is prepared gives you a good foundation to create a modern interpretation of it."
KOMA : #B1-67 Marina Bay Sands, 2 Bayfront Ave. Tel: 6688 8690
JYPSY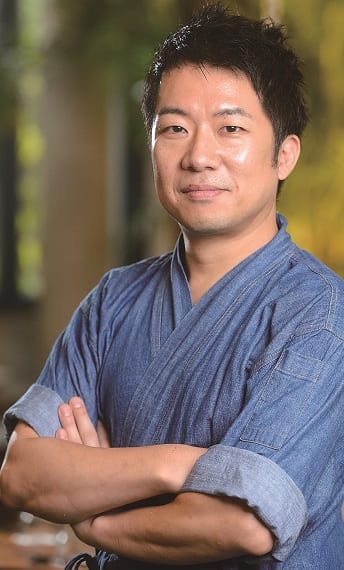 If you ask Chef Takashima Osamu, the one thing missing in Singapore's bevy of Japanese restaurants is a sense of playfulness. "Japanese restaurants in Singapore tend to be either very family-oriented or skewed towards fine dining," he laments. JYPSY, which he helms, aims to inject
an element of youthfulness, fun and free-spiritedness into Japanese dining.
Its offerings of rice bowls, Japanese- style tapas and bespoke cocktails, as well as its Japanese coastal town vibe are decidedly less stuffy and more casual. Born in Osaka, Chef Taka rose to become head chef at the age of 26, and honed his craft in Japan and Sydney before arriving at our shores. His unique offerings such as Salmon Tacos, Udon Goreng, Watermelon Granita and Turmeric Pisco Sour creatively combine premium Japanese with locally sourced ingredients.
What influenced your menu at JYPSY?
I am trained in both authentic Japanese cuisine and modern concepts and this menu draws on my background and plays to both of these strengths. These dishes also reflect changes in cooking techniques.
Tell us a little more about your contemporary creations.
Our most popular dish is the JYPSY Salmon Tacos, featuring king salmon
sashimi, fresh wasabi, salsa sauce, guacamole sauce, dashi soy sauce and
tempura seaweed taco. It took us quite a long time to conduct R&D for this dish. We made the nori shells in-house and it took us some time to get the perfect texture, taste and shape without compromising the presentation of the dish. Some items draw inspiration from traditional Japanese dishes. Nest of Fries was inspired by the traditional Japanese kakiage, which is made of tempura vegetables, as well as PS. Cafe's signature truffle fries.
Are there any dishes with sentimental value for you?
The Obasan Sticky Beef Sliders is my mother's recipe and reminds me of my childhood in Osaka.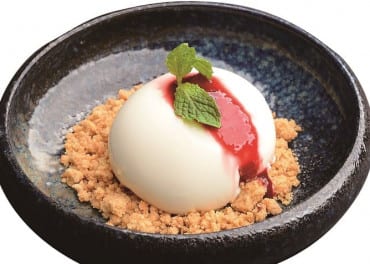 How do you source for ingredients?
We take our produce very seriously— they are primarily sourced from Japan. Our oysters are from Hyogo, near Osaka, our tuna is from Japan, and the rice in our Smokey Unagi Fried Rice is a premium Hokkaido varietal. We use fresh wasabi paste instead of artificial wasabi powder offered by most local Japanese restaurants as well. Our selection of sashimi is also paired
with locally sourced ingredients. 
Why is modern Japanese a trend in Singapore?
Japanese cuisine has been in Singapore for the last few decades but the same options have been available for the longest time. Singapore is a melting pot of cultures where people are well travelled and more adventurous with food. Modern interpretations are created today because of the need for a new experience — something fresh and creative.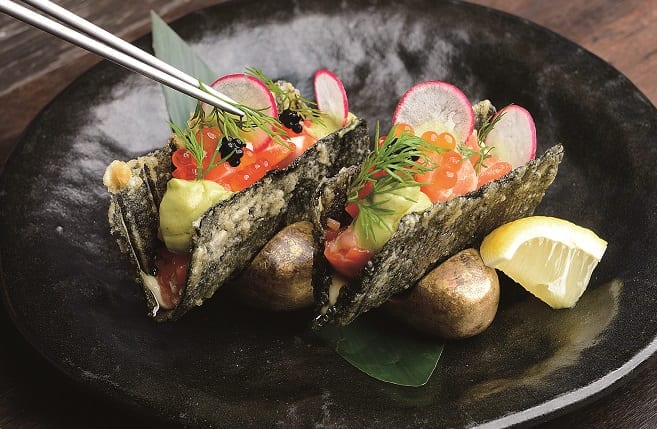 -TOP tip-
"It's okay to experiment but remember to respect the ingredients."
JYPSY : 38A Martin Rd #01-02. Tel: 6708 9288
 Chi Kinjo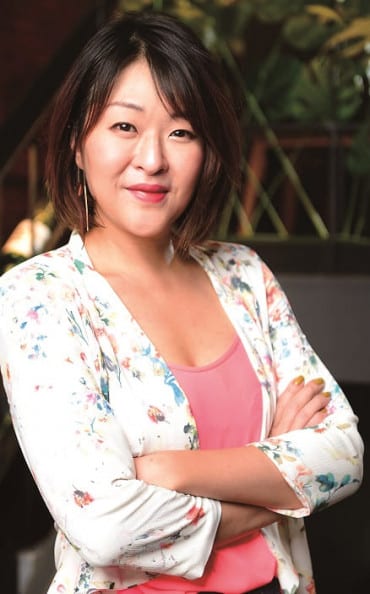 Chi Kinjo was designed to look like a back-alley izakaya set in an era of chaos in Kyoto, with a hidden bar harbouring a secret love story. The most recent of the four concept bars by the Coterie Concepts group, it elevates storytelling into an integral aspect of the dining experience.
No wonder — the group's co-founder and chief operating officer Sandra Sim is not just a former restauranteur in Shanghai, she has a graphic design background. She parlays her design expertise in her modern Japanese creations and interior design, weaving the restaurant's back story and personality into every facet of the experience. Think: Edgy experimentation with unexpected flavours and techniques in a menu that she helped to create. 
What inspired the creation of this restaurant?
The idea stems from painting traditional Asian cuisine in a different, modernised picture. At other Japanese restaurants, the presentation is always as expected — you get the usual izakaya classics, sushi and sashimi. We are about creating a narrative and experience, as well as a space where diners can extend their journey with us. On the surface, it is a casual izakaya. But a short flight of stairs leads down into a dimly lit drinking den that exudes a sense of danger and fun.
Describe your menu.
We present a fun take on Japanese cuisine, without losing the essence and integrity of the ingredients. Some examples include the use of "western" ingredients such as the Hamachi Carpaccio with truffle and dill. We also play with different textures as seen in our Crouching Tiger Roll with three types of prawns — sakura ebi, steamed prawns and tempura. We use a mix of locally sourced ingredients and Japan imports such as seafood and rice.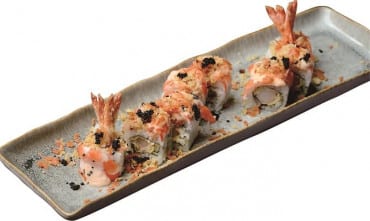 What are your most popular dishes?
They would be the Hamachi Carpaccio and Salmon Ceviche, Italian and Peruvian classics prepared with Japanese methods.
How adventurous are Singaporean diners when it comes to Japanese food?
They tend to be familiar with the usual fare but most are not adventurous enough to try dishes such as Tako-Wasabi (raw octopus with wasabi), chicken cartilage, fish cheeks and head sashimi.
How would you define modern Japanese cuisine?
It means adopting a different approach to preparing a dish, be it in terms of composition of ingredients or preparation. The environment and design language of the space plays a part too.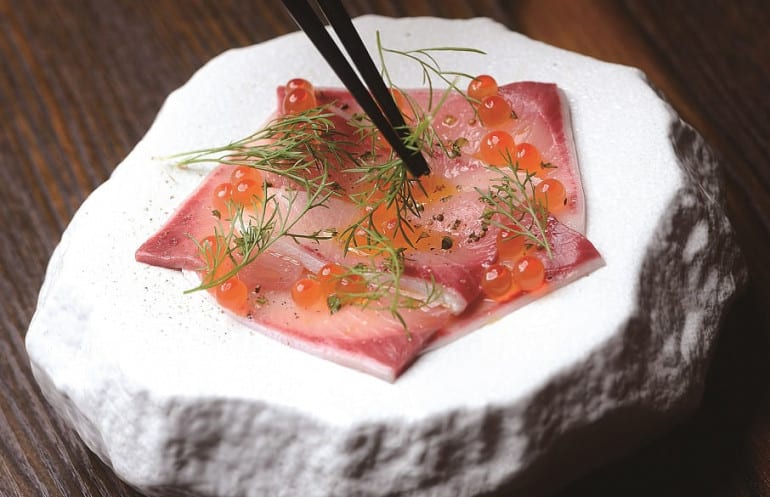 -TOP tip-
"Understand the character and flavour of a dish, and identify elements that can be substituted with ingredients not common in Japanese cuisine."
Chi Kinjo : 29 Stanley Street. Tel: 6260 5284