Just what is it about Fukui prefecture that makes it the happiest in Japan, according to a study released by Hosei University in 2011. In short, a relatively low unemployment rate, support systems to help shoulder the burden of child-rearing, low mortality rate, and quality hospitals.
Of course, these are not things you can easily observe if you're only on a week long jaunt to the prefecture. What you will encounter, however, are friendly locals, an abundance of amazing produce, beautiful scenery, and fascinating historical sights.
While on the topic of historical sights, not many areas in Japan can boast of having one of the best dinosaur museums in the world, Fukui Prefectural Dinosaur Museum. Katsuyama city, where the museum is located, is home to the country's largest excavation site. It's easy to spend a full day wandering about the exhibits, finding more about the creatures that continue to fascinate us even to this day.
Zen Buddhism is an integral part of Fukui's history and culture, and continues to be important today, thanks to the influential Eiheiji Temple, which you will read more about in the next few pages.
Today the spirit of Zen Buddhism continues to inform the way residents of Fukui live their lives, as can be seen through how they relate to nature and their surroundings. While they use the abundant natural resources available to them in the prefecture, preservation is also an important aspect of their ethos.
For instance, while Fukui is famous for its Echizen crab, the fishermen do their best to ensure that the species does not become overfished by limiting the harvesting period for female crabs.
Speaking of preservation, another fine example of it is how fiercely the residents of Fukui have protected aspects of their long, rich history. For instance, the Ichijodani Asakura Clan Ruins, and Heisenji Shrine which were destroyed centuries ago have since been excavated and rebuilt with great efforts, all so that Fukui residents and visitors alike can continue to appreciate these sites' cultural importance to the region.
For those who have so far only been Japan's more populated regions such as Tokyo, Kyoto, Osaka, or Fukuoka, a visit to the more rural Fukui will prove to be an eye-opening experience. Sample some of the prefecture's simple yet delicious produce, take in the numerous beautiful sights, meditate at its temples, and learn more about the area's fascinating history. You might not gain enlightenment after that short visit, but you'll feel a sense of peace and contentment that you'll be hard pressed to find anywhere else.
Take in the breathtaking view of Mikatagoko (Five Lakes)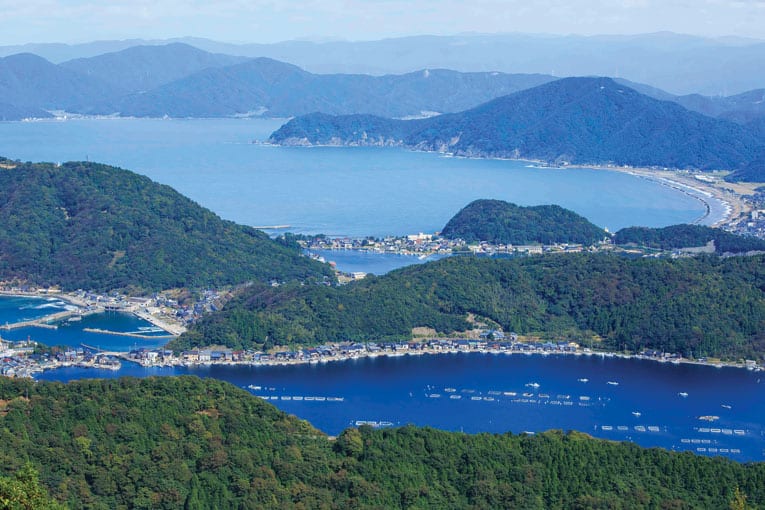 Make your way to up to Summit Park, situated along the Rainbow Line, a 11.2km scenic road and you'll be rewarded with a panoramic view of Mikatagoko (Five Lakes). The view of the lakes changes from season to season, and the waters each have their own characteristics: fresh water, salt water or a mix of both. The park is also home to a beautiful rose garden, and while you're there, write a wish on a clay tile and toss it into the distance. Legend has it that if a tengu (mountain goblin) picks up the tile, he just might make your wish come true!