For many people travelling from Singapore, a winter holiday is one of the best ways to escape the tropical heat and experience snow. For holidaymakers looking for a wintry good time, Japan makes for an ideal escapade.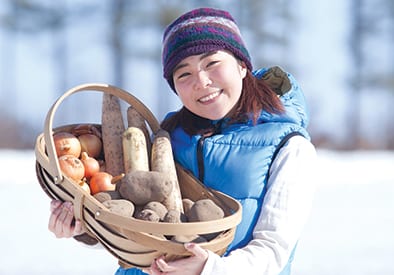 WONDERS OF WINTER
If you have the opportunity to spend the New Year in Japan with a local family, you should. Oshogatsu (New Year) is considered the most important of all Japanese holidays, and families usually celebrate with osechi-ryori. This is a traditional New Year food served in special boxes called jubako (similar to the bento box). Each box includes a variety of dishes such as, datemaki (sweet rolled omelette mixed with fish paste or mashed shrimp) to symbolise a wish for auspicious days ahead; kuro-mame (black soybeans) as a symbol of health for the new year; and ebi (cooked prawns with sake and soy sauce) to symbolise a wish for a long-life, as its appearance suggests a long beard and bent waist. Co-workers and friends also get together for shinnenkai, a booze-driven new year party to exchange new year greetings and plans for the year.
Partying aside, there are also spectacular snow festivals to look forward to! The biggest and most popular one is the Sapporo Snow Festival, which will be held from February 6 through February 12 in 2017. Held across three sites, this festival features larger-than-life snow sculptures, spectacular exhibits, and even a variety of snow slides for the kids. If you're planning a trip to Hokkaido in that month, why not make a trip to Asahikawa, located just 80 minutes away by train? Home to Hokkaido's second-largest winter festival, this event also features gravity-defying snow sculptures, with one dedicated as a stage for music and other performances (February 7 to 12).
Wintry Feasts
Winter in Japan is the best time to enjoy stomach- and heart-warming dishes such as hot pot. Some winter favourites include yosenabe, which is made with dashi, vegetables, tofu, seafood, and noodles in a nabe (Japanese claypot).
Winter in Japan also means you get to enjoy an array of produce such as sweet potatoes, carrots, and a variety of turnips and radishes. These are usually harvested in autumn and kept in storage for about two months to enhance their flavour. In the winter months, wild fish such as buri (yellowtail), hirame (sole), and fugu (puffer fish) are especially sought-after as they have higher fat content. Fruit like apples and mikan (Japanese mandarin oranges) are also especially delicious at this time of the year.
In fact, there is a particular agricultural practice that lends these seasonal produce an extra burst of flavour. After much research and experimentation, food producers across Japan have discovered that burying freshly harvested fruit or vegetables for several months under huge piles of snow can help boost the taste of the produce. It started in the snowy prefecture of Nagano, where apple growers would harvest apples between late November and early December, and bury them in winter precipitation of about 2 to 3 degrees Celsius, and roughly 90 percent humidity levels. These "snow apples" are said to be juicier, crisper, and sweeter. This trend has since been picked up by farmers from Niigata to Fukushima, where vegetable producers leave their crops to grow in the snow, only picking them at the end of winter.