Indulge in a wonderful spread of Japanese food in Shimada City, the gateway of Oi River.
Yoshizen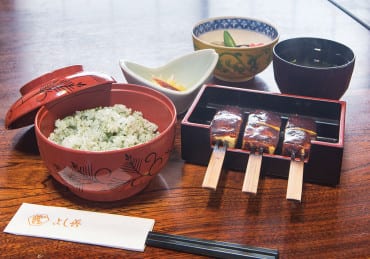 Dengaku is a popular Japanese dish that involves foods, such as daikon and eggplant, coated with miso and grilled over an open fire. What makes this dish at Yoshizen special is their use of tofu and red miso – the red miso, whose rich flavours are further enhanced after grilling, is the perfect complement to the clean, delicate tofu. And what makes this dish even rarer is the combination of dengaku and nameshi – rice mixed with daikon leaves that have been pan-fried without oil and crushed into powder. The result is a scrumptious, healthful meal that fills your stomach, minus the guilt. 
Yoshizen
1860-4, Kanayaizumi-cho, Haibara-gun,
Shizuoka 428-0014
Tel:0547-46-1869
Nakaya Shuten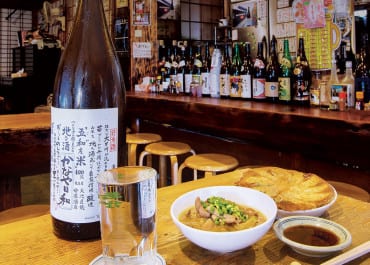 The only one of its kind in Kanaya, Nakaya Shuten is a sake retailer by day and an izakaya-style bar by night. This nondescript store stocks nearly 300 kinds of sake, including their exclusive label Kanaya Biyori, made using their own rice at a sake brewery in Shimada City. The cosy bar, hidden behind the retail shop, serves a variety of Japanese nosh such as gyoza, all freshly prepared with local ingredients. 
Nakaya Shuten
228, Yokookashinden, Shimada city,
Shizuoka 428-0005
Tel: 0547-45-3208
Noguchiya

When you enter this restaurant, it almost feels like you're stepping into someone's home – and you're not wrong. Noguchiya is first and foremost a ryokan with a history of over 100 years, while the restaurant was introduced around 40 years ago. Specialising in fusion cuisine that's a mix of Japanese, Chinese, and Western influences, the chef-owner prepares each dish using his own vegetable produce from his garden, from Manganji green chilli to spinach to tomatoes. 
Noguchiya
228-1, Shimonagao,
Kawanehon-cho, Haibara-gun,
Shizuoka 428-0314
Tel:0547-56-0046
Tororoya Tororo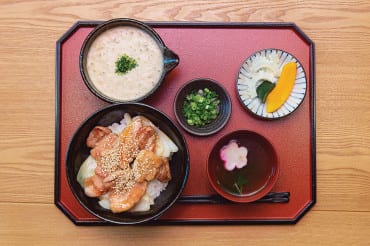 Like your food hearty, nutritious, and a little sticky? A traditional Japanese dish, tororo refers to grated Japanese mountain yam, and is typically mixed with miso soup and served poured over rice. At Tororoya Tororo, a family-run business with their own tea plantation just behind the restaurant, you can enjoy over 10 different types of tororo dishes. One of their unique creations is grilled pork tororo featuring Shizuoka prefecture's coveted "Golden Pig King", which is best known for its sweet, juicy meat. 
Tororoya Tororo
3172, Kanayafujimityo, Shimada city,
Shizuoka 428-0034
Tel: 0547-32-9637