On the foothills of the Southern Alps lies an onsen (hotspring) village known as Sumatakyo.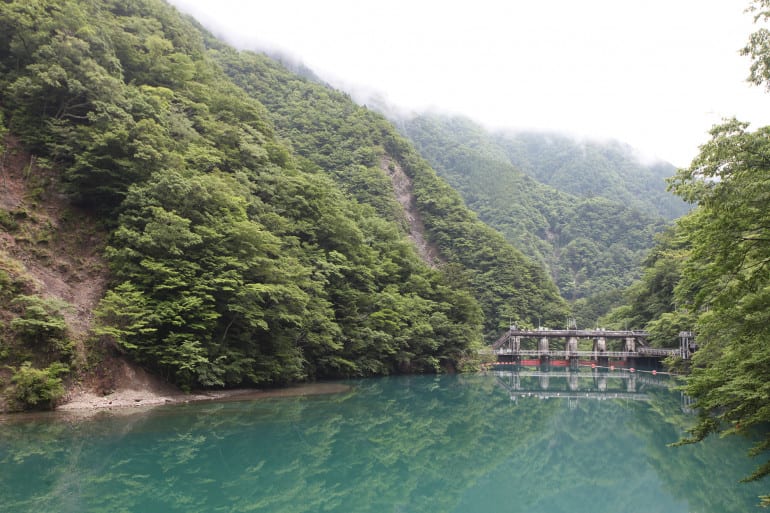 Suikoen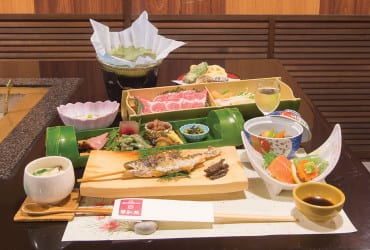 Among the eight onsen hotels in Sumatakyo, Suikoen is the oldest, having established in 1965. Apart from the soothing onsen experience located on its ground floor, the next best thing about staying at Suikoen is that it comes with a sumptuous dinner at one of their restaurants called Kuchinashi-tei. The hearty meal highlights some of the freshest and most delicious regional produce, including mountain vegetables and yamame (a Japanese native trout), prepared
in a variety of ways, from green
tea shabu-shabu to tempura.
Suikoen

279, Senzu, Kawanehon-cho, Haibara-gun,
Shizuoka 428-0411
Tel: 0547-59-3100
Seiko Udoku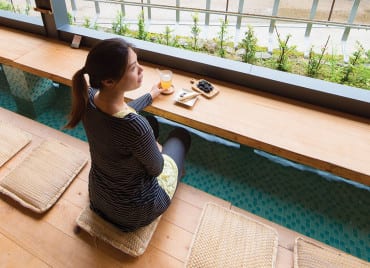 Whether you wish to rest your tired feet after a long trek or simply soak up the calm and serenity of the village, check out Seiko Udoku, a young café with two guest rooms launched just last autumn. The best spot is along its balcony, where you can enjoy an onsen foot bath while indulging in Seiko Udoku's light and creamy original cheese cake for the perfect spot of relaxation. The café also sells a plethora of rice crackers, such as the souvenir-worthy Sekitan Okaki, whose colour and shape are inspired by the coal used in Oigawa Railway's steam locomotives. 
Seiko Udoku

316-1, Kawanehon-cho,
Haibara-gun, Shizuoka 428-0313
Tel: 0547-59-2333
Sato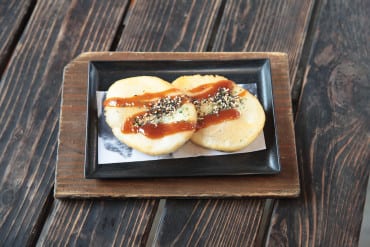 There's an unlikely "guard" standing (and sometimes sleeping) in front of Sato: a golden retriever with flowers on its ears. The adorable dog is probably guarding the 55-year-old eatery's signature snack, Yama Imo-mochi, or yam cake. Unlike Imo-mochi – a mix of potato and mochi that's available in Hokkaido – Yama Imo-mochi is made of Japanese yam, mochi, and sticky rice. An original creation introduced 20 years ago, Yama Imo-mochi is available exclusively at Sato, so be sure to give this yummy treat a shot!
Sato

Sumatakyo, Kawanehon-cho, Haibara-gun,
Shizuoka 428-0411
Tel: 0547-59-2387
Kuretake Shokudo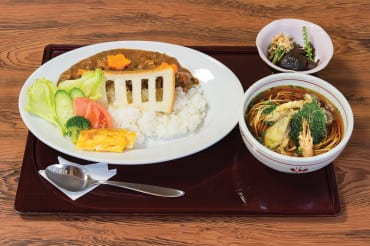 Because of Oi River's high volume of flow and fast current, the river is peppered with dams to control and stabilise the water flow as well as to develop hydroelectic power. With the abundance of dams on Oi River and its tributary streams, it comes as no surprise that Oigawa dams have become a tourist draw in the region. At least one restaurant in Sumatakyo, Kuretake Shokudo, serves a unique curry dish called dam curry. Dam curry isn't exclusive to this region; the dish consists of rice that's shaped like a dam across the plate, with curry on the other side. At Kuretake Shokudo, however, the "dam" is not made of rice but a slice of bread, cutely carved to reflect the verticle rails of the nearby Oma Dam. Available in two meat options (deer and wild pig), the dam curry was introduced in March 2015 and has been a popular item among its diners – this, despite it not being on the menu!
Kuretake Shokudo

352, Senzu, Kawanehon-cho, Haibara-gun,
Shizuoka 428-0411
Tel: 0547-59-2985