You'll never go hungry in Shiga Prefecture, not with so much good food available!
Beniayu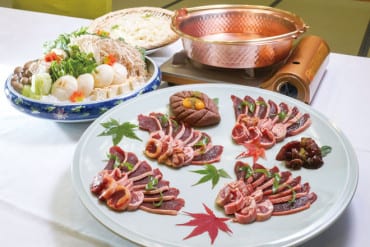 The meals at this ryokan are usually served kaiseki-style, but the owners are able to accommodate all sorts of dietary preferences. Whether you are a vegan or prefer a meat-heavy meal, Beniayu will try their best to customise the menu. Of course, local produce features heavily on the menu, especially items such as funa (Crucian carp) from Lake Biwa. A must-try item is the kamo-suki (duck sukiyaki), which is only available in the winter months. Made using ducks from the Lake Biwa region—which are known for their rich flavour and high fat content —this hearty dish is especially comforting on a cold day.
Watch OISHII TV
Farm Kitchen Nonaka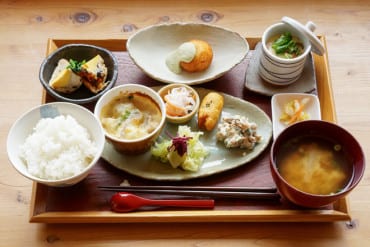 Opened in April 2013, Nonaka is situated within a complex that also houses a daycare centre for the elderly and a cafe run by disabled people. The three proprietors, including Nonaka's owner, Masatsugu Nomura, wanted to create a place for the community to get together. At Nonaka, you'll get a variety of dishes prepared with fresh vegetables from Shiga prefecture—there is no meat or fish on the menu—and using traditional Japanese recipes. 
Shunsai-no-mori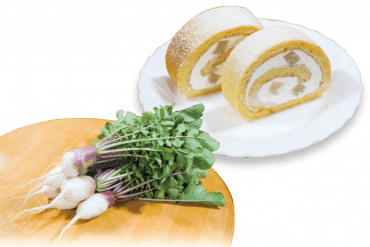 The food here is simple, home-cooked fare but made exclusively with produce from Shiga Prefecture. Try the Ibuki daikon cake, made using daikon from Mount Ibuki that's been boiled and soaked in sugar syrup overnight. At Shunsai-no-mori, you can also stock up on fresh produce from Shiga, such as vegetables and fruits from Mount Ibuki, as well as local rice and miso products.    
Omi beef dining Okaki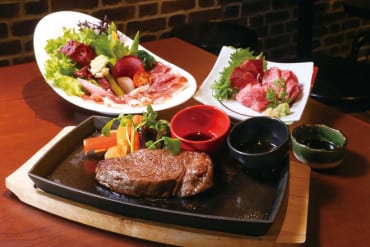 This is the fifth and latest in a family of restaurants where the meat served is sourced from the company's own cattle farm. This casual-dining restaurant is conveniently located in front of the Otsu JR station and offers a laid-back atmosphere to enjoy a great steak dinner. Omi beef is beloved for its rich flavour and marbling, and can be enjoyed in a variety of ways—from steaks to sukiyaki and even sashimi style—which you can try at its other outlets.
Hisagozushi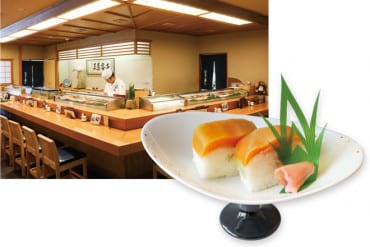 The focus here is on local produce as well as a variety of unique seasonal fish from Lake Biwa. However, their signature dish is the Biwa-masu sushi, prepared using Biwa-masu, a type of trout found only in Lake Biwa. The sushi is served with stewed onions—which complements the clean- tasting flavours of the fish—shiitake mushrooms and kanpyo (dried shavings of calabash, a type of gourd) stuffed into the rice, and topped with a thin strip of kombu. Watch OISHII TV
Blueberry Fields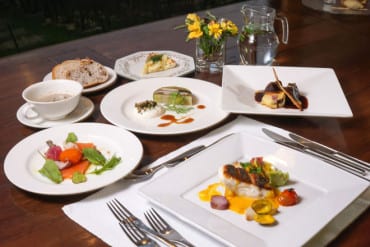 This cosy dining space started small. When it first opened in the late 1980s, it only accepted one group of diners each day. Today, the restaurant has a slightly larger capacity but still serves the same high-quality French cuisine, using organic vegetables from the region. Its moniker stems from its location—perched on a slope surrounded by blueberry fields, this restaurant offers marvellous views of Lake Biwa and the city. Before you leave, be sure to snap up a few bottles of their famous jam. 
With Tea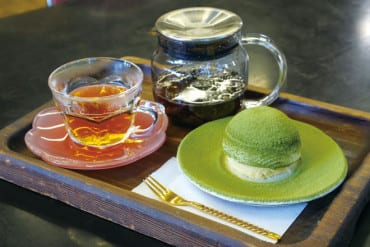 You'll want to whip out your phone at this cafe. The tea-themed desserts are simply too pretty not to be photographed. Some of their bestsellers include green tea tiramisu and green tea mont blanc, a seasonal dessert inspired by the colouring leaves of autumn. All the desserts here are made using the famed Asamiya tea from Shigaraki, in Shiga Prefecture. 
Watch OISHII TV
Sanmatsu Deli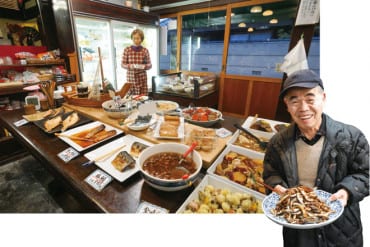 Step into Sanmatsu and you'll feel like you've been transported into the Japan of yesteryear. This traditional deli, located in the conservation area of Hachimanbori, has roots dating back more than 70 years and many of the time-honoured recipes have remained. For example, its recipe for tsukudani (ingredients simmered in soy sauce and mirin) has remained unchanged for decades, and why not? It's a definite crowd pleaser. Sanmatsu also serves a daily rotation of 20 to 30 dishes, each painstakingly prepared by third-generation owner, Takeshi Kitamura (right).