Tempura is one of the most popular Japanese foods around the world, but did you know it actually has Portuguese origins? In the late 16th century, Portuguese missionaries and merchants residing in Nagasaki used a combination of flour and eggs to use as a batter to make fritters. In those days, the batter used was thick and stodgy, and was eaten without a dipping sauce.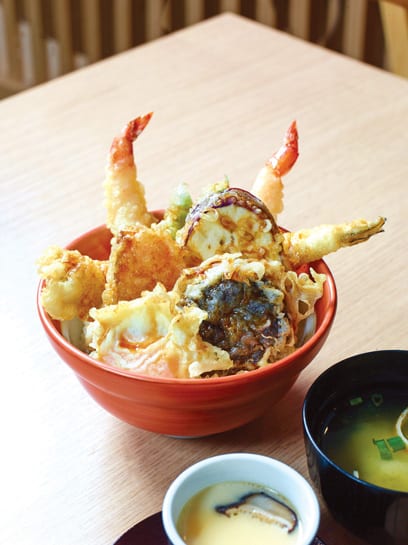 In later years, this recipe was tweaked and refined by food stalls in the Tokyo Bay area. The batter was mixed minimally in cold water to avoid the sticky, dough-like texture, maintaining a crispy outer shell that protects the delicate taste of seafood. This recipe continues even today, but has evolved to be served as a tendon – a rice bowl topped with tempura and a sweet shoyu-based sauce known as tare.
Tendon is usually prepared using fresh seafood and seasonal vegetables, but there are some restaurants that serve tendon with tempura chicken. For example, tempura chicken originates from Oita Prefecture, on the eastern coast of Kyushu in Japan, but can also be found at popular tendon restaurant, Tendon Ginza Itsuki in Singapore.
In fact, the popularity of tendon in Singapore is really taking off, with more tendon speciality restaurants joining the fray. We speak to three chefs who share with us more about the secret to a great tendon.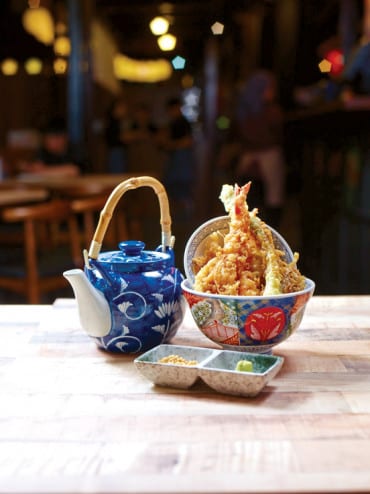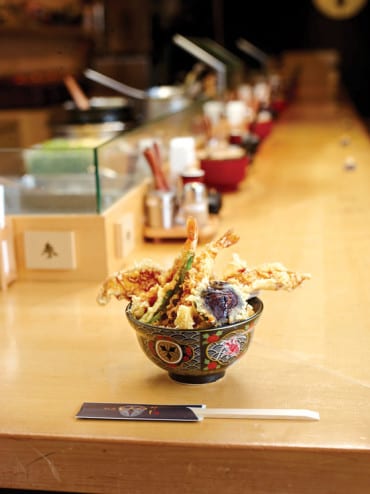 Kazunori Sonoda
Culinary Head Chef at Tensho by Ministry of Food
Having started his culinary career at the tender age of 21, Chef Sonoda has worked his way through many restaurants in Japan. After moving to Singapore in 2005, Chef Sonoda joined Ministry of Food in 2012, where he currently manages the F&B group's portfolio of Japanese restaurants. The latest addition to the group's Japanese portfolio is Tensho, which specialises in Japanese tendon.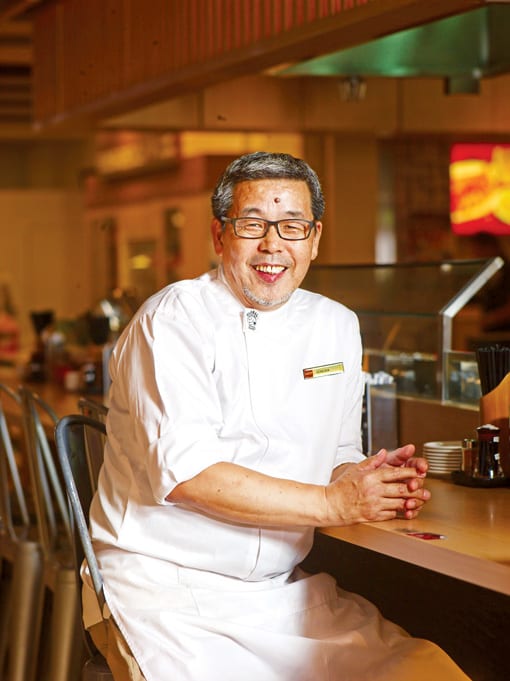 Can you share with us how you developed the menu
for Tensho?
I'd actually come up with the concept for a Japanese specialty tendon restaurant many years ago—even before our competitors—but we were busy developing other concepts for the group. When we finally decided to develop Tensho, I already had a good idea of what I wanted to include on the menu. For example, I'd previously tried tempura egg while dining at a golf course in Japan, and really liked it, so I knew I wanted to include it on the menu. Another thing I insisted on including in the menu is Hitomebore Rice, which is the second-most popular homegrown short-grain rice from Niigata Prefecture. This rice is slightly sweet, and has a nice, sticky texture that pairs well with tempura.
Where does Tensho get its ingredients?
At Tensho, we use a soy-based oil from Japan. Our vegetables are sourced from Malaysia, and our shrimps from Vietnam. Our sea eel, which you'll find in our Anago Tendon, is sourced from China. I've personally visited the producer in China to ensure the sea eel we get is of the highest quality, and is produced in a safe and clean environment.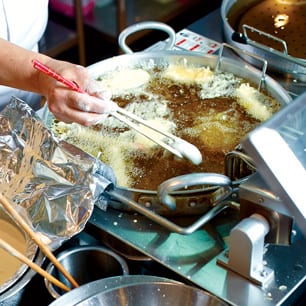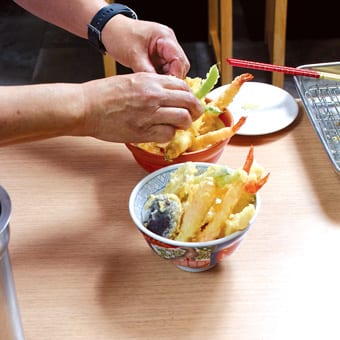 What do you think is the secret to good tempura?
Balance is very important. When you dine at a tempura restaurant, you'll probably notice the batter is slightly thinner so you can better enjoy the flavours of the ingredients. However, when it comes to tendon, the batter has to be of the right texture and thickness to pair well with the rice and tare sauce. As such, our batter is made with a proprietary blend of flour, and our tare sauce is prepared using a recipe I developed myself. The sauce is a little sweeter than your usual tare sauce due to the vegetable stock we use.
Tensho is expanding so quickly. How do you maintain consistent quality standards?
A big part of my time is spent developing recipes and formulas that are easy for the junior chefs to replicate in our various outlets. I also make it a point to visit each outlet to ensure everything is running smoothly.
Tensho
#B1-20 The Centrepoint
Tel: 6733 0449
#B1-08/09 Cathay Cineleisure Orchard
Tel: 6262 6103
#01-14/15/16 United Square
Tel: 6266 0297
Kenny Yong
Head Chef at Tendon Ginza Itsuki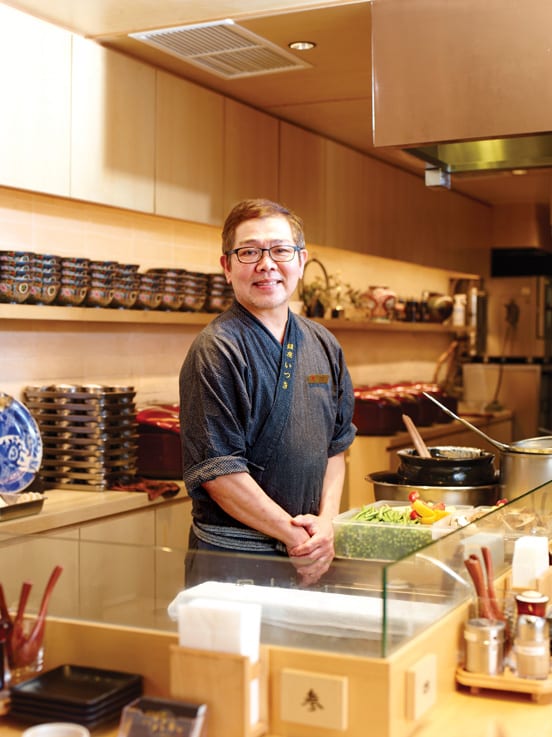 Although Tendon Ginza Itsuki only opens for lunch and dinner, you'll often see snaking queues outside the restaurant at least 30 to 45 minutes before they open for business. This is astounding, especially considering Tendon Ginza Itsuki only offers two variants of tendon – the Special (comprising chicken, two pieces of prawns, a boiled egg, and four types of vegetables) or the Vegetable tendon (comprising seasonal produce such as pumpkin, Shiitake mushroom, lotus root, or eggplant). On average, Tendon Ginza Itsuki sells 280 to 300 bowls of tendon each day.
Tell us what makes Tendon Ginza Itsuki so popular.
Having opened in July 2015, we are the pioneer of tendon specialty restaurants in Singapore. There are several reasons why our tendon is so special. First, each bowl of tendon is prepared a-la-minute as we want to ensure the food is served at the perfect temperature. Second, we are also fastidious about the rice we use. Our rice is sourced from Hokkaido, and we use special high-pressure rice cookers from Japan that help maintain the flavour and texture of the rice. Each rice cooker can only cook eight portions of rice at a time, so we have seven of these cookers in the restaurant. Also, we believe strongly in using the freshest ingredients possible, which is why most of our ingredients are sourced within Singapore and other neighbouring countries.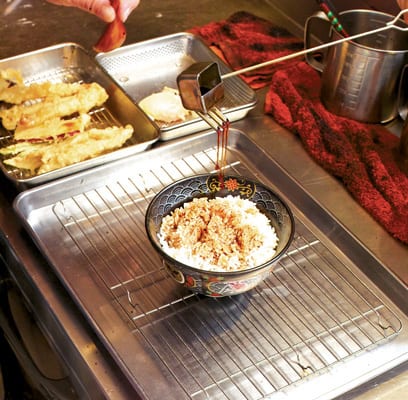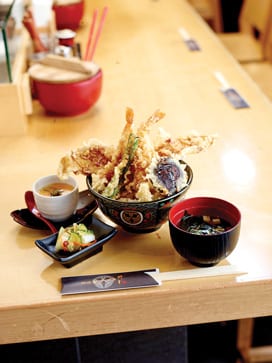 Where does Tendon Ginza Itsuki get its ingredients?
Our vegetables are largely from producers in Singapore, and we get fresh chicken from a producer in Malaysia. Some people may think it's unusual to include chicken breast in tendon—even in Japan, it's not that common—but so far, we've received very positive response from our customers. Our tare sauce is made using our own secret recipe, so I'm afraid I can't share with you the ingredients! (laughs)
What do you think is the secret to good tempura?
Freshness of ingredients is very important, but skill and experience are also equally important. It takes experience to control the temperature of the oil, the amount of batter to use, and even the amount of tare sauce to drizzle on the tendon. Timing is everything.
Tendon Ginza Itsuki
101 Tanjong Pagar Road
Tel: 6221 6678
Masaki Kikuchi
Head Chef at Don Meijin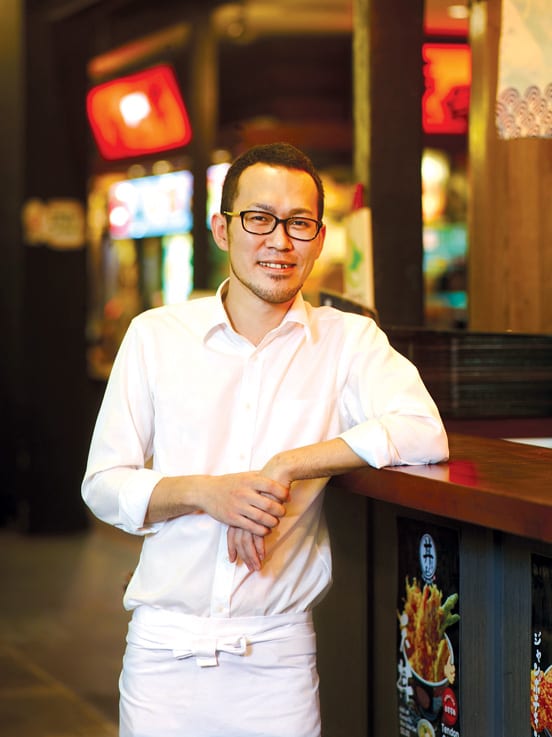 Chef Kikuchi first arrived in Singapore in 2015, having worked at a tempura restaurant in Sapporo for three years. He currently helms the kitchen at Don Meijin, which serves a variety of Japanese donburi (rice bowl dish). Here, you'll find inventive tendon creations such as Don Meijin's bestseller – the chilli crab tendon.
Tell us more about the tendon available at Don Meijin.
At Don Meijin, we have seven types of donburi, of which three are tendon. We have the normal version, which comes with fish, prawns, and assorted vegetables, the chilli crab version, and one that only comes with prawns. We also offer customers the option to have their tendon served with some dashi and hot water in a teapot, so they can enjoy their tendon in two ways – on its own, and as a chazuke (a Japanese dish where either green tea, dashi, or hot water is poured over cooked rice). As tendon and tare sauce can be a bit rich or oily, the chazuke helps clean the palate.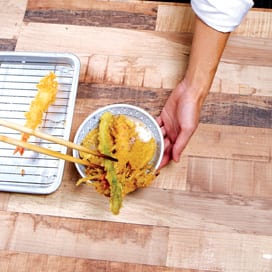 What makes the tendon at Don Meijin so special?
All the prawns we use in our tendon come to us fresh, and we specially clean and treat it on site. Pre-treated prawns tend to be frozen multiple times, causing it to lose its juiciness. By cleaning the prawns ourselves, our prawns remain fresh, firm, and juicy.
How did you come up with the chilli crab tendon?
When I came to Singapore, I noticed how popular chilli crab is among Singaporeans, and wanted to find a way to incorporate the chilli crab sauce in a tendon dish. I tried chilli crab at many different restaurants and experimented with various recipes before I came up with one that pairs well with tempura.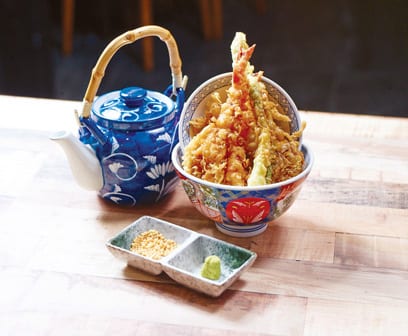 Where does Don Meijin get its ingredients?
Our vegetables are all locally sourced, while our fish and prawns are sourced from Vietnam. As for the rice, we use the famous Nanatsuboshi rice from Hokkaido, which is renowned for its glossy appearance, sticky texture, and subtly sweet flavour. As for the oil, we use a customised blend of soybean oil from Singapore and sesame oil from Japan.
Don Meijin
#04-10 Bugis+ (within Ramen Champion)
Tel: 6238 1011