More than just a sweet treat, this Japanese company has revived an age-old candy by transforming it into a mode of communication.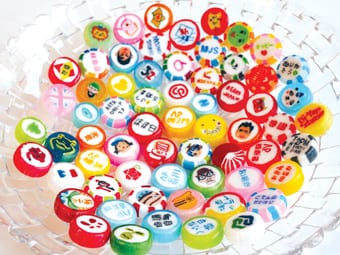 Kumiame (assembled candy) is a traditional Japanese sweet with a history that dates back to the Edo era. Made with a liquid candy base, sugar, and flavouring, the largely manual process only renders small batches of about 3,500 sweets each time. These sweets are usually consumed by young children during special occasions such as Shichi-Go-San.
However, according to Shingo Nakamura, third-generation owner at Mai Ame Kobo, a traditional kumiame manufacturer, the greying population in Japan combined with a lack of online presence meant a slowdown in business. This is why, 10 years ago, Takao Nakamura, his father, decided to create an e-commerce platform, in order to reach out to a wider audience. He says, "Previously, if people wanted kumiame, they could only order by telephone or visit our shop in Nagoya. With the e-commerce platform, we can deliver kumiame all over Japan."
Apart from setting up an e-shop, Nakamura was also savvy in his marketing efforts. The company invested in SEO engineering and social media marketing, ensuring they were top of mind for whoever was searching for the traditional sweet. However, one of the most effective marketing efforts to date was reaching out to people who managed their company's public relations or corporate communications.
Why? That's because Mai Ame Kobo has perfected the art of customising their sweets to include personalised messaging. From auspicious holiday greetings to company logos, their can- dy artisans will be able to craft a sweet that matches your needs. Some of the clients they've worked with include premium car brands such as Volkswagen and Volvo. This customisation truly takes skill and experience because the craftsmanship needs to take place within a tight window frame of about 40 minutes before the boiled candy hardens and becomes unmalleable.
One particularly interesting design the team experimented with was the "destroyed" fresco of Ecce Homo (Behold the Man) by Elias Garcia Martinez in the Sanctuary of Mercy Church located in Borja, Spain. Inspired by the elderly devotee who disfigured an ancient fresco with her well-meaning (but disastrous) restoration efforts, they decided to see if they could re-create the ruined painting in candy form. It was a success, and their little experiment was even picked up by a Japanese TV station, which later brought the candy to the original site in Spain.
"For us, kumiame is so much more than just a sweet," says Nakamura, "It has become a communication tool for companies to increase their brand awareness. Usually, companies tend to give out memorabilia such as pens or notebooks, but we don't find that interesting. Not only are these sweets affordable (each batch of 3,500 sweets sells for about S$800), they also stir up nostalgia for many Japanese people. Plus, the cute designs usually inspire people to snap pictures for social media, which further increases brand awareness for companies."
(TEXT  VANESSA TAI )