"Although Corner House offers a French-based menu, I'm also inspired by the ingredients that are available and the places I've travelled to. When I first visited Tokyo's Tsukiji Market years ago, I was amazed to see such fresh and unusual ingredients and seafood. Since then, I've eaten at different restaurants in Japan, to understand how the Japanese handle seasonal ingredients.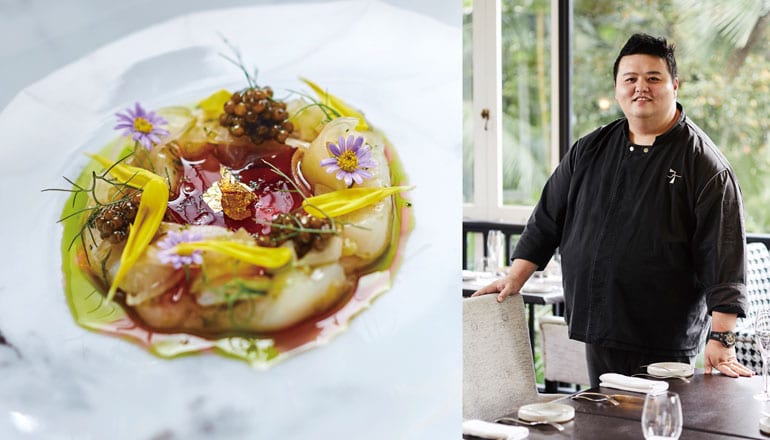 Like the Japanese, much of my menu is influenced by using fresh, seasonal produce and can change from day to day. The only dish I don't remove is my signature, Cevennes Onion.
As long as I don't have the best ingredients, I won't put it on the menu. I work with all types of Japanese fruit, vegetables and seafood, from Miyazaki mango to maitake mushrooms to kinmedai (golden eye snapper).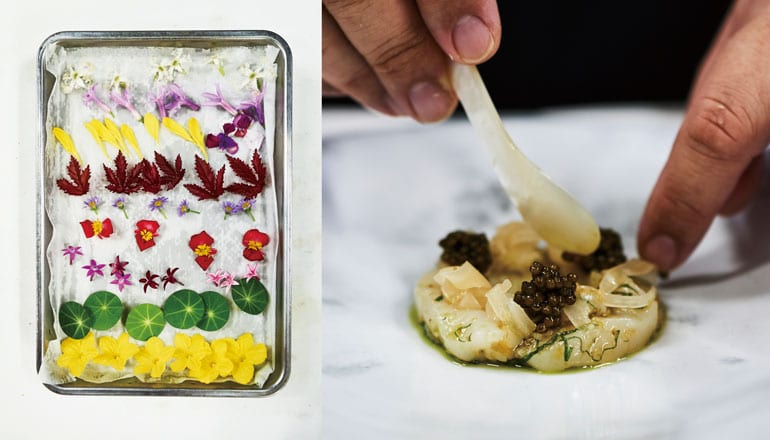 This dish with Hokkaido fresh scallops (muki hotate) wasn't available last week but is back because the scallops we have now are fresh. The marinade is made from a spicy yuzokosho condiment and mint oil. Pickled fennel adds crunch and acidity, while a shiso and Japanese white strawberry jelly gives sweetness and fragrance. Salty caviar lends creaminess, against the scallops' natural umami flavour. The dish is topped with gold-leaf foil and finished at the table with a cold, creamy nitro blast of creme fraiche. Overall, the taste is very complex—you have contrasting flavours and textures all on one plate—but is also well balanced."
(TEXT Denyse Yeo  Photography Raymond Toh/Vineyard Productions)
Chef Jason Tan
As a teenager, Chef Jason Tan took up a casual holiday job as a dishwasher in a cafe. When he saw the cooks making pizza, he was surprised to learn that something so tasty could be created from just a few simple ingredients. His interest in cooking grew, and he went to school to learn the skill. Now the chef of Michelin-starred Corner House, he is known for creating Gastro-Botanica contemporary cuisine— refined and seasonal vegetable-driven dishes with global flavours. He says: "I don't copy other chefs' style or dishes. I've developed my own cuisine and style. This is part of the reason why Corner House has been so successful."
Corner House 
1 Cluny Road, E J H Corner House, Singapore Botanic Gardens
Tel: 6469 1000