Faces of Akita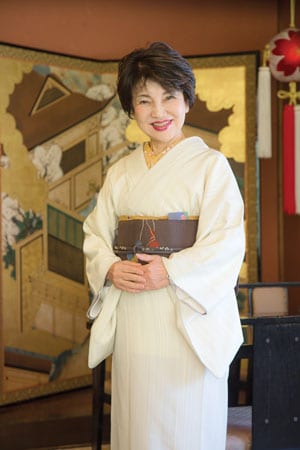 Kyoko Sato,
okami of Taenoyu
Having spent 26 years taking care of guests, Taenoyu's affable owner knows all about the importance of good service and the must-visit towns in Akita!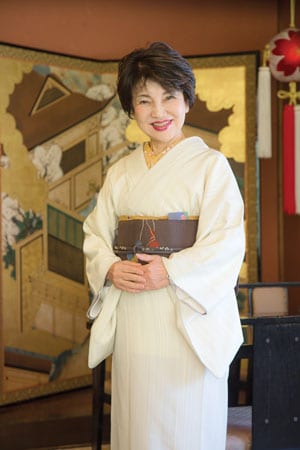 What makes Taenoyu so special?
In the past, onsen were often treated like a gentlemen's club. I thought, "Why not give this place a feminine touch instead?" So here's an onsen marketed for women—and run by a female owner! On top of that, each of our 17 rooms has a different feature to enjoy various aspects of the Akita landscape, be it the lush mountain slopes or vast landscapes.
What is the most important aspect of service?
Our guests spend their precious time with us, so we have a responsibility to create beautiful memories for them. We practise omotenashi, that is to give an attentive, caring attitude, so tourists feel at ease. We also try to talk to guests in our Akita dialect for more authenticity, for example, "manzuigukite kedansu", which loosely translates to "welcome from far away".
How do you maintain premium service standards?
Every morning, we have a 30- to 40-minute meeting with the entire staff. We go through our feedback forms and figure out ways to continually improve our service. We train staff to always say "thank you", and remind them to keep smiling.
Is Taenoyu closed during winter?
The roads are cleared of snow, so you'll be able to access our hot springs even then! During winter, we get snowfall of up to 1.5 metres high, so most of our low-rise annexes will be partially submerged. This thick blanket absorbs sound, so you will be transported to a world of peace and tranquility. You might even see steam dramatically emerging from the snow!
Taenoyu Onsen
2-1 Tazawako Obonai aza Komagatake, Senboku City, Akita 014-1201
Tel: 0187-46-2740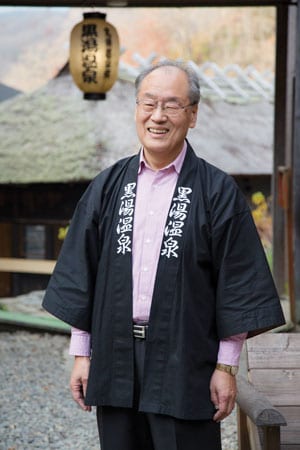 Mr. Yasuhisa Ikeda,
the owner of Kuroyu Onsen
A third-generation owner and active member of the Onsen Association, Mr. Ikeda talks about how the group found its roots and its plans on reviving onsen as a popular mode of medical treatment.
How did the idea for an onsen association come up?
The seven onsen in Nyuto Onsen Village have different types of hot springs—each with its own unique features. Thus, we wanted our guests to visit all of them to experience the full spectrum of their goodness. From a business point of view, everybody benefits as it's easier to coordinate marketing efforts.
Traditionally, who has made up your onsen clientele?
In the past, a major proportion of our clientele were made up of rice farmers who stayed in the ryokan after the harvest season. Soon after, onsen became popular as a rest stop among hikers. Then in 1997, the Akita Shinkansen (a high-speed rail line) commenced operations, bringing even more people to this hidden gem!
Has their profile changed in recent years?
As the Baby Boomer generation begins to age, fewer of them visit onsen. So we substitute this loss with clients from overseas, such as Thailand, Taiwan and Singapore, among others. We also focus on the affluent, health-conscious visitor who enjoys hikes and personal wellness.
The Senboku City government has registered this region as a place specialising in onsen. We hope this will attract more guests.
How can onsen be regarded as legitimate medical treatment?
We are working with the Ministry of Health in Japan to subsidise up to 30 per cent of the cost of onsen treatments under citizens' health insurance. This way, we can revive the the onsen's reputation as a place of treatment and attract guests who come for medical relief.
Kuroyu Onsen
2-1 Tazawako Obonai aza Kuroyuzawa, Senboku City, Akita 014-1201
Tel: 0187-46-2214