To experience the wonders of hot springs and delectable mountain produce, we're travelling to northeast Japan in Akita Prefecture. Nyuto Onsen Hot Springs Village (nyutoonsenkyo) is home to a tapestry of ryokan onsen (a Japanese inn with hot spring baths) dotting the lush beech forests.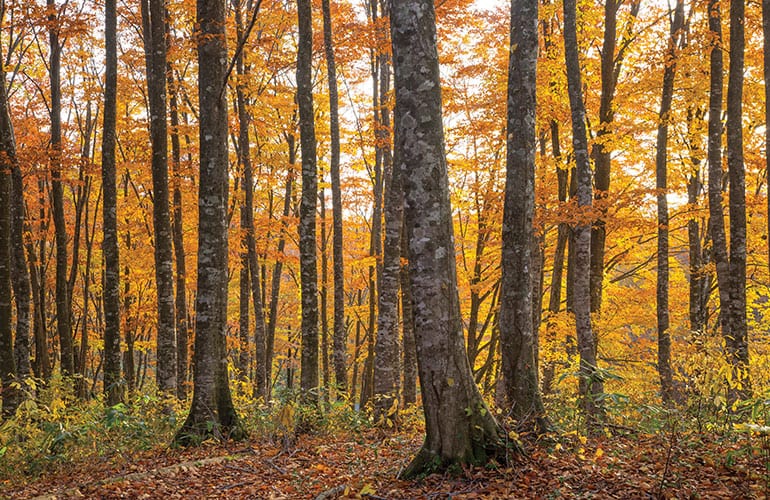 Although the countryside is often difficult to get to, Nyuto Onsen Hot Springs Village is hardly inaccessible—after landing at Haneda Airport in Tokyo, hop on a 3-hour bullet train ride to Tazawako station. The village is just a further 30-minute drive and is located in the southern region of Towada Hachimantai National Park.
Overlooking the natural bounty of Akita is Mt. Nyuto. At 1,400m high, it is said to resemble the elegant silhouette of a reclining lady. Apparently, the tip of this mountain resembles a nipple—hence its name. You can even catch a glimpse of the spectacular mountain range as you trek from one onsen ryokan to the next.
The mountainous region is famous for its locally-grown Akitatomatchi rice, used in a local delicacy called kiritampo; and from her largesse, pure spring waters that provide catchments of Japanese yamame trout and iwana char. Mt. Nyuto's spring waters also nourish its surrounding greenery and support a lavish ecosystem of flora, such as matsutake mushrooms and yamanoimo (a mountain yam potato)—these are some must-have autumn ingredients in your trip to the Japanese heartlands.
But it's not just the region's culinary offerings that will win you over. Nyuto Onsen Hot Springs Village is a union of seven ryokan onsen, each with their own unique features, ranging from traditional tatami mat rooms dating back to the 1600s to modern facilities fit for a family stay. We recommend visiting a series of them to get a more rewarding experience.
And let's not forget its star attraction: the glorious hot spring baths! Whether you're looking for smooth skin that friends will envy or cures for ailments, these healing waters will reinvigorate your city-worn body. Within each ryokan, there are even baths with varying mineral and colour profiles, so don't forget to try them all. Multiply that by seven, and you'd be well on your way to becoming an onsen connoisseur!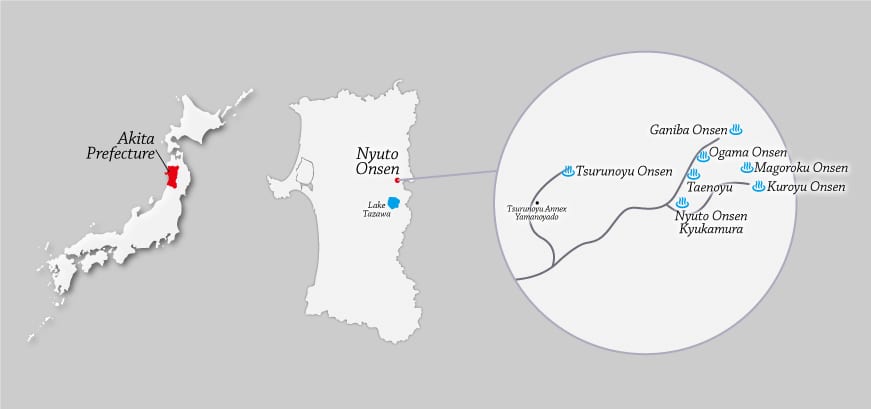 (TEXT Matthew fam Photography katsuhiko sato)
Turn the page to discover more about Akita prefecture!