Right now in Akita Prefecture where I live, the first snow is falling. It is the season to tuck into a number of Japanese winter foods, like daikon. Although this Japanese radish is eaten all year round, it is at its peak of flavour, known as "shun", during the cold.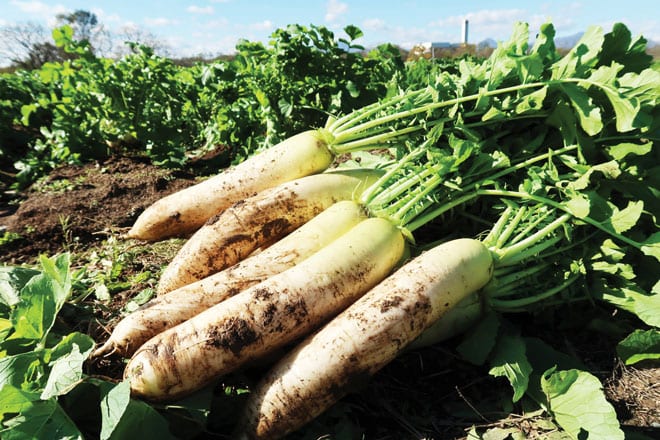 Daikon may be a common ingredient but it is delicious and has many health benefits! It contains vitamin C that's good for your immune system, especially in Japan in chillier weather. Raw, fresh daikon also has three types of enzymes that help your body digest starch, protein and fat better.
No wonder daikon oroshi, or grated daikon, makes a wonderful side dish with heavier, oilier and protein-rich meals. It helps to cut through the richness of dishes such as tonkatsu (breaded, deep-fried pork cutlet), grilled meat like steak, and tempura. Daikon also tastes good in miso soup or in an aemono (dressed salad).
Different parts of the daikon are used in varied ways: The top near the leaves is sweetest and best used raw, like in daikon oroshi. The middle is sweet and used in stews and simmered dishes. The bottom is spiciest and best for hotter daikon oroshi or strongly flavoured dishes.
When making the first recipe, daikon oroshi, always use the freshest daikon you can find—these will have a smooth and shiny exterior. If you can, use a purpose-built daikon oroshi grater, which you can find at Japanese supermarkets. The resulting texture will be finer and more "snow-like". Once grated, please eat it as soon as possible for the nutritious value. It's best to prepare daikon oroshi right before you eat.
The Japanese-style sautéed chicken recipe uses shiso (perilla) leaf and umeboshi (pickled plum). Their sour flavour is very Japanese in style and will whet your appetite. The last recipe uses a Japanese vegetable called komatsuna in a simple cooking method. This green leafy vegetable is used frequently in Japan and I hope it will be a unique taste for you too in Singapore!
(Text DENYSE YEO / Recipes COCOPELLI)
Japanese-style Sautéed Chicken
Ingredients (2 servings)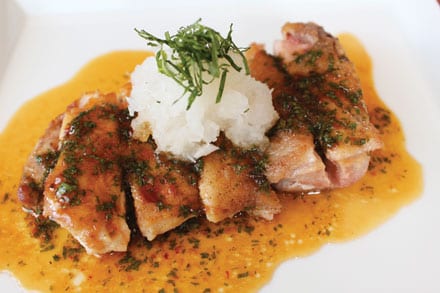 2 chicken thighs     
100g daikon radish        
6 shiso (perilla) leaves
1 medium umeboshi (salted plum)
♦ 2 tbsp vinegar        
♦ 2–3 tsp honey            
♦ 1 tbsp soy sauce        
♦ 1 tsp vegetable oil        
Salt and pepper, as required
Flour, as required
Vegetable oil, as required
Directions
1. Remove the seed from the umeboshi and mash the flesh with the side of a kitchen knife. Finely chop 4 shiso leaves. Cut the other 2 leaves into thin strips and leave aside. Grate the daikon.
2. Place the starred ingredients (♦) and umeboshi in a bowl. Add the chopped shiso leaves and mix together thoroughly.
3. Season the chicken meat and dust lightly with flour.
4. Add some oil to a frying pan, and cook the chicken over high heat, skin side down, until crisp. Turn the chicken over and cover. Cook on medium heat until fully cooked through.
5. When cooked, cut the chicken into bite-size pieces and place on a plate.
6. Coat the mixture from Step 2, then top with the grated daikon and shiso strips. The dish is now ready to serve.
Komatsuna and Chicken Mizore-ae*
Ingredients (4 servings)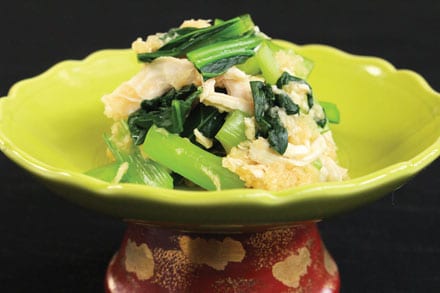 1  bunch of komatsuna (Japanese mustard spinach) or substitute with leafy vegetables like spinach and bok choy         
2 chicken fillets, about 100g total
1 tbsp sake    
½ tsp salt            
200g grated daikon    
3 tbsp ponzu dressing   
Directions
1. Place the grated daikon in a colander to drain off any excess moisture.  
2. Trim the fat off the chicken fillets. Marinate the meat in the salt and sake. Place in a heatproof dish, and cook in the microwave on high for one minute or until cooked. Turn the meat over, and then cook for another minute or until cooked. Allow to cool.
3. Bring a pot of water to the boil and quickly cook the komatsuna or other leafy vegetables. Cool the vegetables in cold water. When cooled, squeeze out any excess moisture. Cut into 3cm lengths.
4. When the chicken has cooled slightly, cut into bite-sized pieces.
5. Place the vegetables, chicken and grated daikon in a bowl. Mix together thoroughly.
6. Add ponzu dressing. Mix everything together briskly. Serve on a dish immediately.
*Mizore-ae is a grated daikon dressing with soy sauce and vinegar.