The castle town of Kishiwada City in Osaka Prefecture is usually tranquil, famed for its many ancient tumuli (burial mounds) and its iconic Kishiwada Castle keep, dating back to 1585. In late September, and again in mid-October every year, that peaceful image is completely shattered by one of Japan's most exciting, most raucous and most dangerous of festivals.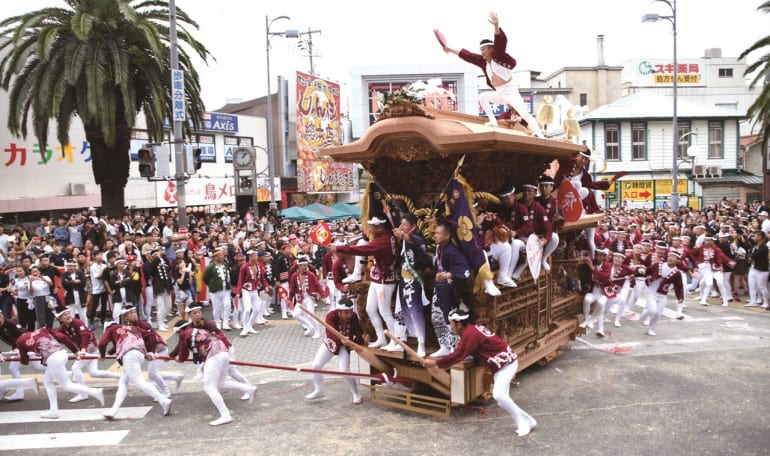 Beginning in 1703 as a festival dedicated to the gods of agriculture, the Kishiwada Danjiri Festival has become one of Japan's most memorable. Teams of men from the city's 34 various districts vigorously pull 81 massive floats, known as "Danjiri", at breakneck speed through the narrow streets of the old town. Others operate rudimentary braking systems to turn the enormous behemoths around the tight corners.
The festival routes aren't straight while the wooden-wheeled floats — towering at about 4 metres high and weighing an average of 4 tonnes — have no pivoting axles. This leads to harrowing thrills and spills at the many sharp bends, as the floats sometimes tip or crash into buildings and walls, sending people flying in all directions.
Local townsfolk play ancient musical instruments, drums, flutes and gongs. Those responsible for upkeeping the detailed handcrafted vehicles are aboard the floats during this revved-up race through the streets. An honoured district representative rides atop the roof, jumping from left to right trying to maintain the towering, thundering vehicles' balance. Each neighbourhood vies to outdo the others and have their Danjiri float recognised as the most elaborate, the most gorgeous and, most importantly, the fastest!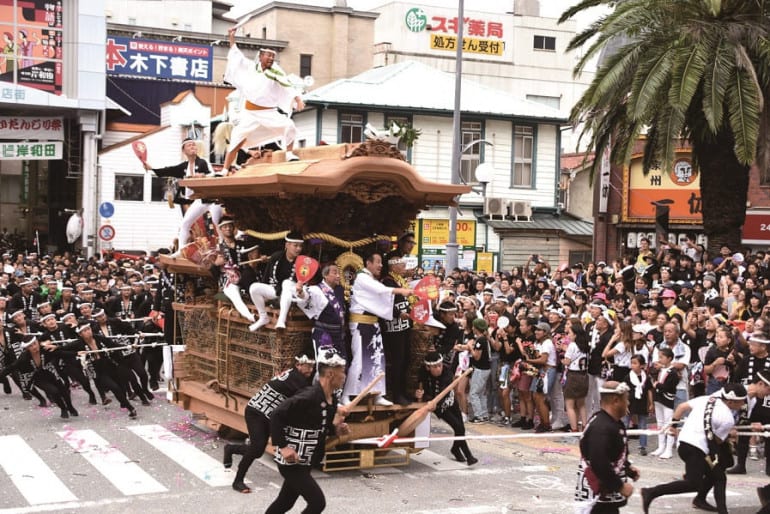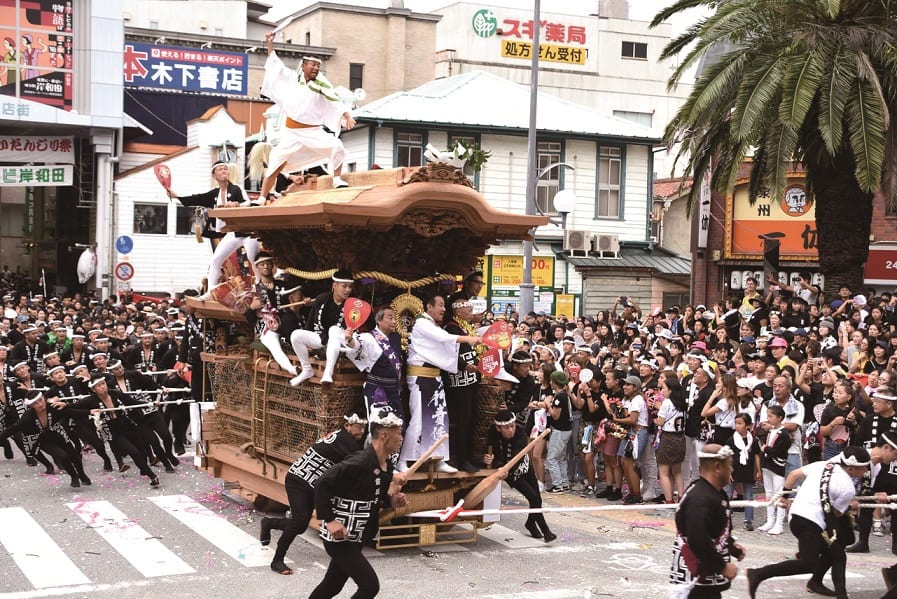 The festival takes place twice a year. The first in late September is the more famous of the two and features 34 Danjiri floats. This main event is held on the grounds of Kishiwada Castle, with the route leading from the castle down to the coast. The mid-October event has 46 Danjiri floats in action and centres in and around the city's mountainous suburbs. If you can't make it to the actual festival, the Danjiri Kaikan exhibition hall near the rebuilt castle is a small museum outlining the festival's history and traditions. Here, you'll see the oldest remaining Danjiri float on display, surrounded by festival costumes, gorgeous float carvings and other fascinating artefacts.
Not far from the Kansai International Airport, Kishiwada's Danjiri Festival is a traditional show of strength, endurance, daring and, importantly, of traditional Japanese community bonding. It's a wild side of Japan that is rarely seen but can be enjoyed by anyone looking for a little excitement.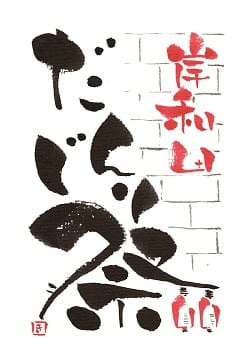 Kiyono Okagawa (Instagram: @kkkiyofude) is a Tokyo artist and Tsutefude lecturer who created this calligraphy artwork of Nagoya Castle specially for OISHII. Tsutefude is a calligraphy technique believed to convey positive messages.

Chris Glenn is an Australia-born, Nagoya-based radio DJ, TV presenter, writer and 27-year resident of Japan. He specialises in samurai history and culture, and is the Nagoya Tourism, Culture & Exchange Special Ambassador, as well as the
Sekigahara Battlefield Ambassador.