As winter turns to spring, cherry trees start to blossom, but Japan has much more to offer than sakura.
Cherry blossoms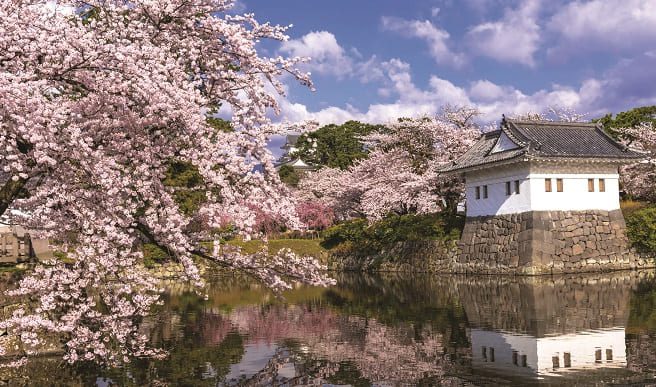 Recommended Spot: Odawara Castle in Odawara, Kanagawa
Season: March to April
Hanami literally means "flower viewing" in Japanese, but it almost always refers to cherry blossoms. Take a day trip out from Tokyo to Odawara, about 90 minutes by shinkansen, and have the majestic Odawara Castle as the backdrop to your Insta sakura posts. This is considered one of the top sakura spots in the country, and rightly so. Even though the castle only dates back to 1960 (the original 15th-century structure was destroyed in the Great Kanto earthquake in 1923, then later rebuilt), the 300 cherry trees around it have survived for almost a century, making it through World War II. At dusk, the park is transformed with hundreds of paper lanterns, allowing you to see the pink blooms in a whole different light.
Moss phlox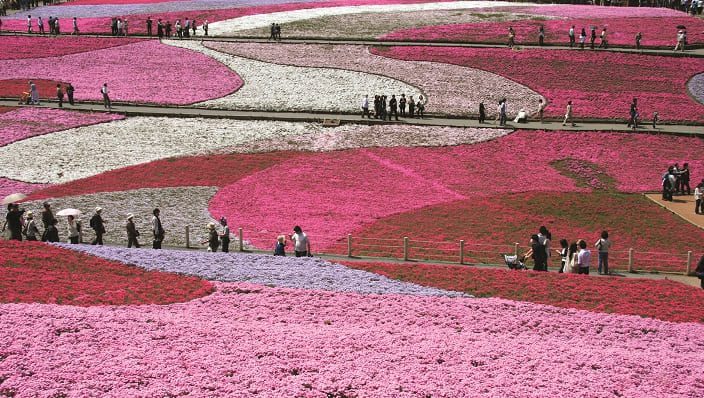 Recommended Spot: Fuji Shibazakura Festival in Fujikawaguchiko, Yamanashi
Season: April to May
If you can't make it for the sakura season, don't fret. After the cherry blossoms have faded, it is then the turn of the gorgeous shibazakura. Also known as moss phlox or pink moss, shibazakura grows not on trees but as a lush carpet on the ground. These flowers bloom only for a few short weeks and are a rare sight. At this unique flower festival covering 2.4 hectares, Mount Fuji towers over the fields blanketed in vibrant pink and purple blooms. A cute fuzzy miniature Fuji-san — carefully shaped and bedecked with flowers — provides the perfect photo op. After strolling on this pink carpet produced by Mother Nature, tuck into localspecialities at the Mount Fuji Delicious Food Festival at the same venue, including chicken giblet stew and horsemeat udon.
Tulips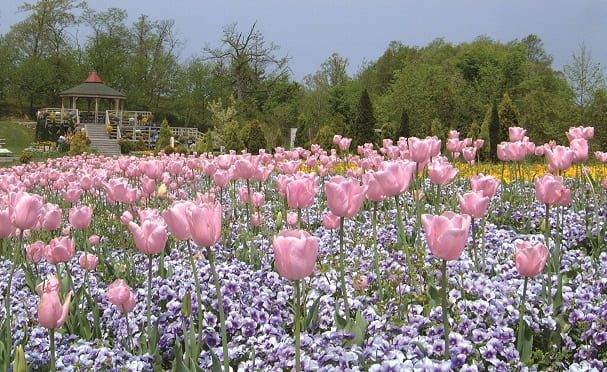 Recommended Spot: Tulip Fields in Hiezu, Tottori
Season: April to May
The fourth smallest village in Japan, Hiezu may have an area of only 4.2 square kilometres, but come spring, it is transformed into a hanami wonderland as tulips burst forth in all colours of the rainbow. As the land is low, damp and sandy, it is perfect for the growing of the tulip bulbs. With the snow-capped Mount Daisen in the background, the tulips line up in orderly rows for the most postcard-worthy photos. Besides just walking and taking pictures, you can also run through the fields during the annual Hiezu Tulip Marathon, to be held on
12 April this year. With distances of 1, 3, 5 or 10 kilometres to choose from, this race among the bobbing heads of tulips will be one to remember.
Wisteria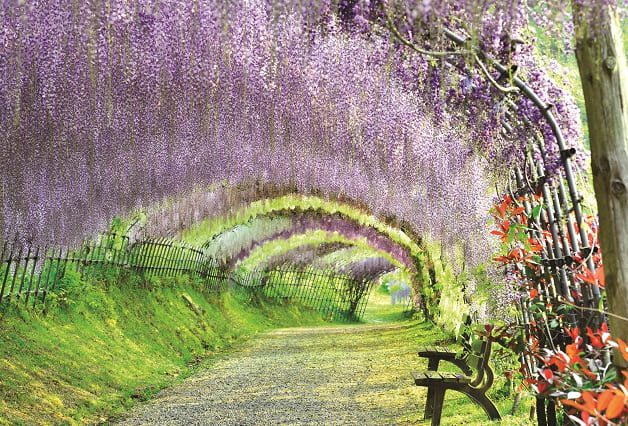 Recommended Spot: Kawachi Wisteria Garden in Kitakyushu, Fukuoka
Season: April to May
At this garden famous for its elegant wisteria, tunnel vision is an amazing sensory experience. As you amble down its two 100-metre-long
tunnels, you walk under a thick curtain of 22 different species of the cascading flowers. In this fairy-tale-like setting, you will not only take in the blooms in shades of white, blue, violet, pink and deep purple, but also their sweet, intoxicating scent. In another section of the exquisitely laid-out garden, large wisteria trees form a giant canopy of drooping flowers that is poetic in its beauty. A viewing point at the top of the park lets you take in bonus scenes of the lush bamboo groves in the surrounding valley. If you miss the peak wisteria season, you can also visit in autumn when the maple leaves turn golden, as the garden boasts a marvellous display of fall foliage.
Hydrangeas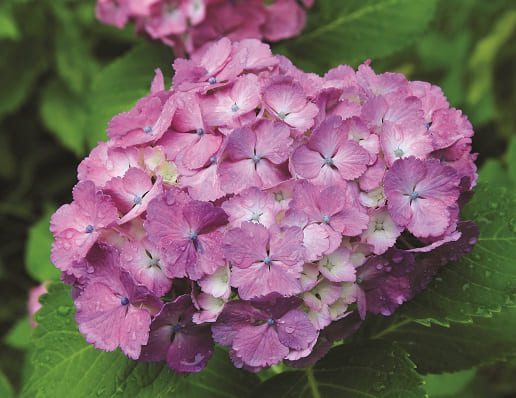 Recommended Spot: Gesshoji Temple in Matsue, Shimane
Season: June to July
The rainy season in the middle of the year is also prime time for hydrangeas, also known as ajisai in Japanese. These perfectly round puff balls of colours — white, pink, violet or blue, depending on the soil's acidity — burst into bloom on the grounds of the tranquil Gesshoji Temple. It is sometimes referred to as Hydrangea Temple, and with good reason, as it boasts more than 30,000 hydrangeas. The vast grounds with winding paths are dotted with stone lanterns and torii gates, as well as an unmissable giant tortoise statue, which purportedly will grant you longevity if you give its head a rub. The best spot to stop and soak in the views is the tea house. Sip on matcha (green tea), nibble on wagashi (traditional Japanese confectionery) and enjoy a moment of pure Zen.