A fantastic array of local gastronomic treats cooked in ingenious ways awaits the gourmet in Tokushima.
Hotel Iya Onsen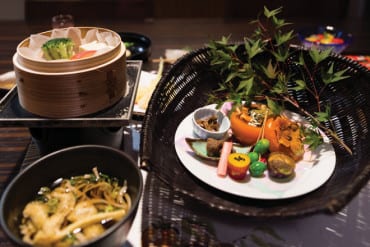 Perched high in the western Tokushima mountains, this scenic hotel opened in 1972 and offers a dizzying cable car ride to a hot spring below. But guests should be just as excited about the cuisine. The kaiseki dinner is inventive and abundant: tuck in to soba-subeshi from nearby Oboke gorge, then follow with a basket-steamed miso fondue with Awa-odori (chicken) and Iya tofu; salt-grilled amego (red spotted trout); hotpot with Awa pork and mushrooms; and a vegetable tempura. All this, plus an inspiring view of the peaks, should guarantee a good night's rest!
Hotel Iya Onsen
367-28 Matsuo, Matsumoto,
Ikeda-cho, Miyoshi City,
Tokushima 778-0165
Tel: 0883-75-2311
Hanazakari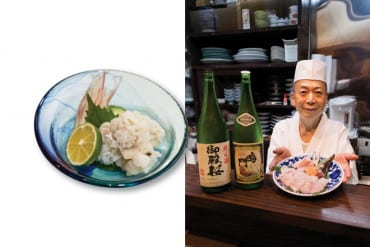 One of Tokushima's best loved fish is celebrated at Taichi Ito's intimate, award-winning diner. Watch the jovial head chef decapitate the hamo (daggertooth conger eel) before slicing it lengthways, grinding the bones and cutting it into thin strips. Then tuck in to boiled hamo with cucumber and yuzu; hamo with shitake mushroom and bardock in a sukiyaki hotpot; or tempura hamo. You may also sample deep fried Awa pork dipped in a brown vinegar ketchup sauce, and Naruto kintoki sweet potato tempura. The eatery's poetic name means "a flower in full bloom".
Hanazakari
2-30 Tomidamachi,
Tokushima City,
Tokushima 770-0915
Tel: 088-652-4930
Ramen Todai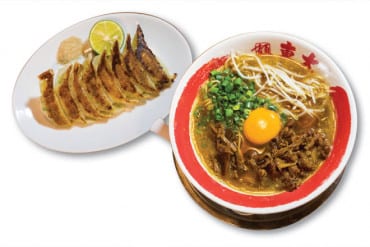 One of the best known local brands, Ramen Todai set up shop in 1999, and has four outlets in the prefecture and seven in other cities. Its speciality is Tokushima ramen, a succulent dish of salty pork belly served with a raw egg, sweetened soy sauce and white wheat noodles. Their record is 1,000 sold in one day! Try the gyoza as a side dish, which is 90% vegetable and 10% minced pork, and comes with sudachi, sansho pepper and salt. "Todai" refers to the Tokyo university, whose supremacy owner Takeo Nakagawa wished to emulate. 
Ramen Todai Okihama
60-6, Okizuka, Hachiman-cho,
Tokushima City,
Tokushima 770-8070
Tel: 088-668-1554
Yamamomo at Awa Kanko Hotel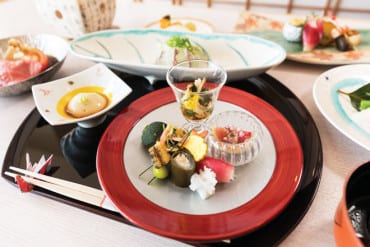 An inspiring view awaits diners at this 70-year-old hotel's light-filled restaurant. But the real USP is chef Tatsuji Motoji's unusual menu, which offers a "halal" take on kaiseki—a Japanese tradition in which several diverse courses, each containing multiple components, are prepared. The produce changes seasonally, and in autumn includes shabu-shabu with Naruto tai
(red sea bream) and dashi, black-haired Wagyu beef done in a sukiyaki (hotpot) style, nodoguro fish, Handa somen noodles and an array of local ingredients such as boze sushi, Naruto kintoki sweet potato, yuzu, persimmon and pear.
Yamamomo
Awa Kanko Hotel
3-16-3, Ichiban-cho,
Tokushima City,
Tokushima 770-0833
Tel: 088-622-5161