It's photo ops aplenty as you walk through Kuroyu Onsen. Don't miss its dramatic hot spring fields too!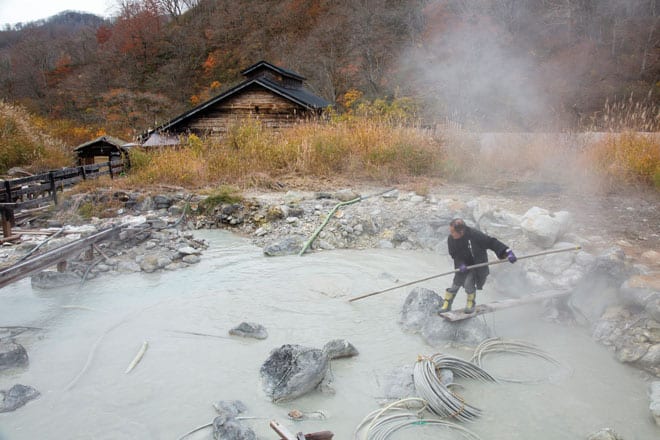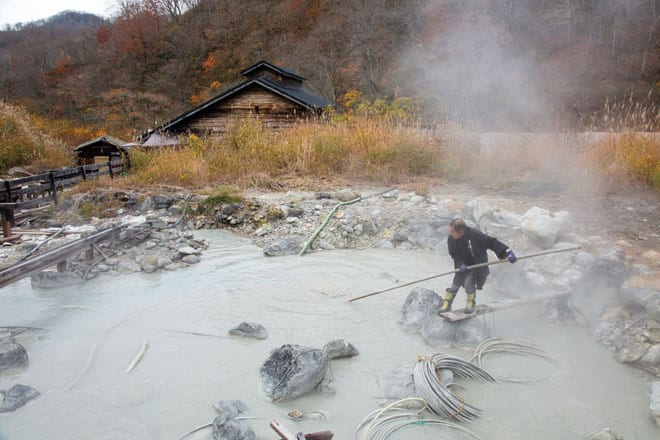 Established in 1674, Kuroyu Onsen is one of the oldest ryokan among the association of seven. The place is steeped in history—it was initially opened for Lord Satake of the Edo period (1603-1867), and even went by a different moniker.
Mr. Yasuhisa Ikeda, CEO of Kuroyu Onsen, tells us its original name: Kamenoyu (turtle clan). "We changed it to Kuroyu, which means black hot springs," he says. "Kuro means 'black', but also sounds like kuru which means 'calm' and 'come'. This auspicious double meaning prompted the name switch," says Mr. Ikeda. The third-generation owner has been CEO of Kuroyu for 18 years now.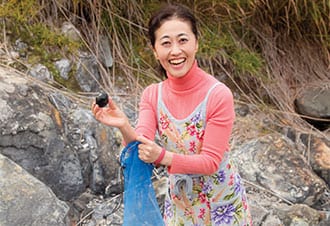 Mineral goodness in every tub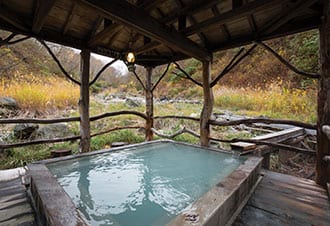 Unlike other onsens that irrigate hot spring waters from a long distance, Kuroyu's virgin spring waters are located on-site.
"Kuroyu Onsen is located deep within Nyuto Onsen Village, so it's close to the mountains and two hot spring sources. Thus, we have a rich amount of hot water," shares Mrs. Yoshiko Ikeda, okami of Kuroyu Onsen. This means the mineral content of Kuroyu's baths is more potent. You can even feel this as your feet grazes the thick, muddy layer at the bottom of the tub!
It's not just the mineral content of spring waters that soothe your tired body. At Kuroyu, you'll also find a unique water massage feature in one of its indoor baths. There, you sit on wood stumps in the bathing area as a narrow, elevated stream of spring water falls on your back like a calming massage. Next, proceed to the outdoor baths for a close encounter with nature, be it under a blanket of stars or surrounded by lush greenery.
Your Instagram-worthy shot

As you stroll through the complex, don't forget to snap away at Kuroyu's dramatic yubatake (hot spring fields at over 90 degrees Celsius). You might even catch a glimpse of yumori (onsen manager) using their long poles to stir and distribute nutrient-rich sediments from the bottom of these pools!
The yubatake don't just make for a social media spectacle—they're natural heaters too. In them, you'll find hoses irrigating spring water from the mountaintop to Kuroyu Onsen. As these hoses pass through the yubatake, the water that passes through is naturally heated and used within the facility.
Budget or bungalow, a stay at Kuroyu is a must!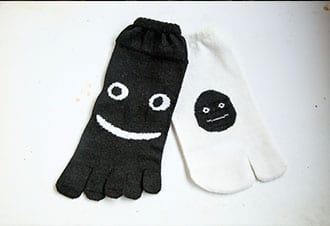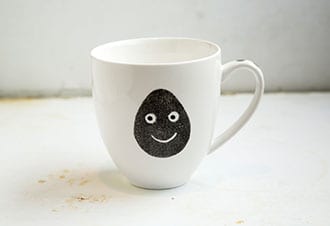 There are a variety of accommodation too—you'll find traditional tatami rooms, beds in the newly-renovated wing and even a secluded bungalow originally built for the emperor's brother! Guests who include seasonal set meal plans during their stay are treated to two meals per day, prepared by local housewives using local ingredients.
Looking for an economic option? Stay in the 16-room annex recommended for longer, recuperative stays. These cost S$50 per night, excluding meals and room service.
Kuroyu Onsen
2-1 Tazawako Obonai aza Kuroyuzawa,
Senboku City, Akita 014-1201
Tel: 0187-46-2214