Feb 2021― The latest promotions of OISHII recommended restaurants!
Tsukune Ichigo (Yakitori)
Limited promotion every Monday, Tuesday and Wednesday!
All customers who make a reservation for 4 or more people will receive a free skewer of our popular grilled liver!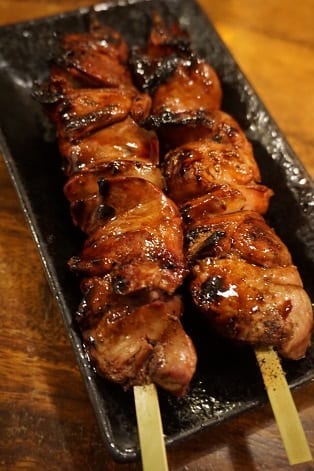 Tsukune Ichigo
399 River Valley Rd, Singapore 248295
Tel: 6736-1340
Mon~Sat 18:00-23:30
Raku Raku (Izakaya)
①Junmai Daiginjo Akakarasuhou (720ml) S$90 → S$78++
A real dry Junmai Daiginjo for those who are tired of Junmai Daiginjo that is only fruity.
It is rich, yet has the pleasant throat-feel and aroma of Junmai Daiginjo.
It is a Junmai Daiginjo that can be enjoyed both cold and warmed.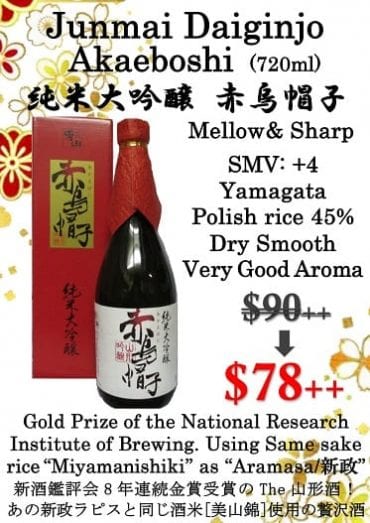 ②Satsuma Godai Potato Shochu Nouveau (900ml) S$90 → S$75++
This new syochu liqueur (nouveau) is made from sweet potatoes grown in Kagoshima Prefecture that have been dug for the first time, using black malt and brewed in a jar.
The sweetness of the sweet potatoes is carefully extracted.
Please enjoy the rich aroma of freshness that only new shochu can provide, and the sweetness and deliciousness that can only be tasted at this time of year.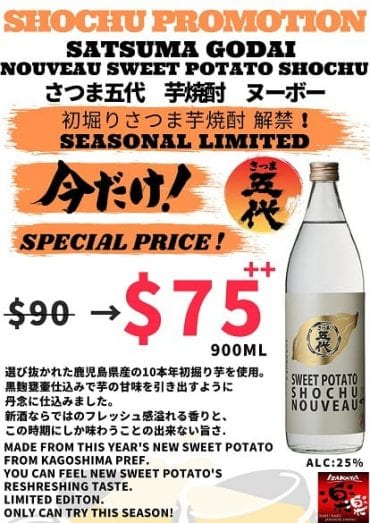 Raku Raku Stanley
4 Stanley Street Singapore 068723
Tel: 6222-6055
Lunch:Mon~Fri 11:30-15:00
Dinner:Mon~Sat 17:30-22:30
Raku Raku Duxton
30 Duxton Road Singapore 089494
Tel: 6224-5420
Lunch:Mon~Fri 11:30-15:00
Dinner:Mon~Sat 17:30-22:30
D.O.P Mozzarella Bar
15% OFF all a la carte menu items, food & wine!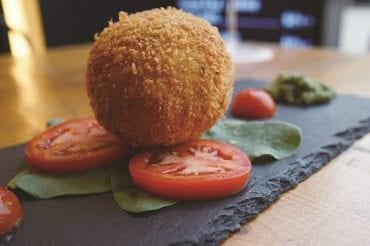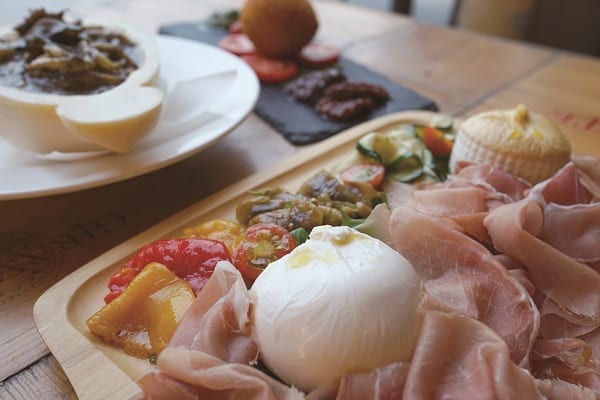 D.O.P Mozzarella Bar
01-04a, The Quayside 60 Robertson Quay, Singapore 238252
Tel: 6908-0830
Mon~Thu 16:30~23:00
Fri~Sun 12:00 〜23:00
Red House Seafood
Celebrate Chinese New Year with the ultimate ALASKAN KING CRAB FEAST!
The delicate crab meat is first handpicked and then tempura-battered into crispy golden strips, reminiscent of the gold that one will usher in for the new year. In addition to shredded red cabbage and carrots, the Yu Sheng platter features other unconventional ingredients such as shredded yam, gourd, turnip and pomegranate seeds, intended to add more crunch and sweetness.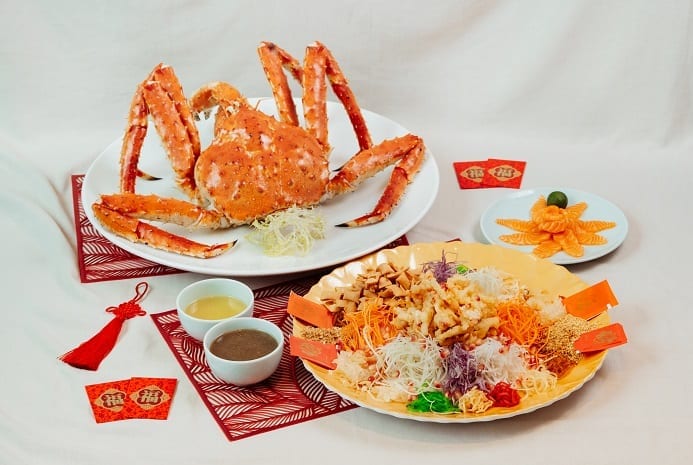 BOUNTIFUL TREASURES MENU ($1,388 for eight persons)
Valid throughout Chinese New Year from 4 January to 26 February 2021 (including 11 February)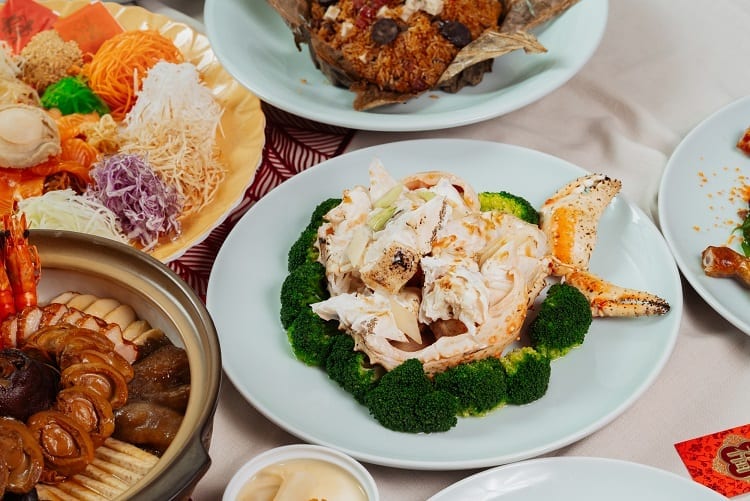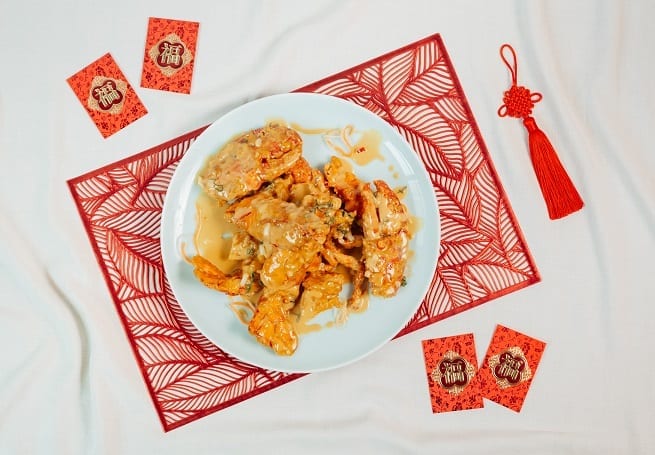 HOUSEMADE FESTIVE TAKEAWAY GOODIES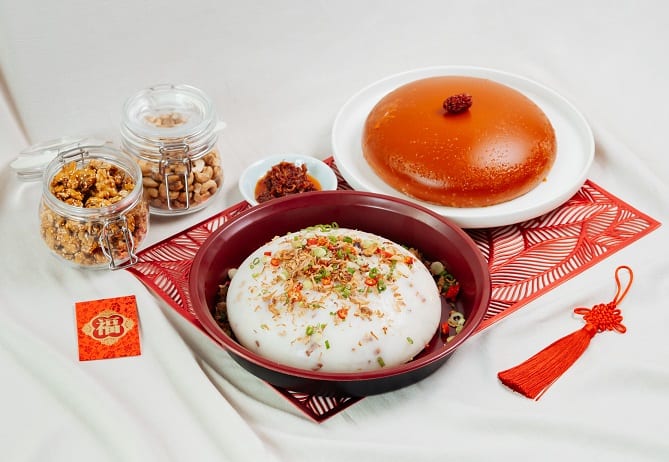 Red House Seafood Prinsep Street
68 Prinsep Street, Singapore 188661
Tel: 6336-6080
Lunch:12:00~14:30
Dinner:17:00~22:00
Red House Seafood Clarke Quay
3C, River Valley Road #01-02/03, The Cannery Singapore 179022
Tel: 6442-3112
Lunch:12:00~14:30
Dinner:17:00~22:00
Red House Seafood Grand Copthorne
Grand Copthorne Waterfront Hotel (Level 2) 392 Havelock Rd, Singapore 169663
Tel: 6735-7666
Lunch:12:00~14:30
Dinner:17:00~22:00