That's what you can expect when you head to an izakaya restaurant.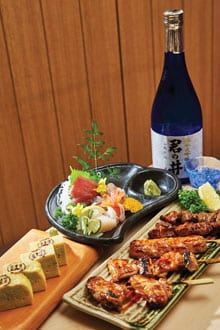 If you want a fun night out partaking in good drinks and food with your friends, you can't go wrong dining at an izakaya. It's a type of Japanese eatery similar to a gastrobar, where you can enjoy a large variety of alcoholic drinks that go well with the food served.
Izakaya are very common in Japan and can range from smaller, intimate venues to larger chain restaurants. They are usually found near busy train stations and entertainment areas and tend to be very lively places. If you're after quiet conversation, this may not be the place for you!
A typical way to start the night at an izakaya is to order drinks together with bar snacks and appetisers. Drinks include sake, beer, wine, shochu and cocktails, while the food is served in sharing portions that can be served quickly, such as edamame or pickled vegetables.
It has become just as important for an izakaya to be recognised for its good food menu as for its drinks selection. As the night progresses and more drinks are served, customers tend to order grilled or fried items like yakitori, korokke (croquettes) and fried ebi (shrimp), or even a stew, to help soak up the alcohol. Typical izakaya dishes include gyoza, hot pot, salads and noodle dishes.
Some places, like Echigotei, offer bottle-keep services where you can store your unfinished bottle of shochu till the next time you visit. Grand Jeté Izakaya has private rooms where you can entertain discreetly, while Sumire Yakitori House has a two-hour all-you-can-drink promotion.
It's time to eat, drink and be merry as you check out these izakaya venues in Singapore.
(Text SITI ROHANI Photography Raymond Toh/Vineyard Production)