I initially had a dream of running my own cafe so I started by working at various F&B establishments. However, while watching TV one day, I stumbled upon the job of a food consultant, one who creates lifestyle concepts, products, and fashion all around food. I was intrigued and decided that was the direction I wanted to take instead.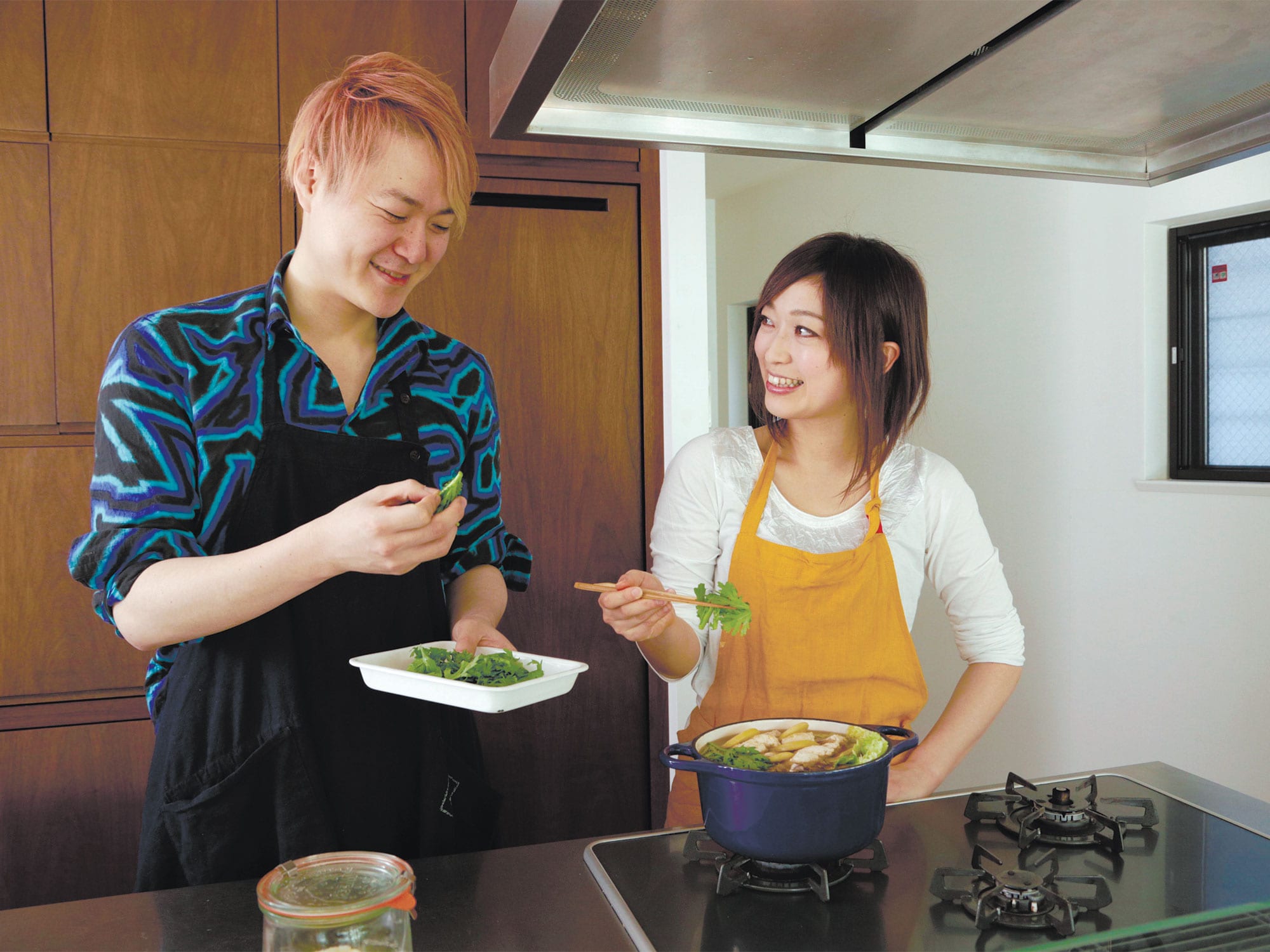 Philosophy on Food
I believe food shapes our culture, and there are many things we can change through our dining habits. For example, the experience of dining with people whose company you enjoy helps foster happier, more fulfilling relationships. This is why my business goes beyond cooking demonstrations; my wife and I want to educate people how they can be happy through food.
Japanese Modern Kitchen
Because of technological advancements, we now see a visible shift in Japanese dining culture. For example, the decrease in rice production has also led to an overall decline in the production of soya sauce, miso, and sake. However, after UNESCO labeled Japanese cuisine as an integral part of our heritage, the younger generation is now more accepting of traditional Japanese cuisine. For me, it's always interesting to put a contemporary spin on traditional cooking methods.
Trendy New Ingredient: Shio-Lemon
As food consultants, my wife and I are always on the lookout for the next big flavour. I chanced upon salted preserved lemon after watching an episode of Jamie Oliver's cooking show. My wife and I experimented with the ingredient, and she even published a book of recipes focusing on Shio-Lemon.
Shio-Lemon's popularity is due to its complex flavour and relatively simple preparation method. Also, it can be used in many different Japanese dishes – from salad dressing to nabe (Japanese hot pot dish) to marinades for fatty meats."
(Text Vanessa tai photography hideyuki kawata recipes translation yuichi)
Shio-lemon (Salted Preserved Lemon)
Ingredients
4 -5 Lemons (500g)
50g Salt (10% of lemon weight)
Directions
1. Wash the lemons, dry off the water and then remove hulls.
2. Slice half the total number of lemons in 3mm-wide round shapes,
and slice the remaining into wedges. Remove the seeds if possible.
3. Place the lemon and salt in an alternate fashion into a glass bottle.
Ensure that the bottle has been sterilised in boiling water beforehand.
4. Shake the bottle once a day. Store it in a cool, dark place for about 2 weeks.
5. After 2 weeks, store the bottle in a refrigerator and use the contents within
3 months.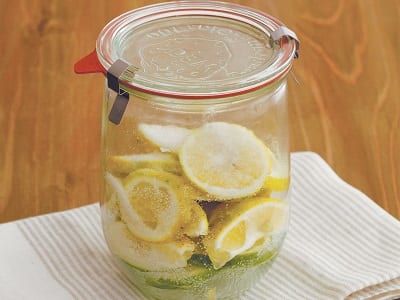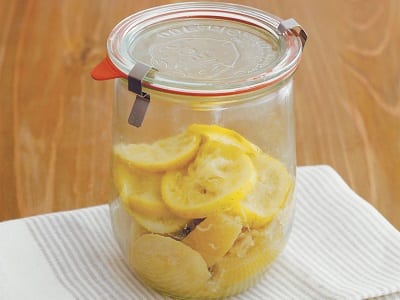 Tsukune and Vegetables Nabe with Shio-lemon

Ingredients ( 4 servings )
300g Minced chicken
7 slices of Salt lemon (round-cut)
1 tsp Soy sauce
1/2 Chinese cabbage
1 package Maitake mushroom
100g Shungiku (Chrysanthemum leaves)
800cc Water
2 tbsp Soy sauce
10cm Dried konbu (sea kelp)
Salt and pepper, for taste
Directions
A. Preparation
1. Pour water into a nabe (cooking pot), add dried konbu, then leave to boil for 30 minutes.
2. Slice chinese cabbage into bite-sized pieces.
3. Loosen maitake mushroom by hand into bite size.
4. Slice shungiku into 4cm long pieces.
5. Chop 2 slices of Shio lemon into small pieces.
B. Making tsukune (meat balls)
1. Place minced chicken, chopped Shio lemon, and soy sauce in a bowl. Knead until it gets sticky.
2. Add soy sauce into the nabe and cook over a high heat.
3. Remove the kombu when small bubbles emerge on the surface of the water and add chinese cabbage, and maitake mushroom.
4. When boiled, add the kneaded meat with a spoon, and replace the lid after adding 5 slices of Shio lemon. Cook for 10 minutes.
5. Add shungiku, then season with salt and pepper for taste once it boils again.
Shio-lemon Sauce with Steamed Vegetables

Ingredients ( 2 servings )
4 bunches Broccoli
70g Lotus root
1/16 Pumpkin or squash
6 Cherry tomatoes
1 Shio-lemon (wedge-cut)
1 tbsp Vinegar
1 tsp Miso
1/2 tsp Honey
1 tsp Olive oil
Directions
1. Cut the broccoli into bite sizes. Peel the lotus root and slice in 6mm-wide half-circle slices. Slice the pumpkin in 6mm-wide slices.
2. Chop Shio-lemon into small pieces. Mix it with vinegar, miso, honey, and olive oil.
3. Put the lotus root, pumpkin, and 3 tbsp of water into a frying pan, and then cover the pan with its lid. Bring to steam with a medium heat, then lower the heat and steam for another 5 minutes. Add broccoli and cherry tomatoes, and steam for another 3 minutes until well-cooked.
4. Place the steamed vegetables into a serving dish, with sauce drizzled on top.
Profile
Food consultants Go Igarashi and his wife, Yukari, are both food enthusiasts who eat, breathe, and live everything gourmet. They believe food goes beyond just function, and is an integral part of one's lifestyle.
Official Website (Japanese)
http://foodcreativefactory.com/igarashi/