Oidemase! That means "welcome" in Yamaguchi dialect.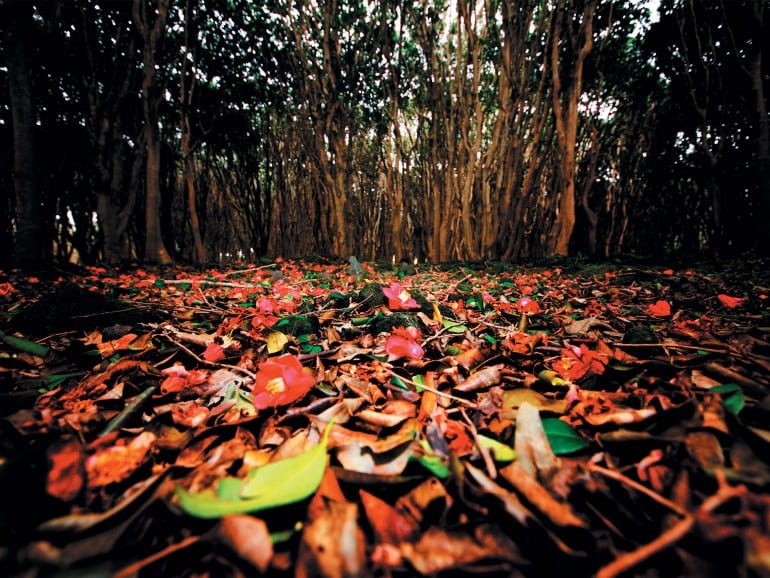 "Where exactly is Yamaguchi?" we hear you ask. The westernmost prefecture on Honshu, it might not be the first place that first-time visitors to Japan will think of visiting, though we certainly hope that will change in the near future.
Yamaguchi doesn't have the bright lights and huge shopping areas of Tokyo, nor the ski slopes of Hokkaido. But it certainly has a lot of other things to offer, especially if you've always been fascinated by Japanese history, or wanted to see how people lived outside of the big cities.
Take things down a notch by visiting laidback Hagi City. In Hagi, cottage industries that have been around for more than a century still thrive today, oftentimes still employing the same methods used to produce their goods. The city also has a lot to offer by way of natural scenery; the picture you see here is of the Kasayama Camellia Forest. The best time to visit is during spring; that's when you'll see the ground littered with beautiful camellia flowers.
For some much needed rest and relaxation, head straight to Yamaguchi City, the capital of the prefecture and home to the Yuda Onsen. Here, you'll have your pick of luxurious Ryokans with hot springs. It's heaven on earth for the weary city-dweller hoping to get away from it all for a little while.
Of course, what's a trip to Japan without sampling its culinary delights? When you're in Yamaguchi prefecture, you can eat your fill of the famed puffer fish prepared in a variety of ways, and at half the price you'll pay in Tokyo.
In the next few pages, Oishii recommends things to see and do, try and eat in Yamaguchi prefecture. We certainly hope it'll inspire you to go off the beaten track and visit this amazing place for yourself. We, for one, can't wait to go back!
(text denise li photography moritsugu makitao)
>>Read more about Yamaguchi Food
>>Read more about Yamaguchi Sightseeing