Usher in a new year like the Japanese do – with lots of delicious food and spiced sake in the company of loved ones and friends.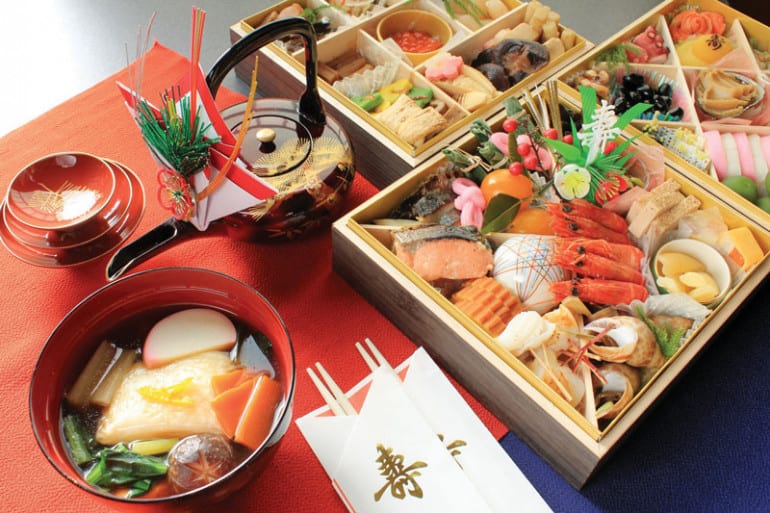 For the Japanese, New Year's Day—or Shogatsu—is probably the most important day of the year. Businesses shut from 1 to 3 January, and families gather to spend these days together. Symbolising a fresh start, the day usually starts bright and early, with people waking up just in time to catch the sunrise, followed by a visit to a temple or shrine with family members. Popular shrines such as the Meiji Shrine in Tokyo see more than a million people walk through its gates on these three days.
And while no work is to be done on 1 January—as it's one meant to be free of stress, anger, and other negative emotions—the days preceding it are usually a flurry of activity at home to prepare the meals to be eaten during this period. One of these is osechi, a box filled with colourful dishes such as black soy beans, rolled omelette, boiled prawns and much more, each with its own symbolic value. This is usually enjoyed with ozoni, a hearty, belly-warming soup with mochi as its main ingredient—perfect for those colder winter months.
Of course, what's a Japanese celebration without sake? This is the one time in a year where a special variant known as otoso–sake infused various herbs and roots–can be enjoyed as a toast to good health. Read on to find out more about the significance behind these special New Year dishes and beverages.
Otoso: https://www.oishii.sg/wiki/4113/
Osechi: https://www.oishii.sg/wiki/4114/
Ozoni: https://www.oishii.sg/wiki/4115/
(TEXT Denise li )