Located in the southwestern point of Japan, on the island of Kyushu, Nagasaki Prefecture is an area steeped in historical significance and natural beauty. While many may perhaps remember its capital, Nagasaki, as the second, and last, city in the world to suffer an atomic bomb attack, visitors will be surprised to see how the place is now a flourishing international cruise centre with a booming shipbuilding industry.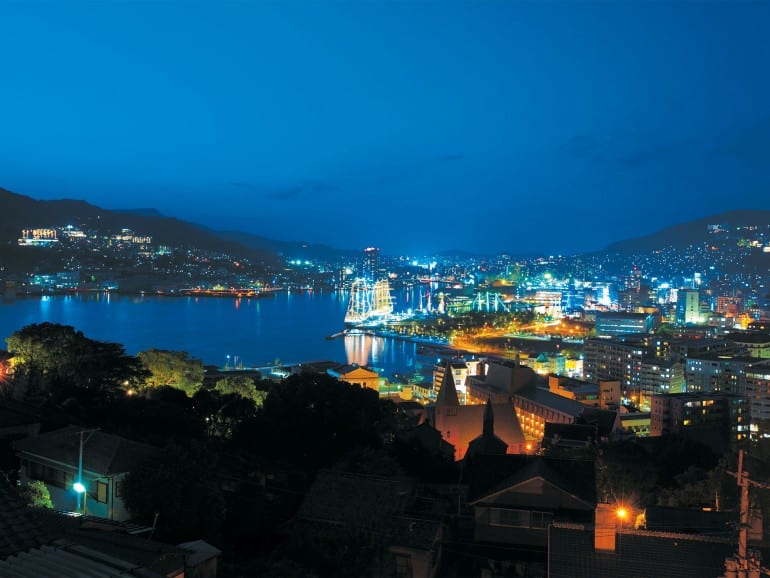 Nagasaki, whose name means Long Cape, was a mere fishing village of little significance until the Portuguese arrived in 1543. Famously hailed as the first place in Japan to receive western visitors, Nagasaki became a port of trade for the Portuguese as well as the Dutch, and a centre of Christian propagation. Due to its exposure to western influences, many historical ruins and buildings in Nagasaki bear exotic touches unseen anywhere else in Japan.
Beyond Nagasaki, nature lovers will appreciate the myriad richness the land and sea bring to the people here. Shimabara, with its source of spring water, is not just a place with beautiful scenery but one filled with culinary delights. Bask in the warm hospitality of the locals with a homestay at Minami-Shimabara that will let you experience Japan like never before.
Then, venture higher to hot springs town Unzen, where ryokans abound, waiting for you to immerse your tired body in the mineral rich waters that fill their baths. Be awestruck by local attraction Unzen Hell where rock formations, hot springs and smoke combine to create some 30 types of "hell" with bubbling sounds, heat and mist.
Round up your journey of Nagasaki with a visit to Hasami to soak in the artistic vibes of the local community with its traditional and modern take on the famous Hasami Porcelain and, finally, to Sasebo for a jaw-dropping burger that's caught the attention of some of the cast members of Harry Potter.
In the following pages, you'll see the mind-boggling array of food, sights, experiences and souvenirs that will shape your impression of Nagasaki. Be warned: it's going to be quite a ride!
(text deborah tan photography takuya yagi, takeshi taira)
>>Read more about Nagasaki Food
>>Read more about Nagasaki Sightseeing
>>Read more about Nagasaki Experience