Kaiseki is a traditional multi-course Japanese dinner that also refers to the collection of skills and techniques that go into the preparation of such meals. A traditional kaiseki meal often focuses on seafood and vegetables, so to shift that focus to Wagyu is pretty revolutionary.
Chef Nobu says, "In order to bring out the best of Ozaki beef, I developed my own kaiseki menu structure. During the meal, diners can look forward to dishes such as beef sashimi, beef consommé, and even beef sushi, either served raw or prepared aburi-style. I try to make use of every part of the cow – from shoulder to rump."
At 57 Tras Street, the focus is on engaging the diners and creating a feeling of "no borders". With a seating capacity of just 28 (including a designated private dining area), Chef Nobu will be able to interact with the diners, sharing with them the inspiration behind each dish. He says, "I look forward to creating memorable moments with the diners. Think of 57 Tras Street as a dining destination where you can enjoy a complete Wagyu kaiseki experience."
What's so special about Ozaki beef?
There is Wagyu beef, and then there is Ozaki beef, which refers to beef from Wagyu cattle raised on a farm owned and managed by Mr Muneharu Ozaki of Miyazaki Prefecture. Here are some key differences between Ozaki beef and other Wagyu beef:
Feed: Made with 15 different kinds of feed, such as grass from the meadow, moist barley mash (a by-product of beer brewing), maize, and barley.  

Slaughter Period: Most Wagyu in Japan are slaughtered at around 28 months but Ozaki cattle are slaughtered between 28 to 36 months as Mr Ozaki believes the flavour continues to improve as they mature.  

Taste: Ozaki beef is full-flavoured, with sweetness that slowly oozes out as you chew. The melt-in-your-mouth fat is easily digested, which means you can eat an entire slab of beef without getting overwhelmed by its richness.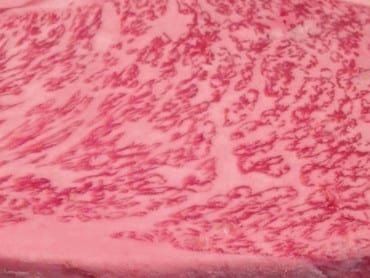 Chef Nobuaki Hirohashi
Originally from Osaka, Chef Nobu is trained in kaiseki and has been living in Singapore for over six years. Before coming to Singapore, he used to run his own kaiseki restaurant in Japan. Chef Nobu is excited to introduce local diners to Wagyu kaiseki, the first of its kind in Singapore.
USHIDOKI
57 Tras Street, #01-01 Singapore 078996 • Tel: 6221 6379 • Email: ushidoki@travelwagyu.sg
Foodies, you're in for a treat. Tsukada Nojo, the company that brought you the beloved Bijin Nabe, is set to open two exciting new restaurants along Tras Street this October. Located side by side, these two restaurants will bring you never-before-seen concepts and tantalising new menus.
The theme of "no borders" is also prevalent at 55 Tras Street, but this is more apparent in the food served. Drawing inspiration from various cultures, the food here is prepared using French cooking methods, presented Spanish tapas-style, and hawked to diners using wagons. Touted as "Travelling Wagyu", these wagons are similar to those you'll find in a traditional Hong Kong yum cha restaurant. Chef Makoto says, "Because the dishes on the wagon varies each day, you can be assured of a novel dining experience each time you dine at 55 Tras Street.
Because of his unique background, Chef Makoto's cooking style is a blend of Japanese culinary sensibilities and French cooking techniques. He says, "My cooking style is very much focused on the ingredients. I believe in using simple, fuss-free methods to bring out the original taste of the ingredients." As he hopes to dispel the misconception that minced meat can only be used for hamburger patties, Chef Makoto will be creating an array of minced beef dishes including croquettes, cutlets, and his specialty – the Hamburg steak.
The Magic of a Great Cocktail
Cocktails aren't just cocktails at 55 Tras Street. The recipes here are the brainchild of Grand Mixologist Shuzo Nagumo, a mixology maverick from Tokyo. Well-known for his outlandish mixes such as blue cheese cognac, foie gras vodka, and tom yam coolers, Nagumo's ingénue lies in being able to combine Japanese bartending techniques with out-of-this-world ideas.
Chef Makoto Deguchi
He may look young but Chef Makoto has a wealth of experience working in restaurants across Kanagawa Prefecture and Tokyo. Most recently, Chef Makoto spent a year in Paris working at a one-Michelin starred restaurant and refining his French culinary skills.
THE WAGON
55 Tras Street, #01-01 Singapore 078994 • Tel: 6221 6369 • Email: thewagon@travelwagyu.sg
(Advertorial Sponsored by Ushidoki & THE WAGON )