When in Koto City, it would be inconceivable to miss out on these historical sights.
Tomioka Hachiman Shrine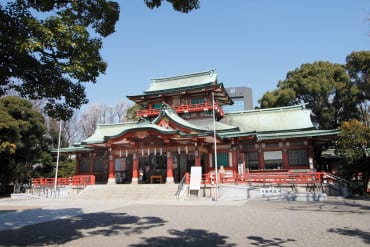 The largest Hachiman Shrine in Tokyo, Tomioka Hachiman Shrine is the birthplace of sumo tournaments in old Tokyo, hence the presence of the Yokozuna Stone - a stone monument built in 1900 to commemorate successive yokozuna, the highest rank in sumo. Apart from its sumo significance, the shrine is famed for its annual Fukagawa Hachiman Festival, also known as the Mizukake Matsuri, or summer water splashing festival. Don't miss checking out the largest golden mikoshi (portable shrine) in Japan displayed in mikoshi chamber. Above all, this shrine is the centre of worship for the people of Fukagawa, making it synonymous with the historical area. 
Tomioka Hachiman Shrine
1-20-3 Tomioka, Koto city,
Tokyo, 135-0047
Tel:03-3642-1315
Fukagawa Tokyo Modern Kan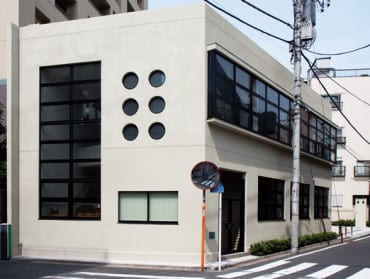 Established in 1932, this building was constructed by the city government to be a public building that provided affordably priced food for the needy. It was taken over by the Fukagawa Tourism Association in 2009, and is currently a nationally registered Tangible Cultural Property. Today, the first floor of this heritage building serves as a tourist information centre and provides walking tours around Koto City twice a day.
Fukagawa Tokyo Modern Kan
1-19-15 Monzennakacho, Koto city,
Tokyo, 135-0048
Tel:03-5639-1776
Fukagawa Edo Museum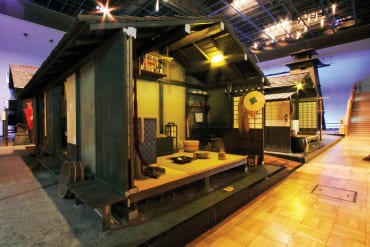 Step into this museum for a blast from the past - meticulously designed to recreate the old streets of Edo's Fukagawa, you will be able to learn more about the history and folklore of the district as you weave in and out of reconstructed stores and houses. The sound and lighting effects certainly add to the aged atmosphere!
Fukagawa Edo Museum
1-3-28 Sirakawa, Koto city,
Tokyo, 135-0021
Tel: 03-3630-8625
Kiyosumi Gardens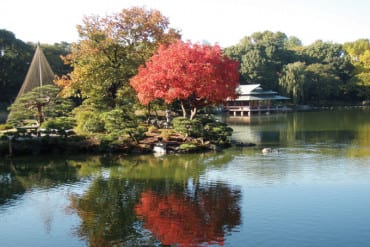 Designated by the Tokyo Metropolitan Government as a Place of Scenic Beauty, Kiyosumi Gardens is a traditional Japanese stroll garden constructed during the Meiji period in 1878-85 after the land was acquired by Yataro Iwasaki, the founder of Mitsubishi. Covering a vast area of 81,000 sqm, the garden is famed for its pine trees as well as exquisite boulders brought in from all over the nation. You will also notice carefully placed stepping stones along the perimeter of the lake, forming a pathway on which you can admire the picturesque surroundings. 
Kiyosumi Gardens
3-3-9 Kiyosumi, Koto city,
Tokyo, 135-0024
Tel: 03-3641-5892
Sunamachi Ginza Shopping Street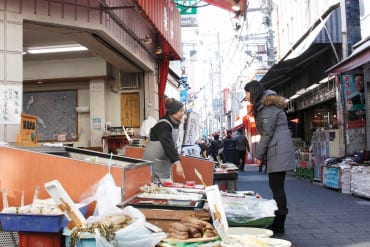 In this age of multi-storied air-conditioned shopping malls, the Sunamachi Ginza Shopping Street makes for a much welcomed change. The 670-metre-long shopping street is flanked by 170 shops in total on both sides, selling a smorgasbord of items from delicious street food to fresh, beautiful blooms to even thrift shops with incredible buys. What makes this shopping experience even more memorable is how narrow it is - at three metres wide, you'd be sure to bump shoulders as you walk along the lively street! 
Sunamachi Ginza Shopping Street
4-18-14 Kitasuna, Koto city,
Tokyo, 136-0073
Tel 03-3644-5854
Tokyo Gate Bridge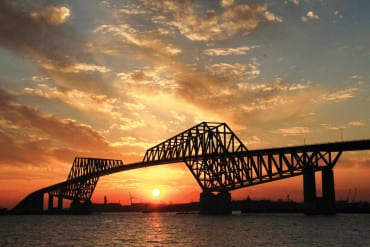 a 2.6-km long bridge over the Tokyo Bay, looking magnificent against the sunset.
Tokyo Gate Bridge
Koto city, Tokyo
( between Chubo
and Wakasu artificial islands)
Ariake Coliseum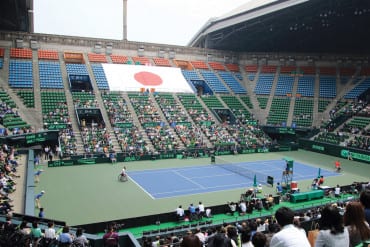 an indoor sporting arena in Ariake Tennis Forest Park.
Ariake Coliseum
(within Ariake Tennis Forest Park)
2-2-22 Ariake, Koto city,
Tokyo 135-0063
Tel: 03-3529-3301
Tokyo Big Sight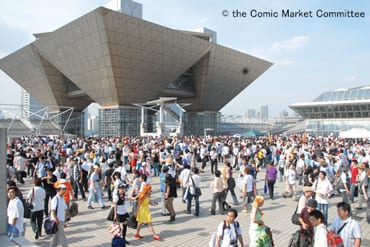 Tokyo Big Sight
3-11-1, Ariake, Koto City,
Tokyo 135-0063
Tel: 03-5530-1111
Onwards and Upwards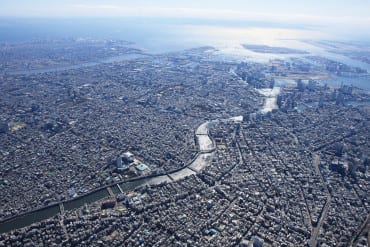 While the inland area of Koto City evokes a warm, traditional downtown spirit that's been passed down from the Edo period, it's impossible to miss the uplifting air of anticipation marking the arrival of a new era as you look outwards the bay area. Towering skyscrapers, entertainment centres, shopping malls as well as art, science and cultural facilities are all gathered by the bay, reflecting an urban landscape that somehow melds seamlessly with the historical charm of the inland. Futuristic shapes of recent structures like the Tokyo Gate Bridge and international facilities including Tokyo Big Sight and Ariake Tennis Forest Park, as well as those of soon-to-be-constructed sporting facilities for the upcoming Tokyo 2020 Olympic and Paralympic Games, signal the best of Koto City is yet to come.